Does this sound familiar? Middle school youth volunteer for your VBS and seem to have a great time. You watch as they grow alongside the rest of the kids, singing and dancing and cheering along. But once VBS ends, they just don't seem very involved for the rest of the year.
Middle school is such a difficult time for most youth. They are transitioning into many new phases of their young lives and are experiencing a lot of change from their elementary days. They want to belong, to be wanted, and to have fun. It can be hard to reach this group, as they seem to be very concerned with what's cool and with not standing out. However, this is a critical time to remind them about what Scripture has to say about their worth, the value of everyone, and the love of Christ! Here's some ways to help your middle school youth get more involved in church.
Extend an Individual Invitation
It might seem that your middle school volunteers will automatically want to come to church events after VBS is over, but by talking to them and extending a personal invitation helps them feel wanted and welcome.
Start by asking youth about their VBS experience and ending with a question such as, "Will I see you at youth group in the fall?" or "Will you be at Sunday School?" Doing so helps show youth their unique value to VBS and their church family. After the initial invitation, don't forget to follow up and remind them of special church events when they come around.
Provide Opportunities to Mentor Younger Youth
While co-ed events for middle school are definitely important, having gender-specific events can be a great opportunity for older students to mentor the younger youth. Building up communities of strong ladies and mighty men who are grounded in Christian faith is incredibly important and small groups are a good tool to use.
These gender-segregated groups tend to be smaller and focused. Topics can address issues that are more specific to what they are experiencing. Because the youth have or are going through similar things, from body changes to social ones, they can support one another in ways that the opposite gender wouldn't be able to relate to.
Another reason these groups are helpful: lack of distraction. One of the biggest changes for middle school youth is they start to notice the opposite sex. We all remember acting differently because our crush was around and the distraction that crush can be. By having events that are solely girls or solely boys, these youth may be more open and willing to be vulnerable with one another.
Empower Youth to Make Decisions
Middle school youth are discovering how to make life choices and want to feel like their voice matters. In one of the youth clubs I was part of, we had a different person choose each portion of one meeting a month (the adult leader organized the rest of the meetings.) One person chose the snack, another the game, another the main discussion, etc. This made me and the others in the group feel more included and involved.
You could have your youth choose the worship music, game, and even what they'll be studying. Giving youth control over a section of a gathering allows them to have more of a stake in the event and to be more likely to actively participate and invite others to do the same.
---
Middle school students are one of the most energetic groups you'll get. They want so badly to be involved, to make decisions, and to belong. Getting them to come learn about Jesus and His love for them and others is important during these turbulent teenage years. For more ways to connect with your youth, be sure to check out Authentic Youth Ministry!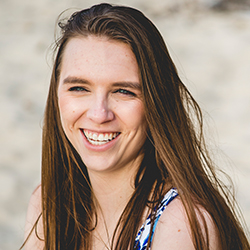 Hailing from the Upper Peninsula of Michigan, Adele Werner is a copywriter at Concordia Publishing House. Devoted to Jesus, she has a passion for serving others and sharing the Gospel. She is an alumna of the University of Michigan, where she served in multiple ministries. In her spare time, you can find her spending time with her husband and friends, reading, or watching movies.