It's exciting to share the 2018 VBS selection to your church. But what's the best way to do it? Bulletin blurbs and preservice announcements are a great way to start, but what else can you do to build excitement? Here are some effective ways to build excitement around VBS 2018.
Share on Social
Social media is a great medium for sharing important information, but what should you reveal about your VBS theme and when should you be sharing it? Get started with these four tactics for sharing on social media.
Check out your publisher's website to see what imagery and clip art they provide. Craft a blog post, email, or slide using just the logo or theme art with a short explanation.
Share the poster art for each lesson together in one post and provide links to the actual Bible text that goes with each story.
Point families toward the Lessons at a Glance download so they can go over the stories and art at home.
Create a Facebook event so that families can set your VBS date aside on their calendar.
Feeling adventurous? Create your own theme announcement video with your church staff and VBS planning team. Your members will love seeing the theme in action at your church. Creating your own video will also give your members a chance to see the unique personalities behind your VBS program.
One final tip: don't feel like you need to share all your videos and content at once. Space out your preview videos to gradually build excitement and anticipation. If you aren't ready to make your own videos, here are a few that you can start sharing right now.
Preview in Sunday School
Another great way to build excitement is to gradually introduce elements from your upcoming VBS into your Sunday School program during the winter and spring. Grab the music materials provided in your Starter Kit and play the songs before class. Consider purchasing a few Passalong CD and DVD sets beforehand just for your Sunday School teachers. These Passalong CD and DVD sets include all of the music, song videos, early childhood music, memory verse songs, and bonus skit videos. Encourage them to play them while the kids are coming in and leaving Sunday School.
Start teaching a few song actions during Sunday School opening or your normal music time. It can be hard to learn all the songs and actions during the one week (or less) that VBS takes place. There's no harm in giving kids extra time to learn some of the songs beforehand in Sunday School. Be intentional about the songs you choose and make sure to save a few surprises for VBS!
Host a VBS Kickoff Event
Here's a hands-on, fun way to create excitement! Give your church a little taste of VBS by hosting a kickoff event. This might be fun to have right after church, Sunday evening, or midweek time.
Use the decorating helps provided by your publisher to help set up a photo booth in your gym or fellowship hall. Include fun backdrops and props that families can use when taking pictures together.
Set up a music station and recruit a few of your middle or high school students to demonstrate some of the song actions.
Set up a registration station for those families who are ready to register. Make sure your online registration tool is ready to go before the event.
Set up hands-on activity stations for snacks, crafts, and games. (Check out the back of your leader guides for alternate snack, craft, and game ideas.)
Have a few shirts, Passalong CD and DVD sets, or VBS collectibles available as door prizes for those who attend.
---
We hope that some of these ideas will help you build excitement around your 2018 VBS theme. Remember to pray about your upcoming VBS, get others involved, and have fun! Check out our downloads page for Splash Canyon graphics and clip art to help you get started.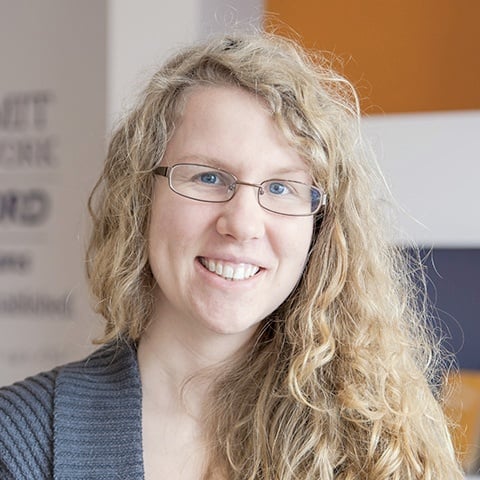 Deaconess Anna Johnson is a marketing manager at Concordia Publishing House. After graduating from the deaconess program at Concordia University Chicago, she continued her studies at the University of Colorado—Denver in education and human development. She has worked as a church youth director and served a variety of other nonprofit organizations, such as the Lutheran Mission Society of Maryland. Anna loves playing video games and drinking a hot cup of tea almost as much as she loves her cat and her husband.