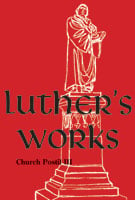 As we continue the celebration of the great Easter Feast, today's excerpt from Luther's Church Postil comes from a sermon on Acts 13:26–39. Here Luther addresses Paul's use of passages from the Psalms and from Isaiah to prove the resurrection. In addition, he points out that Christ is both true God and true man (the Son of David), the promised Messiah who would save His people from sin, death, and hell.
---

Christ Himself says, "I will preach in a new way, namely, that the Lord said to Me: 'You are My Son; today I have begotten You' " [Ps. 2:7]. . . .

How does this passage agree with the point for which St. Paul cites it, to prove the resurrection of Christ? It is a subtle proof, which he no doubt had already abundantly explained. The psalm speaks about the Messiah or King who is to rule in the nation among the people, as he clearly says, "I have set My King on My holy hill of Zion" [Ps. 2:6], that is, at Jerusalem. For that reason He must be a true man, like the others. Indeed, he adds that even kings and rulers in the land will rage against Him [Ps. 2:2] and persecute Him, which could not happen if He did not rule on earth.

But this verse says that He is also true, eternal God, for God calls Him His Son, the Son whom He Himself begat in His divine, eternal essence and majesty, so that He is not a chosen Son but the true Son of God by birth. Because He is a man like others, He must also die according to that nature, and even be killed and crucified by the rulers of the world. However, since He is also God's Son by birth, and thus true God, this person (also according to His human nature) cannot remain in death, but He must again come forth, out of and over death, and become the eternal Lord of death and life. He is an inseparable person and an eternal Son of the Virgin from the line of David and of God, who cannot remain in death. If He comes into death, He must vanquish and overcome it, even slay and destroy it. Only life rules in this Lord and is given to all who receive Him. All of that is discussed further elsewhere.

But what follows from the prophet Isaiah about the resurrection sounds even more strange: "I will faithfully perform for you the grace promised to David" [Acts 13:34], which reads according to the Hebrew text: "I will make with you an everlasting covenant, namely, the sure grace of David" (Isaiah 55 [:3]). The prophet is talking about the promise of Christ made to David (2 Samuel 7 [:11–13]). In the words before this, the prophet very pleasantly exhorts and coaxes the whole world to receive this word and preaching, in which great benefit, joy, and salvation is to come and happen to all the poor, miserable, and sorrowful [Isa. 55:1–2]. Soon after these words, he says that He has given the Messiah, the promised Seed of David, "to the people as a witness" (that is, as a preacher sent by God) and as "a prince and commander for the peoples" [Isa. 55:4]. He is to be a different teacher than Moses and his priests and teachers of the Law (who were there previously), and a different Lord, Regent, and King than David and all lords in worldly government, with everything subject to Him. It is not that He will set up a new external government or extend what is Jewish among the Gentiles, but that both Jews and Gentiles would at the same time listen to Him and believe in Him, so that through Him they would have what He promised, which He here calls "the covenant of sure grace" (promised to David). He says, "I will make this [covenant] with you and keep it as a divine, sure, faithful covenant in just this Christ," so that through Him all that the grace of God gives and presents will be given, namely, the forgiveness and blotting out of sins, redemption from death, and eternal life.

If this Christ (through whom this covenant was made) is true man, as He promised David, of his blood and flesh, and is to bring and give eternal grace, then He also must be God, who alone is capable of giving this. Then He must not remain in death, even though He dies like a natural man, but He must Himself rise from the dead so that He can also redeem others from death and give them eternal life. In this way He would truly be called and be an eternal King of grace, righteousness, and life, as God firmly promised to perform.
---
Amended from Luther's Works volume 77, pages 67–69. © 2014 Concordia Publishing House. All rights reserved.
To order Luther's Works volume 77, please contact CPH at 800-325-3040 or visit www.cph.org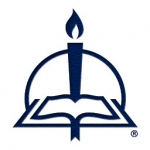 Dawn Mirly Weinstock has been with Concordia Publishing House for 25 years and has served as a production editor for professional and academic books for more than 10 years. Her projects have included Luther's Works, Johann Gerhard's Theological Commonplaces, and the writings of Hermann Sasse, C. F. W. Walther, and many others.