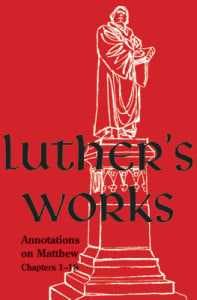 The following excerpt from Luther's Annotations on Matthew 1–18 (found in volume 67 of the American Edition of Luther's Works) provides the reformer's commentary on Matthew's genealogy of Christ found in the Gospel's first chapter.
The second thing that must be noticed in this genealogy—a point which St. Jerome intimates, one that is rich in doctrine and instruction—is that Christ, who had come to save sinners, wished to be born through sinners. For in His own genealogy He did not consider himself too good for the German verse: "Whoever does not have whores and rakes in his ancestry," etc. For here the patriarch Judah is a fornicator, and his sons Perez and Zerah are born of fornication [Gen. 38:24–30]. Furthermore, there is the adulteress Bathsheba and the utterly godless king Joram [2 Kings 8:16–18] (albeit in such a way that you come to know that they repented afterward and did not remain in their sins). Now granted, though Solomon was born of Bathsheba who had once been an adulteress [2 Sam. 11:27], nevertheless she herself was not an adultress when she gave birth to Solomon, since certainly the son born of her adultery had died, and she herself had now been made the king's wife [2 Sam. 12:18, 24]. Therefore, those who call Solomon a mamzer (i.e, an illegitimate child) are simply wicked and absurd in what they write. For he was not conceived while Uriah was still alive but afterward, when she had been made the king's wife. However, so that God might nonetheless indicate His hatred for adultery, He did not wish the line of His descent to be traced through Solomon but through his brother Nathan [Luke 3:31]. Thus it is at the same time a consolation (that Christ does not scorn to have sinners as His fathers and ancestors) and [a warning] that He does not condone sinners who persist [in their sin]. Having sinned does not condemn; it is not repenting that condemns.
Amended from Luther's Works Volume 67, pages 10–11. © 2015 Concordia Publishing House.
All rights reserved.
To become a subscriber to the American Edition of Luther's Works
or to order Luther's Works Volume 67,
please contact CPH at 800-325-3040 or visit www.cph.org.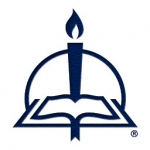 Dawn Mirly Weinstock has been with Concordia Publishing House for 25 years and has served as a production editor for professional and academic books for more than 10 years. Her projects have included Luther's Works, Johann Gerhard's Theological Commonplaces, and the writings of Hermann Sasse, C. F. W. Walther, and many others.