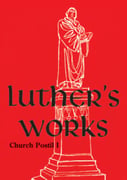 From the beginning of his work on the postils, Martin Luther intended them for common pastors and people, and thus they were to be the great devotional book of the Reformation. Luther's collected sermons for the church year were originally published in two series: the Church Postil and the House Postil. These were among his most popular works. Aside from his catechisms, they did more to teach people the Reformation than any other book. Volume 75 provides the sermons on the Epistle and Gospel readings from Advent through Christmastide in fresh, clear English.
The following excerpt is taken from the Gospel Sermon for the Sunday after Christmas, on Luke 2:33–40 (paragraphs 66–72).
It has been said abundantly that the dear saints before Christ's birth understood and believed the prophets and were all preserved in Christ and His faith, as Christ Himself says about Abraham: "Your father Abraham rejoiced that he would see My day. He saw it and was glad" (John 8 [:56]). Likewise: "Many prophets and kings desired to see what you see, and to hear what you hear" (Luke 10 [:24]). Likewise, Paul wrote: "Jesus Christ is the same yesterday and today and forever" (Hebrews 13 [:8]). And still more clearly: "For you should know, dear brothers, that our fathers were all under the cloud, and all passed through the Red Sea, and all were baptized under Moses with the cloud and with the sea, and all ate the same spiritual food, and all drank the same spiritual drink. They drank from the spiritual Rock that followed them, which was Christ" (1 Corinthians 10 [:1–4]).

These and similar passages prove that all the saints before Christ's birth were saved in Christ, just as we are. Therefore, he tells many examples of their faith: of Abel, Enoch, Noah, Abraham, Moses, and others, who spent their lives in Christ and for Christ, whom they heard and (through the prophets) understood, believed, and waited for His coming (Hebrews 11).

For this reason all the narratives of the Old Testament so perfectly agree with Christ, and in fact all confess Him and stand around Him, just as Anna physically stood around Him, so that we greatly desire to read and hear how they all look and point at Christ.

Let us look at one example. Isaac was sacrificed by his father and yet remained alive; a ram, which Abraham saw behind him caught in the thicket by his horns, took [Isaac's] place [Gen 22:1–13]. That signifies Christ, God's Son, who in all things like a mortal man died on the cross. Yet the divine nature did not die; the human nature was sacrificed for them, just as the ram that by its horns (that is, by preaching, by which it butts up against and reproves the shaggy, bushy, disorderly people of the scribes and priests) was caught in the thicket was behind Abraham and came after him. Many other great things are buried in these narratives.

Likewise, Joseph was sold into Egypt and, after having been in prison, became the ruler of the whole land [Gen. 37:18–28; 39:1–23; 41:1–43]. That happened and was written because of Christ, who through His suffering became the Lord of all the world. But who has time enough to open up all these narratives and see how Samson, David, Solomon, Aaron, and others really and perfectly and seriously mean Christ alone?

St. Luke, therefore, here uses a powerful little word, that this Anna epistasa; that is, she stood over or beside or near that which happened to Christ in the temple. This is not the same as the Latin word superveniens, that she "came to there," though that would also be true; but this is better: that she stood over what happened. It sounds as if she got herself there and pressed forward intentionally to see Him, just as people say in German: "How the people press forward over the thing," etc. Thus all the histories of Holy Scripture make much of Christ in order to illustrate Him.

Yet they might not have been saved by this, and it might be that they did not know at the time that what they were doing agreed with Christ. For figures and interpretations are not a sufficient basis for our faith. Faith must first be based on clear Scripture, simply understood according to the sound and meaning of the words. Then, after the foundation for faith has been laid by the words [of Scripture], such interpretations of history can build up faith, in order to nourish and strengthen it. Therefore, as I have said, not only was their way of life a figure of Christ (the way of life that they led externally in works, through which nobody would have become holy), but rather they also believed from the heart in the coming Christ, having understood Him through clear passages and God's Word without figures.

For example, Adam and Eve received the promise after their fall, when God said to the snake: "I will put enmity between you and the woman, and between your seed and her Seed; He shall trample on your head, and you shall sting His heel" (Genesis 3 [:15]). Adam and Eve remembered this passage and promise and believed in the Seed of the woman who would trample on the snake's head, until Noah. He received another further promise when God said, "I will make My covenant with you" (Genesis 6 [:18]). Therefore, when Eve bore her first son, Cain, she rejoiced and thought he was the Seed God had spoken about. She joyfully said, "I have received the man of God" [cf. Gen. 4:1], as if she were to say, "This will be the man, the Seed, who is to fight against the snake." She would gladly have seen Christ, but it was not yet time. Afterward she saw that he was not the one, and she had to extend her faith further to another woman.

Afterward the clear promise came to Abraham when God said, "In your Seed shall all the nations of the earth be blessed" (Genesis 12 [:3]; 22 [:18]), of which we have spoken in the Epistle reading. The faith of all the saints before Christ's birth until the time of His coming was based on this passage, so that this passage may also be understood as "Abraham's bosom," of which Christ speaks (Luke 16 [:22]). Although this was further explained to David, yet all of that was still in the strength of this promise to Abraham.

This is the Seed of the woman, Mary's child, who fights against the snake in order to destroy sin and death. Therefore, the text says that the Seed will trample on the snake's head. Without a doubt He meant the snake that misled Eve, which was the devil in the snake, and Adam and Eve certainly understood that. Who will show us another Son or Seed who trampled on his head? If it had been said of a mere man, then Adam could have done the trampling as well as any of his children. Yet not Adam, nor a child of Adam, was to do it; but a woman's, a virgin's, child.

From Luther's Works volume 75 © 2013 Concordia Publishing House, www.cph.org. Contact CPH for permission to reproduce this material.
The complete text of this postil, including the detailed annotations not included here, are available in LW 75: Church Postil I. This volume is part of the expansion of the American Edition of Luther's Works. Learn more at cph.org/luthersworks.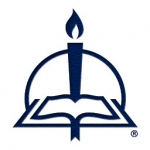 Dawn Mirly Weinstock has been with Concordia Publishing House for 25 years and has served as a production editor for professional and academic books for more than 10 years. Her projects have included Luther's Works, Johann Gerhard's Theological Commonplaces, and the writings of Hermann Sasse, C. F. W. Walther, and many others.