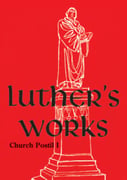 From the beginning of his work on the postils, Martin Luther intended them for common pastors and people, and thus they were to be the great devotional book of the Reformation. Luther's collected sermons for the church year were originally published in two series: the Church Postil and the House Postil. These were among his most popular works. Aside from his catechisms, they did more to teach people the Reformation than any other book. Volume 75 provides the sermons on the Epistle and Gospel readings from Advent through Christmastide in fresh, clear English.
The following excerpt is taken from the Gospel Sermon for St. Stephen's Day, on Matthew 23:34–39 (paragraphs 16–18).
Finally, [a fourth question] is asked: Since no one can withstand God's will, why, then, does He say, "How often I have wanted to gather your children together, and you were not willing" [Matt. 23:37]? This passage has been interpreted in various ways. Some have based it on free will and its ability, but it really appears that not free will but willfulness is reproved here, and that what is so severely condemned and reproved is a bad freedom that acts only contrary to God.

St. Augustine forces the words to apply to this understanding, as if the Lord means to say, "As many of your children as I have gathered, I have gathered against your will." But that is to do violence to these simple words. It would be much easier to say, "Christ speaks here as a man who has taken all human concerns on Himself." He did much according to His humanity that did not belong to His deity, such as that He had to eat, drink, sleep, walk, weep, suffer, and die. So one could say here that He spoke according to the human nature and its emotions: "I was willing, but you were unwilling."

For, as I have repeatedly said, we must give special attention to the words of Christ, some of which prove His divine nature, while others only prove His human nature. But, on the other hand, here He introduces Himself to us as God, since He says, "I send you," etc.—for sending prophets belongs to God alone. And He also said, "Therefore also the Wisdom of God says, 'Behold, I will send them prophets,' " etc. (Luke 11 [:49])—so His words sound as if He not only wanted to gather their children at that time but also previously and frequently, so that this is to be understood as referring to the divine will.

Therefore, we shall answer: These words are to be understood in the plainest and simplest manner as referring to the divine will, according to the usage of Scripture, which speaks of God as of a man for the sake of the simple, as it is written: "The Lord was sorry that He had made man" (Genesis 6 [:6]), and yet there is no sorrow in God. Likewise, it says that He was angry, yet there is no anger in Him. Likewise, the Lord came down to see the building at Babylon (Genesis 11 [:5]), yet He always remains sitting [on His throne]. And in the psalms, the prophet often says: "Awake! Why are You sleeping?" [e.g., Ps. 44:24]. Again: "Arise," come to me, and similar passages [cf. Ps. 9:19; 10:12]; and yet He does not sleep, does not lie down, is not far away. Again, God does not know "the way of the wicked" (cf. Psalm 1 [:6]), and yet He knows all things.

All these passages are uttered in harmony with our perception and way of thinking, and not according to the real state of the divine nature. Therefore, they are not to be used in lofty speculation about the heavenly utterances of the divine nature, but should be left here below, for the simple, and understood according to our feelings. For we do not perceive things any differently than if He did just as the words sound. This is a beautiful and comforting way to speak about God, which is neither terrifying nor high. Thus also here "how often I wanted" is to be understood as meaning that He acted in such a way that no one could think or feel otherwise than that He would gladly gather them, did gather them, as a man might do who eagerly wanted to do such a thing. Therefore, dismiss high things, and remain by the milk and simple meaning of the Scriptures [cf. 1 Pet. 2:2].

From Luther's Works volume 75 © 2013 Concordia Publishing House, www.cph.org. Contact CPH for permission to reproduce this material.
The complete text of this postil, including the detailed annotations not included here, are available in LW 75: Church Postil I. This volume is part of the expansion of the American Edition of Luther's Works. Learn more at cph.org/luthersworks.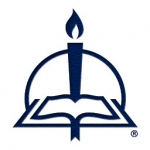 Dawn Mirly Weinstock has been with Concordia Publishing House for 25 years and has served as a production editor for professional and academic books for more than 10 years. Her projects have included Luther's Works, Johann Gerhard's Theological Commonplaces, and the writings of Hermann Sasse, C. F. W. Walther, and many others.