I don't know about you, but it's easy to get stuck in a rut in most aspects of life. Sunday School instruction is no different. I know---I've been there. You get locked into one kind of routine. When you started teaching, you probably never thought you'd keep doing this routine week in and week out. Regardless, here you are, years later. You and your learners may be tired of doing things the same way in Sunday School over and over. You may be feeling burnout set in, and just showing up to teach may be a weekly burden. Don't despair! Getting out of that same routine may be as simple as asking yourself one or more of these innovation-driving questions. Consider how these can help you or the teachers in your congregation reenergize routines and get out of that rut.
1) Ask yourself, "If I were a kid in my class, would I be excited about coming to Sunday School?"
Chances are, if you feel stuck in a rut, your answer to the above question would most likely be no. So, put yourself in your learners' shoes. What would you enjoy about your class? The story, the games, the crafts, the singing? More important, what would you NOT enjoy about being in your class? Would you find the story time lackluster? Would you, as a learner, enjoy the way you go about using the leaflet? As a (insert the age of your learners here)-year-old, would your class time have an appropriate amount of movement and activity? Would you find your classroom environment welcoming? At that age, what would you have enjoyed? This question isn't a magic bullet, but hopefully it will help you look at your class with fresh eyes.
2) Consider your learners' passions and innovate from there
Next time you lead, take a good look at your learners. What matters to them as a group? Are they into sports? Do they really like hands-on learning? Whatever it is, try building more of the kinds of experiences your learners are passionate about into your classroom. Play another game, have the learners act out the story, add something extra to the craft, etc. Innovation doesn't mean throwing everything out. It means approaching your Sunday School classroom considering what new and better things you can bring to help this specific group of learners learn right now. Bringing more of what they're passionate about into Sunday School will not only help them get more out of it, it'll also bring extra energy that will help you get out of your rut.
3) Try focusing in on each learner
It's easy to make broad generalizations about your class, especially when feeling tired and burned out. It's natural in our sinful world. We may think or say things like, "This group is just wild!" or "They don't know anything about the Bible, how am I going to teach them?" We can forget that parish education is about God's salvation of people. They all have their own needs, backgrounds, and learning styles. Each one is a sinner in need of forgiveness; each one is valuable enough to the Father that He sent His Son to die for them. So, the next time you teach, consider looking at each learner as an individual. Find out what this little guy or that little gal likes and where they're coming from and how they learn best. Figure out what each learner knows and doesn't know and where the learning gaps are really happening. Not only will you begin to more intentionally build relationships with your learners (which may last an eternity), you'll also start thinking of ways you can switch up the old patterns of instruction to meet individual needs.
4) Ask for feedback from your learners
This one can be tough to do, but it can pay off big-time in the long run. Periodically ask your learners to let you know what's working and not working in your class. What are they learning? What do they like, what do they dislike? This tactic to get out of a rut is a lot like our first suggestion, but instead of putting yourself in your learners' shoes, go directly to them for suggestions. What they have to say about how your Sunday School class may or may not be helpful to their spiritual formation. It will, though, open the door for more collaboration and ownership on learning styles and the choice of activities that resonate most with your learners. Don't make your Sunday School class a time of fun and games just to appease the learners. Instead, build in more intentional feedback between you and them. This will increase your learners' energy, and in the process, help you get out of that rut.
5) Think of ways to build up community in your Sunday School class
If you're in a rut where you feel like you, the Sunday School teacher, have to hold everything together, maybe it's time to build up community in your setting. Try building in more icebreakers and sharing time with your learners. This would not only help strengthen relationships between your learners, it may also help give them more ownership in their class. Another way to build up community is to bring in some outside speakers from time to time to share with or teach your learners. In Sunday School, this may be as simple as bringing in an elder, parent, ministry leader, or pastor to share what they do in church or answer questions about their life. This connects the learners to the greater community of faith. In both cases, icebreakers or outside speakers, ownership for leading everything will be taken off your shoulders and you'll be given something of a break to get out of your rut.
Whatever you do, my prayer is that you'll find increased passion and renewed joy in your Sunday School setting, get out of your rut, and go about your service to God's congregation in His peace.
Pete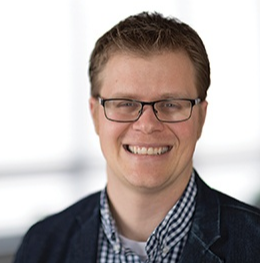 Rev. Pete Jurchen is Editor of Curriculum Resources at CPH. In addition to his MDiv, he has a MS Ed. in Curriculum Leadership and enjoys the pursuit of lifelong learning. He is honored to serve the congregations of the LCMS by equipping and partnering with its households in engaging their God-given vocations. He lives in Imperial, MO, with his wife, Deb, and his four children.