Didn't our mothers all teach us that we always need a back-up plan?
"If the car breaks down, what's your back-up plan?"
"If you don't get accepted to your dream college, what's your back-up plan?"
"If that job doesn't pan out, what's your back-up plan?"
Once I became a real grown-up with a classroom and then a family of my own, I realized why my mother was always talking about having a back-up plan. She knew that rarely do things go as planned or expected. She had been the one providing the back-up plan to my life when I was a child: the extra pair of shoes that magically appeared when mine got ruined in the mud, the snack that miraculously appeared on a long trip when there was no gas station in sight, the extra few dollars in my account when I as in college. Now it was my turn to be the provider of the back-up plan.
Don't hit the panic button yet! Teachers pretty quickly learn the high value of the back-up plan. Invariably, the interesting activity that you expect to take a long time, runs its course in half the expected time. Or the activity you thought was easy turns out to be much harder and more complex than you realized. One student gets done in half the time of the other students. Then what do you do with him or her? The longer you teach, the better you get at judging these things, but as our mothers taught us, it's always good to have a back-up plan.
When you are a day school teacher with your own classroom, you have all sorts of options for back-up plans. You are in the same classroom most of the day, and you have more control over your space and your time. You have storage closets full of all manner of things, and you have computers, art supplies, a classroom library, and the list goes on. But when you are a Sunday School teacher, you likely don't have any of those options. You might have a container of crayons or markers. You might have a chalkboard or a whiteboard. But in most cases, you're fortunate if you have a plastic storage container that you can keep in your Sunday School classroom.
Make the most of that storage container. It and your clever brain are your Back-Up Box. What can you keep in that small space to rescue you in your time of need? It has to be things that can be ready to use quickly (no prep needed), but are also appealing to a wide variety of students. Try these Back-up Box essentials.
Art supplies
An extra box of better markers (think: special colors, glitter markers, etc.)
Play Dough (the small tubs in lots of different colors might take up less room and be just as exciting)
Coloring sheets are often an extra resource page in the Sunday School teacher guide. Pull those out as you find them and keep a growing collection of them in your Back-up Box for use when needed. Copy a few of each ahead of time, so you have them ready when needed. Coloring books are good to keep on hand! Here is a free coloring sheet to get your Back-up Box started. Who doesn't love to color?
Directions to a game that you have enjoyed from another lesson. Sometimes there is a game described in the teacher guide to go with a particular lesson. If you notice that your class really enjoyed a particular game, pull out those directions right after class and throw them into the box to use again. If you're anything like me, you won't remember the directions from week to week, but if you have the page in front of you, it will take just a moment to refresh your memory and you'll all be off and running (or hopping or who knows what). Explore More Cards are also perfect for your Back-up Box. They are small and colorful, and kids love to play with them.
Search and Find books are always fun. This one has a nice variety of Sunday School stories in it. Students can look at these independently, in pairs, or all sitting around their teacher. We all get a kick out of finding things hidden in pictures.
In your box, you can fit a handful of books, art supplies, and miscellaneous pages you've kept from your teachers guides. Make them count. Make them biblical in content to connect with your overall goal of sharing Jesus with the children of your congregation. The hardest part is not using them every week, especially when you get something extra-special fun like that Search and Find book. Every week, use your regular, creative, and interesting lesson. Save your Back-up Box for when you really need it. That's when it will be most effective. Don't worry, though, you'll need it.
Nothing ever goes exactly as planned, but you'll be ready. You've got a back-up plan. And even better, you've got the Holy Spirit on your side guiding your words and actions and being the best back-up of all.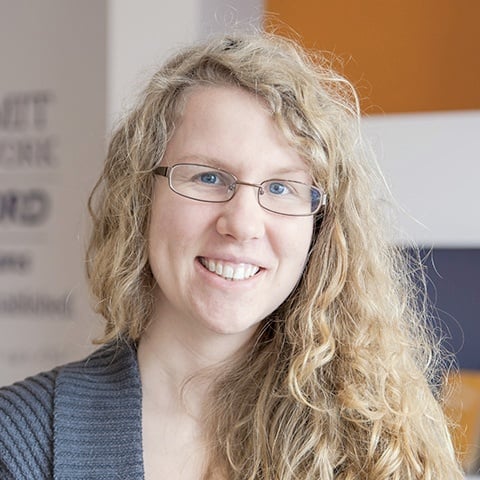 Deaconess Anna Johnson is a marketing manager at Concordia Publishing House. After graduating from the deaconess program at Concordia University Chicago, she continued her studies at the University of Colorado—Denver in education and human development. She has worked as a church youth director and served a variety of other nonprofit organizations, such as the Lutheran Mission Society of Maryland. Anna loves playing video games and drinking a hot cup of tea almost as much as she loves her cat and her husband.