On this National Day of Prayer, we set aside time to pray for our nation and give thanks that we live in a country where we can freely and openly pray and assemble for worship. We also reflect on why Christians pray and learn to be more confident as we approach God in prayer, despite our doubts and insecurities.
Many Christians know that Scripture urges us—actually, commands us—to "pray without ceasing" (1 Thessalonians 5:17) and to do so "in faith, with no doubting" (James 1:6). But all too often, praying "in faith, with no doubting" seems to be easier said than done, for our insecurities often get the best of us: How could I, as sinful as I am, dare to approach God with my prayers? Why would the God of the universe listen to me? What if He says no? Am I praying for the right things? How do I know what to pray for? Am I praying in the right way?
Thankfully, God's Word doesn't leave us to our own devices when it comes to prayer. It tells us how we are to pray. In this post, we'll explore the prayers of Moses, Daniel, and the apostle Paul, as well as the most famous prayer of all, the Lord's Prayer, to discover not only how we are to pray, but also how we can pray with confidence that God will hear and answer us.
Pray like Moses
While Moses is on Mount Sinai, God tells him about the golden calf, threatening to destroy the idolatrous Israelites and raise up Moses' descendants to take their place. So, Moses prays: "O LORD, why does Your wrath burn hot against Your people, whom You have brought out of the land of Egypt with great power and with a mighty hand? Why should the Egyptians say, 'With evil intent did He bring them out, to kill them in the mountains and to consume them from the face of the earth'? Turn from Your burning anger and relent from this disaster against Your people. Remember Abraham, Isaac, and Israel, Your servants, to whom You swore by Your own self, and said to them, 'I will multiply your offspring as the stars of heaven, and all this land that I have promised I will give to your offspring, and they shall inherit it forever'" (Exodus 32:11–13).
God's response to Moses: "And the LORD relented from the disaster that He had spoken of bringing on His people" (32:14).
What we can learn from Moses' prayer: The Israelites certainly did not deserve God's forgiveness, so Moses doesn't appeal to God on the basis of their works. Instead, he appeals to God's reputation among the nations. If God wipes out the Israelites, won't the Egyptians think He is a God who loves evil and destruction? Remember that God's reputation is important to Him—not because He is egotistical, but because He wants all people to call on Him and be saved. Finally, Moses brought God's promises into his prayer. God promised to raise a nation from Abraham, Isaac, and Jacob—would He now break His promise? When we pray, we can hold God to His promises—when we remind Him of His promises, we also remind ourselves and find great hope and confidence in those promises.
Pray like Daniel
For seventy years, Judah had been exiled in Babylon. It's at the end of these seventy years that Daniel asks God to fulfill His promise through Jeremiah to bring His people back to Jerusalem: "O Lord, the great and awesome God, who keeps covenant and steadfast love with those who love Him and keep His commandments, we have sinned and done wrong and acted wickedly and rebelled, turning aside from Your commandments and rules. . . . As it is written in the Law of Moses, all this calamity has come upon us . . . for the LORD our God is righteous in all the works that He has done, and we have not obeyed His voice. . . . Now therefore, O our God, listen to the prayer of Your servant and to his pleas for mercy, and for Your own sake, O Lord, make Your face to shine upon Your sanctuary, which is desolate. O my God, incline Your ear and hear. Open Your eyes and see our desolations, and the city that is called by Your name. For we do not present our pleas before You because of our righteousness, but because of Your great mercy. O Lord, hear; O Lord, forgive. O Lord, pay attention and act. Delay not, for Your own sake, O my God, because Your city and Your people are called by Your name" (Daniel 9:4–5, 13, 14, 17–19; the prayer for this year's National Day of Prayer is inspired by Daniel 9:19).
God's response: God sends the angel Gabriel to announce His plan to send the Savior (Daniel 9:24).
What we can learn from Daniel's prayer: Like Daniel, we confess our sins, especially when we want God to deliver us from the effects of our own sins. When we suffer consequences of our sins, we admit that God is right to visit those consequences upon us—and to threaten to punish our sins. But we take boldness in God's mercy and righteousness—His surpassing love for us. We are not confident to pray because of how we have lived our lives, but because of how Jesus lived His life, and how He died and rose again to take away all our sins.
Pray like Paul
We do not know the specific problem that afflicted Paul, but we know it made it difficult for him to continue ministering: "To keep me from becoming conceited. . . a thorn was give me in the flesh. . . . Three times I pleaded with the Lord about this, that it should leave me" (2 Corinthians 12:7–8).
God's response: "But He said to me, 'My grace is sufficient for you, for My power is made perfect in weakness'" (12:9).
What we can learn from Paul's prayer: Paul's prayer applies to the various kinds of thorns we might experience. Paul pleaded with the Lord to remove it so that he might better serve God and His people. This was a valid, God-pleasing prayer. But God allowed this thorn to remain so that Paul would find his strength in God, not in himself. As Paul says, "a thorn was given me in the flesh. . . to keep me from becoming conceited" (2 Corinthians 12:7). We ask God's will to be done and trust God's fatherly wisdom and love—even when He says no. Paul learned from this to boast of his weaknesses because then the power of Christ rested on him, enabling him to do great things for God and His people.
Pray like Jesus
Have you ever been guilty of setting your mouth on auto-pilot and letting your mind wander as you recite the Lord's Prayer? The Lord's Prayer is a special prayer given to us by the Savior of the world, Jesus Christ Himself. So, the next time you pray this most beloved and powerful prayer, consider this:
When you pray. . .
. . . Our Father who art in heaven, hallowed be Thy name, remember that God is your Father, you are His child, and you are surrounded by fellow children of God. You are asking God to not only remind you how great, loving, faithful, and kind He is, but also help you to show that kindness to others in what you say and do.
. . . Thy kingdom come, you are asking God to keep you and all believers in His kingdom through faith in Jesus Christ and asking Him to work through us to bring that kingdom to our friends, families, neighbors, and even strangers.
. . . Thy will be done on earth as it is in heaven, you are asking God to help you trust that His will is best for you and all people, even when it is not what you want.
. . . give us this day our daily bread, you are asking God to provide the needs of all His people so we can all focus on our neighbors and their needs.
. . . and forgive us our trespasses as we forgive those who trespass against us, you are asking God to make us truly sorry for our sins and confident in His forgiveness for Jesus' sake, that we may reflect His love and grace as we forgive those who sin against us.
. . . and lead us not into temptation, you are asking God to guard us from Satan's temptations and lies so that we may remain in the faith and boldly share it with others.
. . . but deliver us from evil, you are asking God to protect us from every evil thing that can happen—especially the hour of death, so we can use every moment to share His love and His Son with all the world.
. . . for Thine is the kingdom and the power and the glory forever and ever. Amen, you are reminding God and yourself that your goal in life is to help your brothers and sisters in Christ and all people see that God is our gracious King, that all power in His hands, that He will answer our prayer because it brings glory to His name, and that it is He who leads those who do not know Him to call upon Him for salvation.
Today, pray for our nation, for your faith, for forgiveness. To encourage you in your prayer life, you can download our free prayer eBook, Prayers for Christian Living. You'll find prayers for overcoming doubts, finding joy in forgiveness, and learning to be patient in trials.
Download Prayers for Christian Living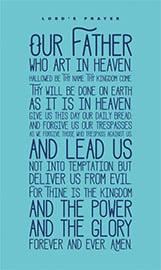 Barbara Shippy was an associate editor at Concordia Publishing House. She attended the University of Missouri—Columbia, where she studied journalism and French. Barbara and her husband enjoy going to baseball games, traveling, and playing on the worship team at church.