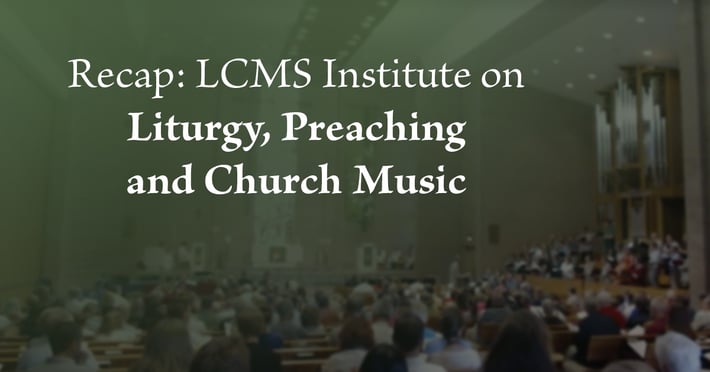 At the LCMS Institute on Liturgy, Preaching and Church Music last week, a visiting pastor told us something that reminded us why music is so important in the Church.
"I find that [this music helps us] make the Gospel clear through song so people can hear once again—through music—the glorious Gospel message of Jesus Christ."
After a conference like this, our team returns to the office feeling invigorated and reminded of the importance of our vocations. We hope you are reminded daily of the importance you play in God's kingdom as well, whether you're a musician, a music director, or a pastor. If you weren't able to make it to the Institute last week, here's a recap of some of our favorite moments.
Worship with Festival Divine Service Settings
The Institute kicked off and closed with Divine Services, and we were thrilled to provide the festival settings! In honor of the Reformation anniversary this year, both versions were of Divine Service, Setting Five—the setting that Luther wrote. Opening worship featured Jacob Weber's setting for small choirs, and closing worship featured Jonathan Kohrs's setting for large choirs.
Watch the Kyrie from the small-choir version below.
Organ Reading Workshop
Weber, a very talented composer and organist, led a workshop showcasing new music possibilities for church organists. The workshop featured many new releases and previously released favorites from CPH to help give organists ideas for music to play at their churches. Head to our Facebook page to watch the workshop and see a list of all the pieces he played.
Hymn Sing
No gathering about church music is complete without a hymn sing! As we celebrated how God uses song in the Church, we lifted our voices to Him to celebrate His grace and the faith He gives to us. We also used this time to remember the Reformation, when He refocused churches back on the Gospel. Some of the featured CPH pieces were Martin Luther's setting of I Shall Not Die, but Live and "Christ, Our Lord, Who Died to Save Us" from The Hymns of Martin Luther.
In the video below, you'll join the congregation in singing Kevin Hildebrand's setting of Christ Jesus Lay in Death's Strong Bands.
We hope you had a wonderful time at the Institute this year, and if you weren't able to make it, we hope you enjoyed getting a taste of it from these highlights. We also live-streamed these events on Facebook. To watch the full videos, visit our Facebook page.