We all have different passions for different things in life. Chances are that you, a Sunday School teacher, didn't always expect to be leading a class. In other words, teaching Sunday School hasn't always been one of your passions. First off, thank you from the bottom of my heart for your contribution. You have a valuable task in helping fulfill Jesus' command to the Church to go into the world baptizing and teaching. God uses your service, whether or not you always feel it working.
Still, however, for you it's likely that volunteering to teach, wrangle, and manage a group of rowdy children or youth isn't one of your deep passions in life. You have a normal job and a life. You have hobbies and friends, and you volunteer to serve your congregation because you care. Again, thank you. When you're feeling tired or uninspired, where do you turn? In my last post, I offered some tips for getting out of a rut. This post, a companion piece, provides some extra insight into how to step up your Sunday School teaching game. This happens by more intentionally incorporating your passions into your classroom. I challenge you, if you have a few minutes, to grab a piece of paper and a pencil, reflect on the three prompts below, and get inspired to serve.
Consider What Gets You Excited about the Faith
This may seem silly, but in the hubbub of Sunday School it's easy to lose track of why we're here in the first place. The Church exists because Christ has redeemed us from sin, death, and hell. By His Word, He's restoring creation and He's called us to be in His family. He's offered us forgiveness of sins, life, and salvation on the cross and in the empty tomb. This is a great epic hope. This is the Gospel.
So, take a moment to write down or ponder what aspects of the Christian faith get you most excited. God has given us each gifts to use in His kingdom, so why not build upon those? Is it the music in worship, object lessons, telling creative Bible stories, or serving others in Jesus' name? The list could just go on. Write down what gets you most fired up and excited about the faith. Then, consider how you can build that into your Sunday School classroom.
Consider What You're Most Passionate about in Sunday School
Every day isn't great. Every aspect of teaching won't get you excited. Chances are, though, that there's some aspect of teaching or leading your Sunday School class you are passionate about. Maybe it's greeting the kids as they come in, singing a song, doing crafts, telling stories, team teaching, or coaching your kids through memory work. Take a moment and reflect on what's most exciting to you in your Sunday School classroom.
Then, consider how you can build upon those strengths. How can you make that aspect of teaching more front and center in your classroom? In addition, write these passions down somewhere else too. Seriously, do it. Leave that note in your teaching Bible or in a drawer in your room. When you feel stuck doing something you're not passionate about in your classroom (like classroom management), pull out that short list of things you are passionate about and consider how to use them more.
Consider What You're Most Passionate about outside of Sunday School
Write down a few of your other hobbies and other passions. What gets you excited when you're at home? Is it sports, family, good stories, jokes, movies, doing yard work, writing, or playing games? Of course there may be some passions in life that don't translate well into Sunday School, but I'm going to bet that there's something you love in life that you can bring into your classroom.
The benefits of this are wide-reaching. Not only will you get more excited about teaching, but you'll also build rapport and authenticity with your learners. If you love sports, play a competitive Bible memory game at the end of your class. If you love doing crafts, bring that into your class and build upon the classroom craft with your expertise. Everyone will have more fun, and you will be able to bring more passion into your teaching.
I challenge you, write down these passions. Stick this piece of paper in your Sunday School teacher's guide. Better yet, take a few minutes at your Sunday School teachers meeting and go through these steps together with your other teachers. Then, record and share your passions of hope, teaching, and life with one another. Pray for one another and for the kids God has given to your care, and go about your work with joy. God's richest blessings to you as you work to serve God's people in Sunday School.
Peace:
Pete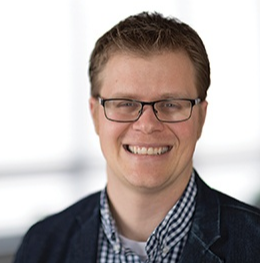 Rev. Pete Jurchen is Editor of Curriculum Resources at CPH. In addition to his MDiv, he has a MS Ed. in Curriculum Leadership and enjoys the pursuit of lifelong learning. He is honored to serve the congregations of the LCMS by equipping and partnering with its households in engaging their God-given vocations. He lives in Imperial, MO, with his wife, Deb, and his four children.