One of the themes that weaves its way through Psalm 27 is the belief that true salvation is to be found only in the presence of Yhwh. The speaker desires to dwell in the house of Yhwh so that he can see "the beauty of Yhwh" (27:4). And he knows that in His house, Yhwh will protect him from his enemies (27:4–6). When he feels threatened, he is determined to seek Yhwh's presence, and he asks Yhwh not to hide His presence from him or to forsake him (27:8–9). And the final encouragement from the speaker is to "wait for Yhwh" (27:14).
Desiring to be With Yhwh
The heart's desire to dwell with Yhwh has its moments of fulfillment woven throughout the history of God's people. In Exodus 24, for example, Moses and Aaron, along with the elders of Israel, ascended Sinai and saw the God of Israel (cf. 27:4–5). "They saw God, and they ate and drank" (Exodus 24:11). To eat and drink in the presence of God is to have everything one could need or desire (cf. Psalm 23:5–6). It is to live without fear. It is to reach the desired end. And yet it was not the end for those Israelites; after forty days, Moses had to descend the mountain, back into the midst of a sinful world with a sinful people bent on idolatry (Exodus 32). Yet in the tabernacle, God made provision for His people to have that experience in part (Exodus 40:38). And as we see in Psalm 27, Israel got at least a taste of that experience whenever the people went up to the sanctuary on Zion. But they always had to return to their daily reality.
In the transfiguration, we see that same pattern (Matthew 17:1–8; Mark 9:2–8; Luke 9:28–36). Jesus took Peter, James, and John up a high mountain, and He was transfigured before them, and Moses and Elijah appeared with Jesus. Naturally, Peter wanted to stay: "Lord, it is good for us to be here. If you wish, I will put up three shelters—one for you, one for Moses, and one for Elijah" (Matthew 17:4). Here was his heart's desire. But again, they had to come back down the mountain, into the midst of people plagued by the devil (Matthew 17:14–18).
A Taste of Salvation
God gives His people samples of what His salvation is like. "Taste and see that Yhwh is good; blessed is the man who takes refuge in him" (Psalm 34:9 [8]). These glimpses of the beauty of the Lord enjoyed by the people of God give some substance to our hope. From Isaiah to Revelation, we hear these promises: "On this mountain, Yhwh of hosts will prepare a feast of rich food for all people… On this mountain, He will destroy the shroud that enfolds all people… He will swallow up death forever" (Isaiah 25:6–8). "Blessed are those who are invited to the marriage supper of the Lamb" (Revelation 19:9). "And I saw the Holy City, the new Jerusalem, coming down out of heaven from God, prepared as a bride adorned for her husband. And I heard a loud voice from the throne saying: 'Now the dwelling of God is with men, and He will live with them'" (Revelation 21:2–3).
Living by Faith
We hear those promises and the Holy Spirit works in us. He gives us the gift of hope (see Romans 5 and 8). We hear the Word of Christ's death and resurrection as the promise spoken to us, and the Holy Spirit pulls us from the entanglements of this world and leads us closer to Jesus. When the eyes of our faith are fixed on Him, no matter what is going on around us, we can begin to echo the words of David: "Yhwh is my light and my salvation; whom should I fear?" (Psalm 27:1). In Jesus, our desire to live forever in the presence of God will be fulfilled, and the desire to see that fulfilled becomes our one desire. Others begin to fade.
And also, like the speaker of Psalm 27, when the fear and anxiety of this present age fill our hearts, when even God Himself seems to have hidden his face from us, we turn to Him with our cries. Our heart clings to Him with the hope that sustains us. And we resonate deeply with this line: "Had I not believed that I would look upon the goodness of Yhwh in the land of the living …" (27:13). Like the speaker of Psalm 27, we live by faith, not be sight. Our posture is one of waiting. But in our waiting, as a gift of grace, the Spirit gives us lively, active hearts—hearts that follow the beat given us by Psalm 27.
---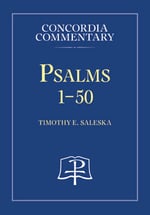 To read more commentary on the first 50 Psalms, order Concordia Commentary: Psalms 1-50 by Dr. Tim Saleska.
Post adapted from Concordia Commentary: Psalms 1–50 copyright © 2020 Concordia Publishing House. All rights reserved.