Dr. James Voelz of Concordia Seminary, St. Louis, brought a selection of ancient coins to Concordia Publishing House to be photographed for his forthcoming Concordia Commentary on Mark 1:1–8:26 (available December 2013).

These coins are microcosms of the history, politics, and culture that formed the context for our Lord's ministry, as recorded in the Gospels. Among them is a large silver coin depicting Antiochus IV (back of coin pictured on the right); a silver denarius with the "image and inscription" of Tiberius Caesar (Mk 12:15–16); and a lepton or "widow's mite" (Mk 12:42).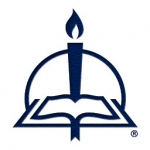 At CPH since 2003, Laura Lane is an editor for the professional book team. She has worked on numerous titles for the adult consumer and church professional markets, including The Lutheran Study Bible (CPH 2009) and The Apocrypha: The Lutheran Edition with Notes (CPH 2012).