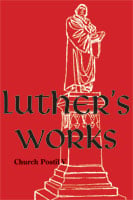 Luther's Church Postil has been available in an old, imperfect English translation, but now there is a better and more reliable edition. Luther's Works: Volume 79: Church Postil V, published by Concordia Publishing House, reflects a significant milestone in the publication of Luther's Works in English. The complete, best, last, and final edition of the Church Postil, based on the one Luther personally approved, is available for English-speaking readers for the first time.
By way of introduction to the Church Postil, let's begin first with that rather odd word, Postil. The word is from the Latin expression post illa verba, meaning literally, "after these words." What words? The words just read from the Bible in the church service. A postil, therefore, is a sermon intended to explain the biblical text just heard. In Luther's time, there were various postil collections available; they were collections of sermons on the annual cycle of readings from the New Testament Gospels and Epistles.
Volume 79 is a translation of the last and final authoritative edition of the Church Postil, a project Luther worked on periodically throughout his life, starting with the first edition he prepared while in exile (protective custody) at the Wartburg Castle. There he worked on the Latin 1521 Advent Postil and then the 1522 Wartburg Postil.