Just in time for Christmas, here are three new margins for you to use in your Journal Bible and Christmas hymn coloring pages. Enjoy!
Christmas Hymn Coloring Pages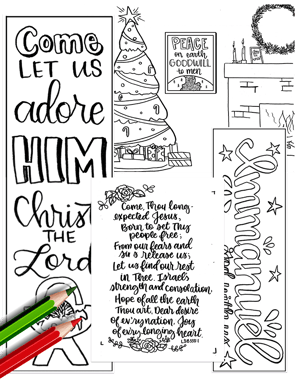 Share the good news of Christmas with coloring pages inspired by your favorite hymns and carols for the season.
| | |
| --- | --- |
| Isaiah 9: 2-6 Marginalia | "From Heaven Above to Earth" I Come Marginalia |
| As we prepare to celebrate Jesus' birth, comfort is found in these words in Isaiah and the names that would be given to Him. Substantial nouns and superlative modifiers are a beacon of hope in a dark world. | Referencing Luke 2:1-8, these words penned by Martin Luther have a place in my heart compliments of my Lutheran grade school memory work! We meet God in His Word as we prepare our hearts to welcome Jesus, our Savior and friend. |
| | |
Luke 2:11 Marginalia
We all love good news, but nothing compares to THE Good News, delivered with fanfare and light. . . and a universal pronoun: "for you."