As we read and study Scripture, we have the remarkable opportunity to glimpse into the prayer lives of countless men and women—those who lived in Old Testament times and anticipated the coming of the Messiah, others who walked with Jesus and experienced His earthly ministry firsthand, and still more who proclaimed His birth, death, and resurrection to the New Testament Church in the face of incredible persecution and death.
Below, we read the prayers of a king named David, a missionary named Jonah, a mysterious man named Agur, and the first Christian martyr named Stephen. Spanning thousands of years, these men lived in incredibly turbulent times that are not all that unlike the times in which we live today.
As you read the prayers of these faithful followers of God, I encourage you to reflect on your own prayer life and perhaps use their prayers as a starting point for your own. If you're like the disciples, who asked Jesus "teach us to pray" (Luke 11:1), then perhaps these Scripture passages will encourage you in your prayer life and faithful study of God's Word.
Prayer of Praise: A Prayer of King David from Psalm 63:1­–8
O God, You are my God; earnestly I seek You; my soul thirsts for You; my flesh faints for You, as in a dry and weary land where there is no water. So I have looked upon You in the sanctuary, beholding Your power and glory. Because Your steadfast love is better than life, my lips will praise You. So I will bless You as long as I live; in Your name I will lift up my hands. My soul will be satisfied as with fat and rich food, and my mouth will praise You with joyful lips, when I remember You upon my bed, and meditate on You in the watches of the night; for You have been my help, and in the shadow of Your wings I will sing for joy. My soul clings to You; Your right hand upholds me. Psalm 63:1–8
A shepherd boy who grew up to be the second king of Israel, David is known as a valiant warrior, a prophet, a poet, and a faithful and righteous king. But when David prays this prayer, he is in the wilderness of Judah, having just fled Jerusalem to escape his son Absalom, who was plotting to kill him. Yet, even in the midst of incredibly difficult and trying circumstances—can you imagine having to flee from your home because your child wants to kill you?—David seeks God and offers Him a prayer of praise. And so, like David, when we find ourselves in what seem to be incredibly impossible situations—when we are grieving, confused, frustrated, and angry—we still pray, "God, I praise You. Even in the midst of the storms of life, I will praise You as long as I live. In Jesus' name I pray. Amen."
Prayer for Daily Bread and Wisdom: A Prayer of Agur from Proverbs 30:8–9
Remove far from me falsehood and lying; give me neither poverty nor riches; feed me with the food that is needful for me, lest I be full and deny You and say, "Who is the LORD?" or lest I be poor and steal and profane the name of my God.
Not much is known about this man named Agur. From Scripture, we know he is an oracle and the son of Jakeh, and that's about it. From his words as recorded in Proverbs 30, we know he is a man who knew his inability to "attain true wisdom, understanding, and knowledge of the Holy One by his own reason and strength" (TLSB, p. 1044). And so, like Agur, we pray, "Heavenly Father, in the Lord's Prayer, You taught us to pray, 'Give us this day our daily bread.' Teach us to rely solely on You for everything—our wisdom, our understanding, our daily needs. And should we have more than we need or less than we want, help us to know You are the supplier of every good thing and all that we have. In Jesus' name we pray. Amen."
Prayer of Repentance: A Prayer of David from Psalm 51:10–12
Create in me a clean heart, O God, and renew a right spirit within me. Cast me not away from Your presence, and take not Your Holy Spirit from me. Restore to me the joy of Your salvation, and uphold me with a willing spirit.
If David is famous for being a righteous king and a man after God's own heart (1 Samuel 13:14; Acts 13:22), he is almost just as infamous for conceiving a child with a married woman and then killing her husband so she could become his wife. But after committing adultery and murder, David confesses his sins and repents of them, asking God to wash him and cleanse him of his sins (Psalm 51:2). Like David, we, too, commit sins daily for which we are in desperate need of forgiveness. We are reminded in Romans 6:23 that "the wages of sin is death," but then immediately following that sobering statement, we are assured, "but the free gift of God is eternal life in Christ Jesus our Lord." And so we pray, "Heavenly Father, forgive me of my sins—those I know of and those of which I am unaware. Thank You for sending Your Son to take away my sins and the sins of the whole world. Help me to understand the depth of Your love, mercy, and grace, and thank You for the gift of salvation in Christ Jesus, our Lord. In Jesus' name I pray. Amen."
Prayer for Deliverance: A Prayer of Jonah from Jonah 2:2–9
I called out to the LORD, out of my distress, and He answered me; out of the belly of Sheol I cried, and You heard my voice. For You cast me into the deep, into the heart of the seas, and the flood surrounded me; all Your waves and Your billows passed over me. Then I said, "I am driven away from Your sight; yet I shall again look upon Your holy temple." The waters closed in over me to take my life; the deep surrounded me; . . . yet You brought up my life from the pit, O LORD my God. When my life was fainting away, I remembered the LORD, and my prayer came to You, into Your holy temple. Those who pay regard to vain idols forsake their hope of steadfast love. But I with the voice of thanksgiving will sacrifice to You; what I have vowed I will pay. Salvation belongs to the LORD!
Jonah's prayer is an amazing prayer of thanksgiving, confidence, and repentance. But leading up to this remarkable prayer, we remember that Jonah wasn't exactly the poster child for faithful messengers of God. After being instructed by God to go to a city full of powerful and ruthless people and call them out on their sins, Jonah said, "No thanks" and promptly boarded a boat headed in the opposite direction. But when a storm threatens the life of all on board, he realizes the only way to save their lives is to have them throw him overboard. (Can you imagine asking a crew of frightened sailors to throw you into a raging sea?) As Jonah sinks into the depths of the sea, God rescues him from death in a most surprising way. And it's inside the belly of a fish where Jonah says his prayer.
We, like Jonah, are tempted to run in the opposite direction instead of obeying God's command to share the message of Jesus Christ. And when we face threats of death, violence, or even opposition, we run even faster. But, like Jonah, when we are faced with persecution, we can pray with confidence, "Salvation belongs to the Lord! Deliver me, O God, and bring my life up out of the pit. Give me confidence and strength to proclaim Your truth to all people. In Jesus' name I pray. Amen."
Prayer to Forgive: A Prayer of Stephen from Acts 7:60
Lord, do not hold this sin against them.
Stephen's prayer is a remarkable one when we pause and try to truly understand the context in which it was prayed. Leading up to his prayer, Stephen is consecrated by the twelve to preach the Word of God, and an incredible number of people are added to those who believe in Jesus Christ. But what also follows is a growing hatred for Stephen and the message he is proclaiming. It is after his speech in which he calls his enemies "stiff-necked people" (7:51) that they take him outside the city to stone him to death. And it is during this most brutal death that Stephen prays, "Lord, do not hold this sin against them."
Like Stephen, we are to be quick to forgive because we realize that we have been forgiven. When we read Stephen's story, we might think, "How was it so easy for him to forgive?" Maybe it was easy, maybe it was incredibly difficult. What we know, though, is that he asked for them to be forgiven. So, we pray for those who have sinned against us: "Heavenly Father, please forgive them and help me to forgive. Thank You for sending Your Son so that all who believe in Him might have eternal life with You in heaven. In Jesus' name I pray. Amen."
_____
Postscript:
You might be wondering, "Why isn't the Lord's Prayer on this list?" Well, it's because I could never write about this most incredible prayer better than Daniel Paavola did in his book Our Way Home. Pastor Paavola has a true gift of storytelling and teaching. And, personally speaking, his book has forever changed the way I pray the Lord's Prayer. It truly is the most beautiful expression of the Lord's Prayer, and I encourage you to check it out.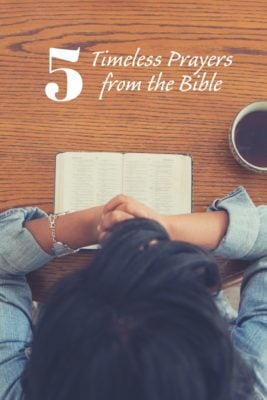 Barbara Shippy was an associate editor at Concordia Publishing House. She attended the University of Missouri—Columbia, where she studied journalism and French. Barbara and her husband enjoy going to baseball games, traveling, and playing on the worship team at church.