When Nestorius claimed that there is no communion between Jesus' divine and human natures, Cyril passionately defended the truth: the union of the true divine nature and the true human nature in the one person, Jesus Christ. Our devotional text comes from One Truth, Many Lies.
Devotional Reading
Not long after Nestorius became the bishop of the Church in Constantinople in 428 AD, he ignited conflict by declaring that Mary should not be called theotokos, that is, "Mother of God." For Nestorius, it was impossible for God to be confined in a womb! Cyril, the Bishop of Alexandria, led a churchwide effort to get Nestorius to change his teaching. When Nestorius refused, the Council of Ephesus condemned him in 431 AD.
Nestorianism is not merely a fifth-century conflict. During the days of the Reformation, a man named Ulrich Zwingli (1484–1531) began to teach that the human body and blood of Christ could not possibly be present in the Sacrament of the Altar. This helps illustrate a reason why the Nestorian heresy is so destructive. If Mary's Son, Jesus, cannot be present in the Sacrament of the Altar, then this meal offers you no help and medicine against your inherited disease of sin.
Jesus was both God and man during His earthly life; therefore, He still is both God and man, now and forever! Where Jesus' divine nature is now present, His human nature is likewise present. If Jesus' divine nature now fills all things (Ephesians 4:10), then His human nature likewise fills all things. Because Jesus, the God-man, is with you always, you always receive the full benefit of both His natures. You have the benefit of His humanity, which is fully acquainted with your temptations, your suffering, and your grief. You also have the benefit of His divinity, which has powerfully defeated sin, death, and hell for you! This is why the early Lutherans rejoiced to say:
He has promised them [Christians] that not only His mere divinity would be with them (which to us poor sinners is like a consuming fire on dry stubble). But Christ promised that He—He, the man who has spoken with them, who has experienced all tribulations in His received human nature, and who can therefore have sympathy with us, as with men and His brethren—He will be with us in all our troubles also according to the nature by which He is our brother and we are flesh of His flesh. (Solid Declaration of the Formula of Concord, Article VIII, paragraph 87)
Prayer
Dearest Jesus, You are both Mary's Son and our God! By the power of Your Word and Spirit, enable us to trust and believe that where Your divinity is, there Your humanity is also, most especially so that we may never doubt or devalue the gifts that You give to us in Your Holy Sacrament. Amen.
Devotional reading and prayer are adapted from One Truth, Many Lies, pages 34, 36–37 © 2011 Concordia Publishing House. All rights reserved.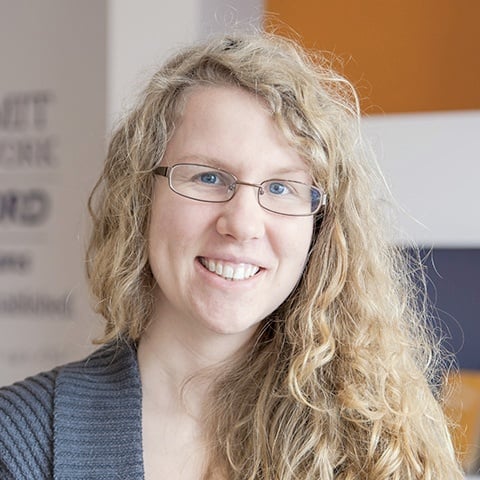 Deaconess Anna Johnson is a marketing manager at Concordia Publishing House. After graduating from the deaconess program at Concordia University Chicago, she continued her studies at the University of Colorado—Denver in education and human development. She has worked as a church youth director and served a variety of other nonprofit organizations, such as the Lutheran Mission Society of Maryland. Anna loves playing video games and drinking a hot cup of tea almost as much as she loves her cat and her husband.