As we commemorate Lucas Cranach and Albrecht Dürer today, we look at one of Dürer's woodworks and read a devotion from Bearing the Cross: Devotions on Albrecht Dürer's Small Passion.
Introduction
Today, we give thanks for Reformation artists Lucas Cranach and Albrecht Dürer. In response to hearing the Lord's Word and receiving His Sacraments, these men used their artistic gifts for the edification of the Church. We give thanks for their work and the work of all those whose artistic gifts have been used in service to the Church.
This devotional reading is based on Dürer's woodwork "Christ Crowned with Thorns." In the first paragraph of the devotion, the author of Bearing the Cross describes the woodwork to readers.
Devotional Reading
After scourging, the degradation of Christ continues. In the courtyard of the Praetorium, the Roman soldiers make cruel sport of His kingship. They dress Jesus as royalty, with both robe and crown, to engage in the physical and emotional torture of mock homage. Jesus, face haggard and body wounded, sits in somber dignity on a pseudo-throne. His hand willingly accepts the reed scepter as His eyes sadly and lovingly gaze at the kneeler who doffs his hat in fake worship. The mocker's face is ugly. He spits at Christ, taunting, "Hail, King of the Jews!" (Matthew 27:29b). The plaited wreath of thorns is jabbed into the head of Christ while another soldier inflicts harsh blows with a stick. Pilate stands in back, conversing with a spectator. Although his face is turned away, the stick in his hand clearly implicates him as a participant in the evil proceedings.
Dürer's portrayal of this account moves the heart of the viewer to sorrow, disgust, and lamentation in recognition that we are all participants in Adam's rejection of God. "He was despised and rejected by men; a man of sorrows and acquainted with grief; and as one from whom men hide their faces; He was despised, and we esteemed Him not" (Isaiah 53:3). . . .
Under Pilate's authority, the Roman soldiers delight in mocking a man claiming to be king of a people they despise. Yet it is here we see the Suffering Servant come into His kingship. All the royal elements are present—robe, crown, scepter, and homage, though perverted. Rather than reigning in pomp and power, this King sits in weakness and submission. His robe is not lined with satin, but is saturated with the blood needed to pay for our sins. His crown is not studded with jewels, but is adorned with thorns, resting on a head meant to bear our punishment. His scepter is not golden and silver, but is a green reed designed to break our bondage. His homage is not stately and regal, but humiliating and degrading; yet the mocker's spit cannot stop Him from honoring us as forgiven sons and daughters.
Here we see the ugly cost of sin. Here we see our beautiful Savior's love for us. He bears mankind's sin in order to release us from the torments of our physical and emotional pain. Here we see the Father's love for us as He offers His Son to death for our life. "He Himself bore our sins in His body on the tree, that we might die to sin and live to righteousness. By His wounds you have been healed" (1 Peter 2:24).
Devotional reading and image are from Bearing the Cross: Devotions on Albrecht Dürer's Small Passion, pages 90–92 © 2012 Carolyn S. Brinkley. Published by Concordia Publishing House.
Prayer
O God, by Your Holy Spirit You give wisdom to some, knowledge to others, and to some the gift of beauty. We praise You that through Your servants Lucas Cranach and Albrecht Dürer, and through their gift of artistic representation, they preach to us of Your mighty acts of redemption and the great piety of the saints who have served You in humility and faith. May Your Church never be without such gifts; through Jesus Christ, our Lord, who lives and reigns with You and the Holy Spirit, one God, now and forever. Amen.
Prayer is taken from Treasury of Daily Prayer, page 1289 © 2008 Concordia Publishing House. All rights reserved.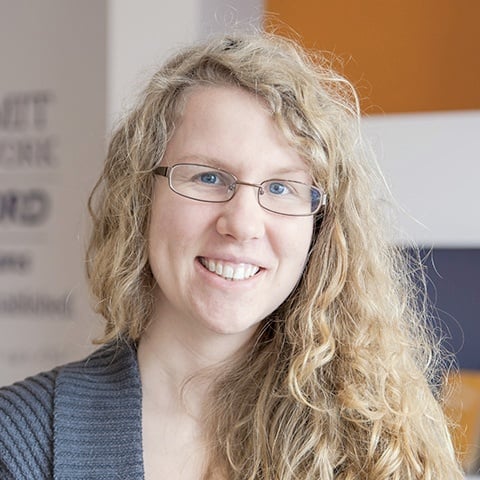 Deaconess Anna Johnson is a marketing manager at Concordia Publishing House. After graduating from the deaconess program at Concordia University Chicago, she continued her studies at the University of Colorado—Denver in education and human development. She has worked as a church youth director and served a variety of other nonprofit organizations, such as the Lutheran Mission Society of Maryland. Anna loves playing video games and drinking a hot cup of tea almost as much as she loves her cat and her husband.