Are you ready for VBS this summer at your church? We know that this year will bring unique joys and challenges as churches come together again, so here are some answers to your frequently asked questions about The Tree of Life. These helpful tips can help guide your planning this summer.
What's included in The Tree of Life?
If you are already aware of what is included in the program, feel free to skip this section and jump down to the lesson overview. For those of you less familiar with The Tree of Life, keep reading! It is an all-new curriculum that covers ten important accounts showing God's plan of salvation throughout the Bible. There are three components in The Tree of Life program. Let's take a look at each one.
Church Resource Kit
The Church Resource Kit includes downloadable curriculum for children, youth, and adults for each of the ten lessons. It also includes music files, video files, and promotional materials for your church. For tips on accessing these downloadable materials, watch this short video.
In addition to these downloadable materials, you also will receive a physical copy of the children's book, youth book, and adult book with your purchase of the Church Resource Kit.
Books for All Ages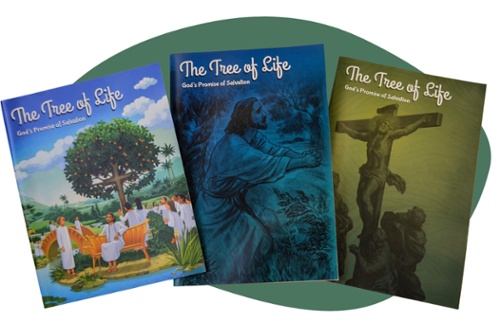 The Tree of Life series has three different books to help children, youth, and adults take a closer look at the biblical accounts covered in the lessons. These books make a great gift to send home after VBS when they can be used to extend learning about the Bible lessons.
Family Activity Kit

The Family Activity Kit contains materials to extend learning beyond the church and into the home. The kit includes each of the books mentioned above as well as
a family discussion guide for each lesson,
a family card game to get everyone talking about the lessons, and
We recommend you send this kit home with families after VBS to keep the discussion going. Consider including an invitation to come back for your church's fall rally day.

How do I know which five lessons to use?
One of the most common questions we've received is this: Our VBS is only five days long; which of the lessons should we choose? We have prepared a children's ministry planning guide with the recommended lessons for a five-day program. While this won't be as robust as a ten-week program, it still touches on key accounts in God's plan of salvation. The following five lessons are recommended:
The Beginning of our Story (Genesis 3)
The Passover Lamb (Exodus 12)
Jesus Is Baptized into God's Plan (Matthew 3)
God's Plan of Salvation Completed (Luke 23)
The End of Our Story (Revelation 21 and 22)
After VBS has ended, you could use the other five lessons as a mini summer Sunday School, or review all ten lessons in the fall as part of a churchwide sermon series for all ages. This provides an easy opportunity to connect with VBS families throughout the year by inviting them back to your church.
Where do I find the site rotation activities?
The Tree of Life Church Resource Kit includes activities for each of the following VBS sites:
Opening/Closing

Skit scripts
Bible videos for each lesson
Music suggestions for each lesson

Storytelling

Bible narratives for three age groups

Downloadable coloring pages and student activity pages

Snacks

Crafts

Games

Science / Bible Challenge
All of these materials are accessible in the digital materials that come with the purchase of the Church Resource Kit. Once you're in the digital content center, there are two ways to access the files. One option is to download the materials lesson by lesson. To do this, just scroll to the lesson you are interested in and download the Children's Ministry Curriculum file. From there, you can make copies and hand out the lesson to your site leaders.
Another option is to scroll down to the Additional Resources section, where you will see site leader guides for crafts, games, science, and snacks. Just download, print, and distribute to your site leaders for each lesson.
One final note about crafts and snacks: we know that many of you like to get creative with your craft and snack ideas and may not always use exactly what is in the book. If you'd like even more ideas, be sure to head over to our CPH VBS Pinterest page for additional inspiration.
What music options are there?
Each lesson has four suggested music options: one original music song, two hymn suggestions, and one contemporary music suggestion. These ideas are located in the Children's Ministry Curriculum Introduction file and also on our resources page.
Audio and video files for the original CPH music suggestions are available to download in the digital resource center. The music videos are also available on YouTube to make them easy to share with families.
What about decorations?
We've collected some great decorating ideas on our Pinterest board for The Tree of Life. Here, you'll find plenty of decorating ideas you can easily order from Amazon, Oriental Trading, or your local store.
Is there an online registration option?
Yes! Our free VBSmate software works with The Tree of Life. Just head over to VBSmate.com to sign up and get started. Once you've created an account, you'll have the option to create an event. Select The Tree of Life design option to keep things easy and consistent for your church.
Are there other ways I can use The Tree of Life?
Definitely! In my next post, I give some more details on how The Tree of Life curriculum works for Sunday School or a ten-week sermon series.
---
I hope this post helped answer some of your questions about The Tree of Life. If you still have more questions, watch our complete overview video or send us an email.