Old Testament Reading
Genesis 3:8–15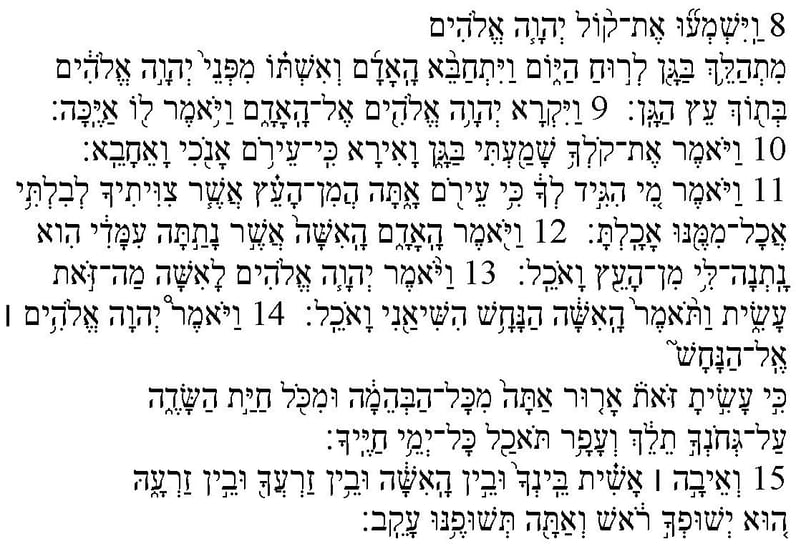 And they heard the sound of the Lord God walking in the garden in the cool of the day, and the man and his wife hid themselves from the presence of the Lord God among the trees of the garden. But the Lord God called to the man and said to him, "Where are you?" And he said, "I heard the sound of you in the garden, and I was afraid, because I was naked, and I hid myself." He said, "Who told you that you were naked? Have you eaten of the tree of which I commanded you not to eat?" The man said, "The woman whom you gave to be with me, she gave me fruit of the tree, and I ate." Then the Lord God said to the woman, "What is this that you have done?" The woman said, "The serpent deceived me, and I ate."
The Lord God said to the serpent,
"Because you have done this,
cursed are you above all livestock
and above all beasts of the field;
on your belly you shall go,
and dust you shall eat
all the days of your life.
I will put enmity between you and the woman,
and between your offspring and her offspring;
he shall bruise your head,
and you shall bruise his heel."
Epistle
2 Corinthians 4:13–5:1
4:13 ἔχοντες δὲ τὸ αὐτὸ πνεῦμα τῆς πίστεως κατὰ τὸ γεγραμμένον, Ἐπίστευσα, διὸ ἐλάλησα, καὶ ἡμεῖς πιστεύομεν, διὸ καὶ λαλοῦμεν, 4:14 εἰδότες ὅτι ὁ ἐγείρας τὸν κύριον Ἰησοῦν καὶ ἡμᾶς σὺν Ἰησοῦ ἐγερεῖ καὶ παραστήσει σὺν ὑμῖν. 4:15 τὰ γὰρ πάντα δι᾽ ὑμᾶς, ἵνα ἡ χάρις πλεονάσασα διὰ τῶν πλειόνων τὴν εὐχαριστίαν περισσεύσῃ εἰς τὴν δόξαν τοῦ θεοῦ.
4:16 Διὸ οὐκ ἐγκακοῦμεν, ἀλλ᾽ εἰ καὶ ὁ ἔξω ἡμῶν ἄνθρωπος διαφθείρεται, ἀλλ᾽ ὁ ἔσω ἡμῶν ἀνακαινοῦται ἡμέρᾳ καὶ ἡμέρᾳ. 4:17 τὸ γὰρ παραυτίκα ἐλαφρὸν τῆς θλίψεως ἡμῶν καθ᾽ ὑπερβολὴν εἰς ὑπερβολὴν αἰώνιον βάρος δόξης κατεργάζεται ἡμῖν, 4:18 μὴ σκοπούντων ἡμῶν τὰ βλεπόμενα ἀλλὰ τὰ μὴ βλεπόμενα· τὰ γὰρ βλεπόμενα πρόσκαιρα, τὰ δὲ μὴ βλεπόμενα αἰώνια.
5:1 Οἴδαμεν γὰρ ὅτι ἐὰν ἡ ἐπίγειος ἡμῶν οἰκία τοῦ σκήνους καταλυθῇ, οἰκοδομὴν ἐκ θεοῦ ἔχομεν, οἰκίαν ἀχειροποίητον αἰώνιον ἐν τοῖς οὐρανοῖς.
Since we have the same spirit of faith according to what has been written, "I believed, and so I spoke," we also believe, and so we also speak, knowing that he who raised the Lord Jesus will raise us also with Jesus and bring us with you into his presence. For it is all for your sake, so that as grace extends to more and more people it may increase thanksgiving, to the glory of God.
So we do not lose heart. Though our outer self is wasting away, our inner self is being renewed day by day. For this light momentary affliction is preparing for us an eternal weight of glory beyond all comparison, as we look not to the things that are seen but to the things that are unseen. For the things that are seen are transient, but the things that are unseen are eternal.
For we know that if the tent that is our earthly home is destroyed, we have a building from God, a house not made with hands, eternal in the heavens.
Holy Gospel
Mark 3:20–35
3:20 Καὶ ἔρχεται εἰς οἶκον· καὶ συνέρχεται πάλιν [ὁ] ὄχλος, ὥστε μὴ δύνασθαι αὐτοὺς μηδὲ ἄρτον φαγεῖν. 3:21 καὶ ἀκούσαντες οἱ παρ᾽ αὐτοῦ ἐξῆλθον κρατῆσαι αὐτόν· ἔλεγον γὰρ ὅτι ἐξέστη.
3:22 καὶ οἱ γραμματεῖς οἱ ἀπὸ Ἱεροσολύμων καταβάντες ἔλεγον ὅτι Βεελζεβοὺλ ἔχει καὶ ὅτι ἐν τῷ ἄρχοντι τῶν δαιμονίων ἐκβάλλει τὰ δαιμόνια.
3:23 καὶ προσκαλεσάμενος αὐτοὺς ἐν παραβολαῖς ἔλεγεν αὐτοῖς, Πῶς δύναται Σατανᾶς Σατανᾶν ἐκβάλλειν; 3:24 καὶ ἐὰν βασιλεία ἐφ᾽ ἑαυτὴν μερισθῇ, οὐ δύναται σταθῆναι ἡ βασιλεία ἐκείνη· 3:25 καὶ ἐὰν οἰκία ἐφ᾽ ἑαυτὴν μερισθῇ, οὐ δυνήσεται ἡ οἰκία ἐκείνη σταθῆναι. 3:26 καὶ εἰ ὁ Σατανᾶς ἀνέστη ἐφ᾽ ἑαυτὸν καὶ ἐμερίσθη, οὐ δύναται στῆναι ἀλλὰ τέλος ἔχει. 3:27 ἀλλ᾽ οὐ δύναται οὐδεὶς εἰς τὴν οἰκίαν τοῦ ἰσχυροῦ εἰσελθὼν τὰ σκεύη αὐτοῦ διαρπάσαι, ἐὰν μὴ πρῶτον τὸν ἰσχυρὸν δήσῃ, καὶ τότε τὴν οἰκίαν αὐτοῦ διαρπάσει.
3:28 Ἀμὴν λέγω ὑμῖν ὅτι πάντα ἀφεθήσεται τοῖς υἱοῖς τῶν ἀνθρώπων τὰ ἁμαρτήματα καὶ αἱ βλασφημίαι ὅσα ἐὰν βλασφημήσωσιν· 3:29 ὃς δ᾽ ἂν βλασφημήσῃ εἰς τὸ πνεῦμα τὸ ἅγιον, οὐκ ἔχει ἄφεσιν εἰς τὸν αἰῶνα, ἀλλὰ ἔνοχός ἐστιν αἰωνίου ἁμαρτήματος. 3:30 ὅτι ἔλεγον, Πνεῦμα ἀκάθαρτον ἔχει.
3:31 Καὶ ἔρχεται ἡ μήτηρ αὐτοῦ καὶ οἱ ἀδελφοὶ αὐτοῦ καὶ ἔξω στήκοντες ἀπέστειλαν πρὸς αὐτὸν καλοῦντες αὐτόν. 3:32 καὶ ἐκάθητο περὶ αὐτὸν ὄχλος, καὶ λέγουσιν αὐτῷ, Ἰδοὺ ἡ μήτηρ σου καὶ οἱ ἀδελφοί σου [καὶ αἱ ἀδελφαί σου] ἔξω ζητοῦσίν σε. 3:33 καὶ ἀποκριθεὶς αὐτοῖς λέγει, Τίς ἐστιν ἡ μήτηρ μου καὶ οἱ ἀδελφοί [μου]; 3:34 καὶ περιβλεψάμενος τοὺς περὶ αὐτὸν κύκλῳ καθημένους λέγει, Ἴδε ἡ μήτηρ μου καὶ οἱ ἀδελφοί μου. 3:35 ὃς [γὰρ] ἂν ποιήσῃ τὸ θέλημα τοῦ θεοῦ, οὗτος ἀδελφός μου καὶ ἀδελφὴ καὶ μήτηρ ἐστίν.
Then he went home, and the crowd gathered again, so that they could not even eat. And when his family heard it, they went out to seize him, for they were saying, "He is out of his mind."
And the scribes who came down from Jerusalem were saying, "He is possessed by Beelzebul," and "by the prince of demons he casts out the demons." And he called them to him and said to them in parables, "How can Satan cast out Satan? If a kingdom is divided against itself, that kingdom cannot stand. And if a house is divided against itself, that house will not be able to stand. And if Satan has risen up against himself and is divided, he cannot stand, but is coming to an end. But no one can enter a strong man's house and plunder his goods, unless he first binds the strong man. Then indeed he may plunder his house.
"Truly, I say to you, all sins will be forgiven the children of man, and whatever blasphemies they utter, but whoever blasphemes against the Holy Spirit never has forgiveness, but is guilty of an eternal sin"—for they were saying, "He has an unclean spirit."
And his mother and his brothers came, and standing outside they sent to him and called him. And a crowd was sitting around him, and they said to him, "Your mother and your brothers are outside, seeking you." And he answered them, "Who are my mother and my brothers?" And looking about at those who sat around him, he said, "Here are my mother and my brothers! For whoever does the will of God, he is my brother and sister and mother."
---

Commentary
Genesis 3:9
The following is from from Luther's Works, the American Edition: vol. 1, copyright © 1958 by Concordia Publishing House. All rights reserved.
"This is the description of the trial. After Adam has become terrified through the awareness of his sin, he avoids the sight of God and realizes that not only Paradise but the entire world is too narrow to be a safe hiding place. And now, in that mental agony, he reveals his stupidity by seeking relief from sin through flight from God. But he had already fled too far from God. Sin itself is the real withdrawal from God, and it would not have been necessary to add any further flight. Thus it happens—and this is the nature of sin—that the farther man withdraws from God, the farther he still desires to withdraw; and he who has once fled and apostatized keeps on fleeing forever. And so some also maintain concerning the punishments of hell that this will be the most terrible thing: that the ungodly will desire to flee and yet will realize that they cannot escape. So it was with Adam here; although he was caught, nevertheless he does not stop fleeing" (pp. 172–73).
---
English Scripture quotations are from the ESV® Bible (The Holy Bible, English Standard Version®), copyright © 2001 by Crossway, a publishing ministry of Good News Publishers. Used by permission. All rights reserved.
The SymbolGreekU, NewJerusalem, Jacobite, and TranslitLSU fonts are available from Linguist's Software, Inc., PO Box 580, Edmonds, WA 98020-0580, USA; telephone (425) 775-1130; www.linguistsoftware.com.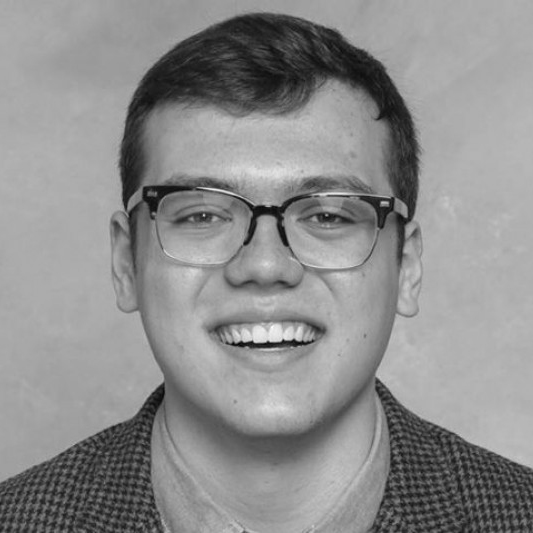 Mason Vieth is a recent graduate of Concordia University Chicago and is currently a first-year student at Concordia Seminary, St. Louis. He interned in the professional and academic editorial department at Concordia Publishing House in the summer of 2017. Some of the projects he worked on include Who Was Martin Luther?, CPH's Academic Blog, as well as other academic and professional resources.