Old Testament Reading
Isaiah 6:1–8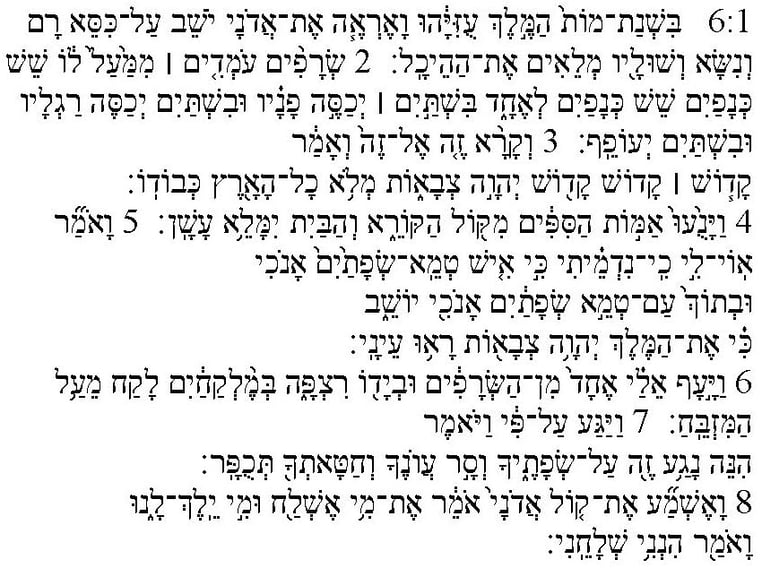 In the year that King Uzziah died I saw the Lord sitting upon a throne, high and lifted up; and the train of his robe filled the temple. Above him stood the seraphim. Each had six wings: with two he covered his face, and with two he covered his feet, and with two he flew. And one called to another and said:
"Holy, holy, holy is the Lord of hosts;
the whole earth is full of his glory!"
And the foundations of the thresholds shook at the voice of him who called, and the house was filled with smoke. And I said: "Woe is me! For I am lost; for I am a man of unclean lips, and I dwell in the midst of a people of unclean lips; for my eyes have seen the King, the Lord of hosts!"
Then one of the seraphim flew to me, having in his hand a burning coal that he had taken with tongs from the altar. And he touched my mouth and said: "Behold, this has touched your lips; your guilt is taken away, and your sin atoned for."
And I heard the voice of the Lord saying, "Whom shall I send, and who will go for us?" Then I said, "Here I am! Send me."
Epistle
Acts 2:14a, 22–36
2:14a Σταθεὶς δὲ ὁ Πέτρος σὺν τοῖς ἕνδεκα ἐπῆρεν τὴν φωνὴν αὐτοῦ καὶ ἀπεφθέγξατο αὐτοῖς, [ . . . ]
2:22 Ἄνδρες Ἰσραηλῖται, ἀκούσατε τοὺς λόγους τούτους· Ἰησοῦν τὸν Ναζωραῖον, ἄνδρα ἀποδεδειγμένον ἀπὸ τοῦ θεοῦ εἰς ὑμᾶς δυνάμεσιν καὶ τέρασιν καὶ σημείοις οἷς ἐποίησεν δι᾽ αὐτοῦ ὁ θεὸς ἐν μέσῳ ὑμῶν καθὼς αὐτοὶ οἴδατε, 2:23 τοῦτον τῇ ὡρισμένῃ βουλῇ καὶ προγνώσει τοῦ θεοῦ ἔκδοτον διὰ χειρὸς ἀνόμων προσπήξαντες ἀνείλατε, 2:24 ὃν ὁ θεὸς ἀνέστησεν λύσας τὰς ὠδῖνας τοῦ θανάτου, καθότι οὐκ ἦν δυνατὸν κρατεῖσθαι αὐτὸν ὑπ᾽ αὐτοῦ. 2:25 Δαυὶδ γὰρ λέγει εἰς αὐτόν·
προορώμην τὸν κύριον ἐνώπιόν μου διὰ παντός,
ὅτι ἐκ δεξιῶν μού ἐστιν ἵνα μὴ σαλευθῶ.
2:26 διὰ τοῦτο ηὐφράνθη ἡ καρδία μου
καὶ ἠγαλλιάσατο ἡ γλῶσσά μου,
ἔτι δὲ καὶ ἡ σάρξ μου κατασκηνώσει ἐπ᾽ ἐλπίδι,
2:27 ὅτι οὐκ ἐγκαταλείψεις τὴν ψυχήν μου εἰς ᾅδην
οὐδὲ δώσεις τὸν ὅσιόν σου ἰδεῖν διαφθοράν.
2:28 ἐγνώρισάς μοι ὁδοὺς ζωῆς,
πληρώσεις με εὐφροσύνης μετὰ τοῦ προσώπου σου.
2:29 Ἄνδρες ἀδελφοί, ἐξὸν εἰπεῖν μετὰ παρρησίας πρὸς ὑμᾶς περὶ τοῦ πατριάρχου Δαυὶδ ὅτι καὶ ἐτελεύτησεν καὶ ἐτάφη, καὶ τὸ μνῆμα αὐτοῦ ἔστιν ἐν ἡμῖν ἄχρι τῆς ἡμέρας ταύτης. 2:30 προφήτης οὖν ὑπάρχων καὶ εἰδὼς ὅτι ὅρκῳ ὤμοσεν αὐτῷ ὁ θεὸς ἐκ καρποῦ τῆς ὀσφύος αὐτοῦ καθίσαι ἐπὶ τὸν θρόνον αὐτοῦ, 2:31 προϊδὼν ἐλάλησεν περὶ τῆς ἀναστάσεως τοῦ Χριστοῦ ὅτι οὔτε ἐγκατελείφθη εἰς ᾅδην οὔτε ἡ σὰρξ αὐτοῦ εἶδεν διαφθοράν. 2:32 τοῦτον τὸν Ἰησοῦν ἀνέστησεν ὁ θεός, οὗ πάντες ἡμεῖς ἐσμεν μάρτυρες· 2:33 τῇ δεξιᾷ οὖν τοῦ θεοῦ ὑψωθείς, τήν τε ἐπαγγελίαν τοῦ πνεύματος τοῦ ἁγίου λαβὼν παρὰ τοῦ πατρός, ἐξέχεεν τοῦτο ὃ ὑμεῖς [καὶ] βλέπετε καὶ ἀκούετε. 2:34 οὐ γὰρ Δαυὶδ ἀνέβη εἰς τοὺς οὐρανούς, λέγει δὲ αὐτός·
εἶπεν [ὁ] κύριος τῷ κυρίῳ μου· Κάθου ἐκ δεξιῶν μου,
2:35 ἕως ἂν θῶ τοὺς ἐχθρούς σου ὑποπόδιον τῶν ποδῶν σου.
2:36 ἀσφαλῶς οὖν γινωσκέτω πᾶς οἶκος Ἰσραὴλ ὅτι καὶ κύριον αὐτὸν καὶ Χριστὸν ἐποίησεν ὁ θεός, τοῦτον τὸν Ἰησοῦν ὃν ὑμεῖς ἐσταυρώσατε.
But Peter, standing with the eleven, lifted up his voice and addressed them: . . .
"Men of Israel, hear these words: Jesus of Nazareth, a man attested to you by God with mighty works and wonders and signs that God did through him in your midst, as you yourselves know—this Jesus, delivered up according to the definite plan and foreknowledge of God, you crucified and killed by the hands of lawless men. God raised him up, loosing the pangs of death, because it was not possible for him to be held by it. For David says concerning him,
"'I saw the Lord always before me,
for he is at my right hand that I may not be shaken;
therefore my heart was glad, and my tongue rejoiced;
my flesh also will dwell in hope.
For you will not abandon my soul to Hades,
or let your Holy One see corruption.
You have made known to me the paths of life;
you will make me full of gladness with your presence.'
"Brothers, I may say to you with confidence about the patriarch David that he both died and was buried, and his tomb is with us to this day. Being therefore a prophet, and knowing that God had sworn with an oath to him that he would set one of his descendants on his throne, he foresaw and spoke about the resurrection of the Christ, that he was not abandoned to Hades, nor did his flesh see corruption. This Jesus God raised up, and of that we all are witnesses. Being therefore exalted at the right hand of God, and having received from the Father the promise of the Holy Spirit, he has poured out this that you yourselves are seeing and hearing. For David did not ascend into the heavens, but he himself says,
"'The Lord said to my Lord,
"Sit at my right hand,
until I make your enemies your footstool."'
Let all the house of Israel therefore know for certain that God has made him both Lord and Christ, this Jesus whom you crucified."
Holy Gospel
John 3:1–17
3:1 Ἦν δὲ ἄνθρωπος ἐκ τῶν Φαρισαίων, Νικόδημος ὄνομα αὐτῷ, ἄρχων τῶν Ἰουδαίων· 3:2 οὗτος ἦλθεν πρὸς αὐτὸν νυκτὸς καὶ εἶπεν αὐτῷ· ῥαββί, οἴδαμεν ὅτι ἀπὸ θεοῦ ἐλήλυθας διδάσκαλος· οὐδεὶς γὰρ δύναται ταῦτα τὰ σημεῖα ποιεῖν ἃ σὺ ποιεῖς, ἐὰν μὴ ᾖ ὁ θεὸς μετ' αὐτοῦ. 3:3 ἀπεκρίθη Ἰησοῦς καὶ εἶπεν αὐτῷ· ἀμὴν ἀμὴν λέγω σοι, ἐὰν μή τις γεννηθῇ ἄνωθεν, οὐ δύναται ἰδεῖν τὴν βασιλείαν τοῦ θεοῦ. 3:4 Λέγει πρὸς αὐτὸν [ὁ] Νικόδημος· πῶς δύναται ἄνθρωπος γεννηθῆναι γέρων ὤν; μὴ δύναται εἰς τὴν κοιλίαν τῆς μητρὸς αὐτοῦ δεύτερον εἰσελθεῖν καὶ γεννηθῆναι; 3:5 ἀπεκρίθη Ἰησοῦς· ἀμὴν ἀμὴν λέγω σοι, ἐὰν μή τις γεννηθῇ ἐξ ὕδατος καὶ πνεύματος, οὐ δύναται εἰσελθεῖν εἰς τὴν βασιλείαν τοῦ θεοῦ. 3:6 τὸ γεγεννημένον ἐκ τῆς σαρκὸς σάρξ ἐστιν, καὶ τὸ γεγεννημένον ἐκ τοῦ πνεύματος πνεῦμά ἐστιν. 3:7 μὴ θαυμάσῃς ὅτι εἶπόν σοι· δεῖ ὑμᾶς γεννηθῆναι ἄνωθεν. 3:8 τὸ πνεῦμα ὅπου θέλει πνεῖ καὶ τὴν φωνὴν αὐτοῦ ἀκούεις, ἀλλ' οὐκ οἶδας πόθεν ἔρχεται καὶ ποῦ ὑπάγει· οὕτως ἐστὶν πᾶς ὁ γεγεννημένος ἐκ τοῦ πνεύματος. 3:9 Ἀπεκρίθη Νικόδημος καὶ εἶπεν αὐτῷ· πῶς δύναται ταῦτα γενέσθαι; 3:10 ἀπεκρίθη Ἰησοῦς καὶ εἶπεν αὐτῷ· σὺ εἶ ὁ διδάσκαλος τοῦ Ἰσραὴλ καὶ ταῦτα οὐ γινώσκεις; 3:11 ἀμὴν ἀμὴν λέγω σοι ὅτι ὃ οἴδαμεν λαλοῦμεν καὶ ὃ ἑωράκαμεν μαρτυροῦμεν, καὶ τὴν μαρτυρίαν ἡμῶν οὐ λαμβάνετε. 3:12 εἰ τὰ ἐπίγεια εἶπον ὑμῖν καὶ οὐ πιστεύετε, πῶς ἐὰν εἴπω ὑμῖν τὰ ἐπουράνια πιστεύσετε; 3:13 καὶ οὐδεὶς ἀναβέβηκεν εἰς τὸν οὐρανὸν εἰ μὴ ὁ ἐκ τοῦ οὐρανοῦ καταβάς, ὁ υἱὸς τοῦ ἀνθρώπου. 3:14 Καὶ καθὼς Μωϋσῆς ὕψωσεν τὸν ὄφιν ἐν τῇ ἐρήμῳ, οὕτως ὑψωθῆναι δεῖ τὸν υἱὸν τοῦ ἀνθρώπου, 3:15 ἵνα πᾶς ὁ πιστεύων ἐν αὐτῷ ἔχῃ ζωὴν αἰώνιον. 3:16 οὕτως γὰρ ἠγάπησεν ὁ θεὸς τὸν κόσμον, ὥστε τὸν υἱὸν τὸν μονογενῆ ἔδωκεν, ἵνα πᾶς ὁ πιστεύων εἰς αὐτὸν μὴ ἀπόληται ἀλλ' ἔχῃ ζωὴν αἰώνιον. 3:17 οὐ γὰρ ἀπέστειλεν ὁ θεὸς τὸν υἱὸν εἰς τὸν κόσμον ἵνα κρίνῃ τὸν κόσμον, ἀλλ' ἵνα σωθῇ ὁ κόσμος δι' αὐτοῦ.
Now there was a man of the Pharisees named Nicodemus, a ruler of the Jews. This man came to Jesus by night and said to him, "Rabbi, we know that you are a teacher come from God, for no one can do these signs that you do unless God is with him." Jesus answered him, "Truly, truly, I say to you, unless one is born again he cannot see the kingdom of God." Nicodemus said to him, "How can a man be born when he is old? Can he enter a second time into his mother's womb and be born?" Jesus answered, "Truly, truly, I say to you, unless one is born of water and the Spirit, he cannot enter the kingdom of God. That which is born of the flesh is flesh, and that which is born of the Spirit is spirit. Do not marvel that I said to you, 'You must be born again.' The wind blows where it wishes, and you hear its sound, but you do not know where it comes from or where it goes. So it is with everyone who is born of the Spirit."
Nicodemus said to him, "How can these things be?" Jesus answered him, "Are you the teacher of Israel and yet you do not understand these things? Truly, truly, I say to you, we speak of what we know, and bear witness to what we have seen, but you do not receive our testimony. If I have told you earthly things and you do not believe, how can you believe if I tell you heavenly things? No one has ascended into heaven except he who descended from heaven, the Son of Man. And as Moses lifted up the serpent in the wilderness, so must the Son of Man be lifted up, that whoever believes in him may have eternal life.
"For God so loved the world, that he gave his only Son, that whoever believes in him should not perish but have eternal life. For God did not send his Son into the world to condemn the world, but in order that the world might be saved through him."
---
Commentary
John 3:5
The following is from John 1:1–7:1, by William C. Weinrich, Concordia Commentary series, copyright © 2015 by Concordia Publishing House. All rights reserved.
"The tandem of water and the Spirit is virtually a cipher for divine creation, and behind the language of Jn 3:5 stands preeminently Gen 1:2. To say that one is begotten by water and the Spirit is to say that one is created a new living being by God through his Spirit. Since the term 'baptize' suggested a drowning and water was often an instrument of death and destruction, sometimes water was interpreted as referring to the sinner's burial (see Rom 6:3), while the Spirit referred to the vivification of the new life of resurrection. However, since both water and the Spirit are together the means of the divine begetting, this interpretation is not true to the language of John's Gospel. Water and the Spirit together are depicted as the vivifying cause of the new life. They belong together and not apart" (p. 390).
---
English Scripture quotations are from the ESV® Bible (The Holy Bible, English Standard Version®), copyright © 2001 by Crossway, a publishing ministry of Good News Publishers. Used by permission. All rights reserved.
The SymbolGreekU, NewJerusalem, Jacobite, and TranslitLSU fonts are available from Linguist's Software, Inc., PO Box 580, Edmonds, WA 98020-0580, USA; telephone (425) 775-1130; www.linguistsoftware.com.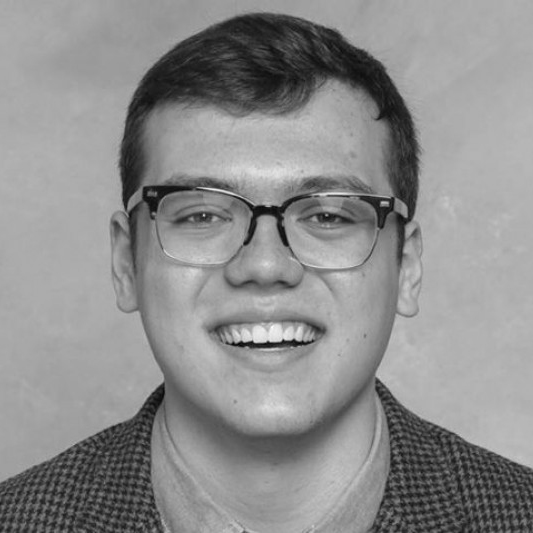 Mason Vieth is a recent graduate of Concordia University Chicago and is currently a first-year student at Concordia Seminary, St. Louis. He interned in the professional and academic editorial department at Concordia Publishing House in the summer of 2017. Some of the projects he worked on include Who Was Martin Luther?, CPH's Academic Blog, as well as other academic and professional resources.