Old Testament Reading
Isaiah 40:21–31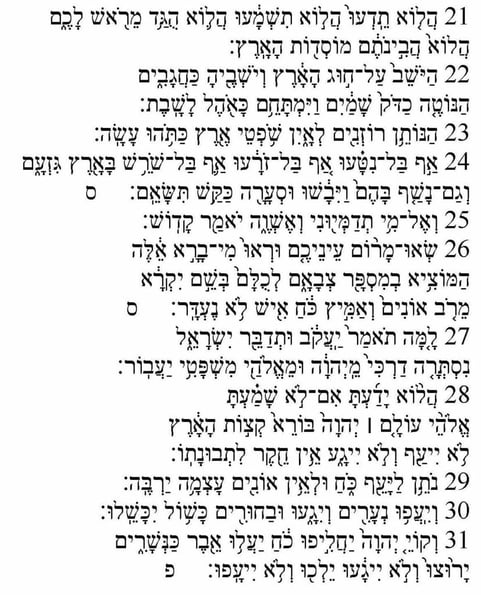 Do you not know? Do you not hear?
Has it not been told you from the beginning?
Have you not understood from the foundations of the earth?
It is he who sits above the circle of the earth,
and its inhabitants are like grasshoppers;
who stretches out the heavens like a curtain,
and spreads them like a tent to dwell in;
who brings princes to nothing,
and makes the rulers of the earth as emptiness.
Scarcely are they planted, scarcely sown,
scarcely has their stem taken root in the earth,
when he blows on them, and they wither,
and the tempest carries them off like stubble.
To whom then will you compare me,
that I should be like him? says the Holy One.
Lift up your eyes on high and see:
who created these?
He who brings out their host by number,
calling them all by name;
by the greatness of his might
and because he is strong in power,
not one is missing.
Why do you say, O Jacob,
and speak, O Israel,
"My way is hidden from the LORD,
and my right is disregarded by my God"?
Have you not known? Have you not heard?
The LORD is the everlasting God,
the Creator of the ends of the earth.
He does not faint or grow weary;
his understanding is unsearchable.
He gives power to the faint,
and to him who has no might he increases strength.
Even youths shall faint and be weary,
and young men shall fall exhausted;
but they who wait for the LORD shall renew their strength;
they shall mount up with wings like eagles;
they shall run and not be weary;
they shall walk and not faint.
Epistle
1 Corinthians 9:16–27
9:16 ἐὰν γὰρ εὐαγγελίζωμαι, οὐκ ἔστιν μοι καύχημα· ἀνάγκη γάρ μοι ἐπίκειται· οὐαὶ γάρ μοί ἐστιν ἐὰν μὴ εὐαγγελίσωμαι. 9:17 εἰ γὰρ ἑκὼν τοῦτο πράσσω, μισθὸν ἔχω· εἰ δὲ ἄκων, οἰκονομίαν πεπίστευμαι· 9:18 τίς οὖν μού ἐστιν ὁ μισθός; ἵνα εὐαγγελιζόμενος ἀδάπανον θήσω τὸ εὐαγγέλιον εἰς τὸ μὴ καταχρήσασθαι τῇ ἐξουσίᾳ μου ἐν τῷ εὐαγγελίῳ.
9:19 Ἐλεύθερος γὰρ ὢν ἐκ πάντων πᾶσιν ἐμαυτὸν ἐδούλωσα, ἵνα τοὺς πλείονας κερδήσω· 9:20 καὶ ἐγενόμην τοῖς Ἰουδαίοις ὡς Ἰουδαῖος, ἵνα Ἰουδαίους κερδήσω· τοῖς ὑπὸ νόμον ὡς ὑπὸ νόμον, μὴ ὢν αὐτὸς ὑπὸ νόμον, ἵνα τοὺς ὑπὸ νόμον κερδήσω· 9:21 τοῖς ἀνόμοις ὡς ἄνομος, μὴ ὢν ἄνομος θεοῦ ἀλλ᾽ ἔννομος Χριστοῦ, ἵνα κερδάνω τοὺς ἀνόμους· 9:22 ἐγενόμην τοῖς ἀσθενέσιν ἀσθενής, ἵνα τοὺς ἀσθενεῖς κερδήσω· τοῖς πᾶσιν γέγονα πάντα, ἵνα πάντως τινὰς σώσω. 9:23 πάντα δὲ ποιῶ διὰ τὸ εὐαγγέλιον, ἵνα συγκοινωνὸς αὐτοῦ γένωμαι.
9:24 Οὐκ οἴδατε ὅτι οἱ ἐν σταδίῳ τρέχοντες πάντες μὲν τρέχουσιν, εἷς δὲ λαμβάνει τὸ βραβεῖον; οὕτως τρέχετε ἵνα καταλάβητε. 9:25 πᾶς δὲ ὁ ἀγωνιζόμενος πάντα ἐγκρατεύεται, ἐκεῖνοι μὲν οὖν ἵνα φθαρτὸν στέφανον λάβωσιν, ἡμεῖς δὲ ἄφθαρτον. 9:26 ἐγὼ τοίνυν οὕτως τρέχω ὡς οὐκ ἀδήλως, οὕτως πυκτεύω ὡς οὐκ ἀέρα δέρων· 9:27 ἀλλὰ ὑπωπιάζω μου τὸ σῶμα καὶ δουλαγωγῶ, μή πως ἄλλοις κηρύξας αὐτὸς ἀδόκιμος γένωμαι.
For if I preach the gospel, that gives me no ground for boasting. For necessity is laid upon me. Woe to me if I do not preach the gospel! For if I do this of my own will, I have a reward, but if not of my own will, I am still entrusted with a stewardship. What then is my reward? That in my preaching I may present the gospel free of charge, so as not to make full use of my right in the gospel.
For though I am free from all, I have made myself a servant to all, that I might win more of them. To the Jews I became as a Jew, in order to win Jews. To those under the law I became as one under the law (though not being myself under the law) that I might win those under the law. To those outside the law I became as one outside the law (not being outside the law of God but under the law of Christ) that I might win those outside the law. To the weak I became weak, that I might win the weak. I have become all things to all people, that by all means I might save some. I do it all for the sake of the gospel, that I may share with them in its blessings.
Do you not know that in a race all the runners run, but only one receives the prize? So run that you may obtain it. Every athlete exercises self-control in all things. They do it to receive a perishable wreath, but we an imperishable. So I do not run aimlessly; I do not box as one beating the air. But I discipline my body and keep it under control, lest after preaching to others I myself should be disqualified.
Holy Gospel
Mark 1:29–39
1:29 Καὶ εὐθὺς ἐκ τῆς συναγωγῆς ἐξελθόντες ἦλθον εἰς τὴν οἰκίαν Σίμωνος καὶ Ἀνδρέου μετὰ Ἰακώβου καὶ Ἰωάννου. 1:30 ἡ δὲ πενθερὰ Σίμωνος κατέκειτο πυρέσσουσα, καὶ εὐθὺς λέγουσιν αὐτῷ περὶ αὐτῆς. 1:31 καὶ προσελθὼν ἤγειρεν αὐτὴν κρατήσας τῆς χειρός· καὶ ἀφῆκεν αὐτὴν ὁ πυρετός, καὶ διηκόνει αὐτοῖς. 1:32 Ὀψίας δὲ γενομένης, ὅτε ἔδυ ὁ ἥλιος, ἔφερον πρὸς αὐτὸν πάντας τοὺς κακῶς ἔχοντας καὶ τοὺς δαιμονιζομένους· 1:33 καὶ ἦν ὅλη ἡ πόλις ἐπισυνηγμένη πρὸς τὴν θύραν. 1:34 καὶ ἐθεράπευσεν πολλοὺς κακῶς ἔχοντας ποικίλαις νόσοις καὶ δαιμόνια πολλὰ ἐξέβαλεν καὶ οὐκ ἤφιεν λαλεῖν τὰ δαιμόνια, ὅτι ᾔδεισαν αὐτόν.
1:35 Καὶ πρωῒ ἔννυχα λίαν ἀναστὰς ἐξῆλθεν καὶ ἀπῆλθεν εἰς ἔρημον τόπον κἀκεῖ προσηύχετο. 1:36 καὶ κατεδίωξεν αὐτὸν Σίμων καὶ οἱ μετ᾽ αὐτοῦ, 1:37 καὶ εὗρον αὐτὸν καὶ λέγουσιν αὐτῷ ὅτι Πάντες ζητοῦσίν σε. 1:38 καὶ λέγει αὐτοῖς, Ἄγωμεν ἀλλαχοῦ εἰς τὰς ἐχομένας κωμοπόλεις, ἵνα καὶ ἐκεῖ κηρύξω· εἰς τοῦτο γὰρ ἐξῆλθον. 1:39 καὶ ἦλθεν κηρύσσων εἰς τὰς συναγωγὰς αὐτῶν εἰς ὅλην τὴν Γαλιλαίαν καὶ τὰ δαιμόνια ἐκβάλλων.
Immediately [Jesus] left the synagogue and entered the house of Simon and Andrew, with James and John. Now Simon's mother-in-law lay ill with a fever, and immediately they told him about her. And he came and took her by the hand and lifted her up, and the fever left her, and she began to serve them.
That evening at sundown they brought to him all who were sick or oppressed by demons. And the whole city was gathered together at the door. And he healed many who were sick with various diseases, and cast out many demons. And he would not permit the demons to speak, because they knew him.
And rising very early in the morning, while it was still dark, he departed and went out to a desolate place, and there he prayed. And Simon and those who were with him searched for him, and they found him and said to him, "Everyone is looking for you." And he said to them, "Let us go on to the next towns, that I may preach there also, for that is why I came out." And he went throughout all Galilee, preaching in their synagogues and casting out demons.
---
Commentary
Isaiah 40:27
The following is from Isaiah 40-55, Concordia Commentary series, by R. Reed Lessing copyright © 2011 Concordia Publishing House.
"Yahweh knows that many of his dispersed people will not immediately believe his great and precious promises (cf. 2 Pet 1:4). 'Why do you say, O Jacob, and speak, O Israel, "My way is hidden from Yahweh, and my justice passed by my God"?' (Is 40:27). Therefore, Yahweh responds with words that are similar to his theophany in Job 38–41, namely, a 'cosmological argument for Yahweh's ineffable incomparability.' His use of rhetorical questions is part of a tradition that goes back to this question posed to Abraham and Sarah, 'Is anything too hard for Yahweh?' (Gen 18:14). 'The effect of the questions is to give persuasive weight to the argument that the LORD is incomparable and the accomplishment of his plan inevitable'" (p. 169).
---
English Scripture quotations are from the ESV® Bible (The Holy Bible, English Standard Version®), copyright © 2001 by Crossway, a publishing ministry of Good News Publishers. Used by permission. All rights reserved.
The SymbolGreekU, NewJerusalem, Jacobite, and TranslitLSU fonts are available from Linguist's Software, Inc., PO Box 580, Edmonds, WA 98020-0580, USA; telephone (425) 775-1130; www.linguistsoftware.com.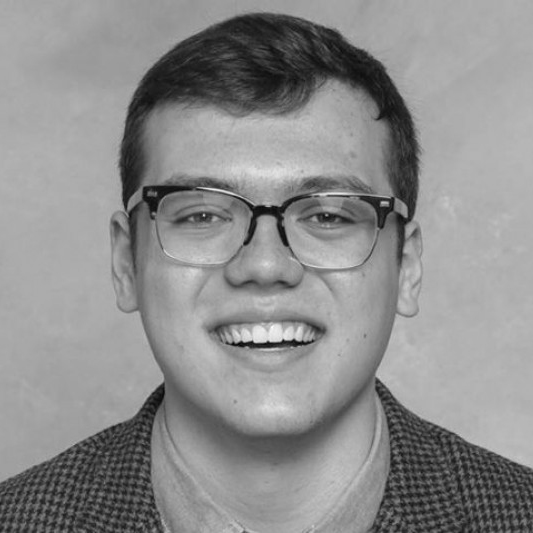 Mason Vieth is a recent graduate of Concordia University Chicago and is currently a first-year student at Concordia Seminary, St. Louis. He interned in the professional and academic editorial department at Concordia Publishing House in the summer of 2017. Some of the projects he worked on include Who Was Martin Luther?, CPH's Academic Blog, as well as other academic and professional resources.