Who was St. Valentine?
A physician and priest living in Rome during the rule of Emperor Claudius, Valentine became one of the noted martyrs of the third century. The commemoration of his death, which occurred in AD 270, became part of the calendar of remembrance in the Early Church of the West. Tradition suggests that on the day of his execution for his Christian faith, Valentine left a note of encouragement for a child of his jailer written on an irregularly shaped piece of paper. This greeting became a pattern for millions of written expressions of love and caring that are now the highlight of Valentine's day in many nations.
"For there are two loves from which proceed all desires, as different in quality as they are different in their sources. For the reasonable soul, which cannot exist without love, loves either God or the world. In the love of God there is no excess, but in the love of the world all is hurtful. And therefore we must cling inseparably to eternal treasures. . . . But the world attracts us with its appearance and abundance and variety, so it is not easy to turn away unless we love the beauty of the Creator in the visible things all around us." —Leo the Great
---
From Treasury of Daily Prayer, pages 1278–79 © 2008 Concordia Publishing House. All rights reserved.
To order Treasury of Daily Prayer, please contact CPH at 800-325-3040 or visit cph.org.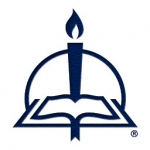 At CPH since 2003, Laura Lane is an editor for the professional book team. She has worked on numerous titles for the adult consumer and church professional markets, including The Lutheran Study Bible (CPH 2009) and The Apocrypha: The Lutheran Edition with Notes (CPH 2012).