Johann Gerhard (1582–1637) is considered by many as the third preeminent theologian of the Lutheran Reformation, following Martin Luther and Martin Chemnitz. In his magisterial Theological Commonplaces, he systematically, skillfully, and precisely presents the doctrines of the Christian faith, arguing against the positions of Roman Catholics (as represented by Robert Bellarmine) and the Reformed (as represented by Calvin, Beza, and others), as well as other more radical sects (such as the Socinians).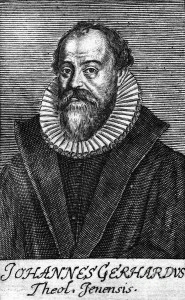 Johann Gerhard, theologian at Jena
As we commemorate his life on August 17, the following excerpt introduces Gerhard and his Theological Commonplaces.
---
It was a time of great deeds and deep faith. In the New World, small outposts were being formed. Captain John Smith would establish Jamestown, Virginia, in 1607. In the Old World, discoveries were being made in science, art, and architecture. Eloquence and culture were prized and people attained heights of learning that have perhaps not been attained since then. It was the era of William Shakespeare (1564–1614), Heinrich Schütz (1585–1672), and Rembrandt (1606–1669). The Church of the West had been divided into three main confessions—Evangelical Lutheran, Reformed, and Roman Catholic—and each of these confessions was busy organizing its congregations and working out its theology in detail. At the same time, it was an age when political tensions and religious animosities within the Holy Roman Empire would lead to three decades of bloodshed in the Thirty Years' War (1618–1648).
This period in the history of Lutheran Germany is known as the Age of Orthodoxy. Its archtheologian was Johann Gerhard. Gerhard was born on October 17, 1582, the son of Bartholomew Gerhard, a city counselor and treasurer for the town of Quedlinburg, and Margaret Berndes. Although his father died less than sixteen years later (d. 1598), Johann Gerhard's mother lived for many years thereafter (d. 1624). In 1599, Gerhard enrolled at the University of Wittenberg and studied the curriculum of philosophy, which included courses in history, logic, ethics, mathematics, physics, and anthropology. During this time he also read "the best commentators on Aristotle."[1] From 1600 to 1602, Gerhard studied medicine at Wittenberg. In 1603, after working as a private tutor and moving to Jena, he turned to the study of theology at the advice of Johann Arndt, since "he was anxious to become a physician of souls instead of being a physician of the body." At Jena, Gerhard heard lectures on the books of the New and Old Testaments, devoting himself especially to the study of the Hebrew language and of the Old Testament. In addition, he read the early church fathers and the medieval scholastics diligently. Although he became an adjunct professor of the philosophical faculty in 1605, it was not long before Gerhard was called to the ministry. In mid-1606, Prince John Casimir called Gerhard to be superintendent of the churches of Heldburg and to be a theology teacher at the upper preparatory school of Coburg. Having been "crowned with the rite of ordination" on August 24, Gerhard was installed and invested in his new office on September 6 in the presence of the pastors of the twenty-six parishes under his supervision. The same year, Gerhard finished the work for his doctorate in theology and was awarded his degree on November 11, 1606. It was during this time, while serving as pastor, superintendent, and religion teacher, that Gerhard began to write his Theological Commonplaces. His first four Commonplaces were published in 1610, when he was just twenty-seven years old. Only a few years later, in 1615, having been called to be general-superintendent of the entire region of Coburg, Gerhard wrote a new church order (canon law) for the churches in his territory. Finally, Gerhard was called to a theological professorship at Jena and began his duties there in 1616. He remained at Jena until his death in 1637.
In his introduction to the first edition of On the Nature of Theology and Scripture, the first volume of Gerhard's Theological Commonplaces, Dr. Kent Heimbigner noted:
Johann Gerhard (1582–1637) is widely held to be the third preeminent theologian of the Lutheran Reformation, after Martin Luther and Martin Chemnitz. Luther himself wrote no formal dogmatic theology comparable to John Calvin's Institutes of the Christian Religion, and with his death in 1546, the unifying mind of Lutheranism was gone. The Religious Peace of Augsburg in 1555 ironically allowed Lutheran theologians, especially in Germany, to turn their energies against one another. Various theological controversies ensued. These theologians generally divided between the "pure," or "Gnesio," Lutheran party, centered at Jena, and the "Philippist" party, named after Philipp Melanchthon and based in Wittenberg. The threat of a permanently divided Lutheranism was largely overcome by the wide reception of the Formula of Concord and the publication of The Book of Concord in Germany in 1580. The Formula was the work of Martin Chemnitz, who also wrote numerous other important works of Lutheran dogmatic theology. Particularly important were the Examination of the Council of Trent and his own Loci Theologici ["Theological Commonplaces"]. Chemnitz's Loci Theologici were patterned after Melanchthon's Loci Communes ["Commonplaces"]. Neither of these works, however, approach Gerhard's Loci Theologici, either in length or in detail.[2]
Gerhard was a versatile writer. In works such as the Theological Commonplaces and the Confessio Catholica he wrote vigorous polemic and detailed defense of each point of the Christian faith, employing arguments of every variety: from Scripture, from logic, from tradition, and from the inconsistency of his opponents. But in his sermons and devotional works such as his Sacred Meditations and The Daily Exercise of Piety, he wrote in a warm, devotional, meditative style. Finally, Gerhard's many Bible commentaries should not be forgotten—not only his many commentaries on individual books of the Bible but also his enormous contributions to the Harmonia Evangelica of Chemnitz and Leyser and to the Ernestine Bible. It also should be remembered that in the most polemical and doctrinaire of his writings, he still includes the "practical use" of the doctrine.
Theory and practice were not separated for Gerhard, though he focused more on theory in some writings and more on practice in others. One must keep the genre of the Theological Commonplaces in mind or else risk becoming disappointed in not finding what one expected. For example, while he acknowledges and quotes "our Luther" and praises Luther's translation of the Bible highly, Gerhard quotes the blessed reformer infrequently and never uses Luther's views as evidence that the doctrine set forth is orthodox. Instead, Gerhard quotes the early church fathers heavily. Rather than explaining this fact by saying that Gerhard did not value Luther, one should keep in mind the scope and purpose of the Theological Commonplaces. The subtitle of this work in Latin reads: cum pro adstruenda veritate tum pro destruenda quorumvis contradicentium falsitate, that is, "both for affirming the truth and for destroying the falsehood of some who contradict it." In the Theological Commonplaces, Gerhard is giving arguments to convince his opponents of the truth that he is setting forth and to persuade them that opposing views are false. Thus, when arguing against Roman Catholic or Reformed opponents, appeals to the authority of Luther would be out of place. Gerhard chooses instead to appeal to authorities that most of his opponents would recognize: the right-believing teachers of the ancient Church. . . .
C. F. W. Walther, a nineteenth-century scholar of Lutheran Orthodoxy, had high praise for Gerhard's Theological Commonplaces.
Among the works that deal with this discipline in detail, one can ask which one is first and foremost just as little as one can ask which star outshines all the others. Just as in the latter question one can only speak of the sun, so in the former question one can only speak of Johann Gerhard's Theological Commonplaces. . . . The proofs from Scripture are everywhere clear and exhaustive. The refutation of opponents is pervaded and pulses just as much with the spirit of love toward them as with the love of the truth; it seeks out the opponents in all their hiding places and always robs them of their last supports, so that no further contradiction seems possible. The application of the whole as well as of the particular is simple, illuminating, clearly arranged. Free from destructive fragmentation—at times an error of the later dogmaticians—the entire development of the doctrine flows along briskly with its linguistic, historical, and antithetical excursus like one great stream that describes pleasant bends in the river. Everything is all of a piece. Ethics here are not yet separated from dogmatics; the former appear here like grapes growing from a ripe vine. Biblical isagogics, hermeneutics, exegesis, history of dogmas, patristics, and polemics are added here not like a merely worthwhile appendage, but are organically woven into the whole like necessary beams, like adornments in this architectural marvel. The expression and style are so certain and thereby so simple and brisk; the development of topics, even with its exhaustive precision, goes forward without burdensome repetition so swiftly; even the most dry and subtle subjects are discussed with such exceptional freshness and facility; everything is handled with such holy seriousness; and the words are soaked with such devout meaning that the reader, being taken away by the speech of this precious man, does not know whether he has before him a work for the promotion of Christian erudition or a devotional book. One does not tire of it as long as he reads it and notes how light and warmth go forth from this speech of noble simplicity and true depth of spirit. In sum, in our opinion this work of dogmatics is, in content and form, the most glorious, most complete work in this field that has ever been achieved within Christendom, and until the Last Day it will probably remain the model for all who labor in this field.[3]
At Walther's time, only those pastors and scholars who learned Latin were able to prove the truth of his words. God be praised that now a new generation of English-speaking readers can read Gerhard's great work for themselves. Soli Deo Gloria.
[1] Erdmann Rudolph Fischer, The Life of John Gerhard, trans. Richard J. Dinda and Elmer Hohle (Malone, TX: Repristination Press, 2001), 3.1, pp. 26–27.
[2] Johann Gerhard, On the Nature of Theology and Scripture, trans. Richard J. Dinda, Theological Commonplaces 1 (St. Louis: Concordia, 2006), 9.
[3] C. F. W. Walther, "Lutherisch-theologische Pfarrers-Bibliothek," Lehre und Wehre 1 (1855): 300–301.
---
Some footnotes have been omitted.
From the introduction by Benjamin T. G. Mayes, in On the Nature of Theology and On Scripture, 2nd ed., Theological Commonplaces 1, pp. xiii–xvii. English translation © 2009 Concordia Publishing House. All rights reserved.
To order On the Nature of Theology and On Scripture, please contact CPH at 800-325-3040 or visit www.cph.org.
Click here to subscribe to Johann Gerhard's Theological Commonplaces series.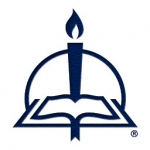 At CPH since 2009, Sarah Steiner was a production editor for the professional and academic book team. She worked on many academic titles, including coordinating the peer review books, and also helped out with Bible resource projects.