This summer, my dad, sister, and lots of others from our church packed up our camping supplies and headed to West Virginia. We spent a week doing various outdoors, adventure-type activities. The pinnacle of the week was a whitewater rafting trip.
Over the past few summers, I had been whitewater rafting multiple times. So I pretty much knew what to expect and I was super-excited. Some of the others, however, were quite nervous about the trip.
The day began early in the morning. We met at the buses where we received our life jackets, helmets, and paddles. We were given a set of safety rules and some various procedures to use throughout the day. We loaded up on the bus and headed off toward the rapids.
When we arrived, we unloaded our rafts, split into groups, and quickly got onto our rafts in the river. Each group's guide spent a few minutes acclimating us with the commands that would be used throughout the day. We practiced paddling in sync and talked about some potential hazards that we could encounter. After our instruction, we were prepared and we took off down the river.
At each rapid, our guide shouted out commands, and we followed. We made it through the rapids, sometimes pausing to swim or take a break. Some of the more intense rapids were slightly intimidating, and several of the groups had members fall out, but each time, everyone arrived back safely to the boat and made it through the rapid.
After the trip, I was reading through the book of Isaiah. In chapter 43, Isaiah writes:
"When you pass through the waters, I will be with you; and through the rivers, they shall not overwhelm you; when you walk through fire you shall not be burned, and the flame shall not consume you." (Isaiah 43:2 ESV)
Of course, my little writer brain couldn't help but draw a connection between the trip I had just experienced and this passage I had just read. I couldn't help but think about our lives like that trip down the river. Of course, there are times that are smooth sailing, or flat water as they call it on the river.
And then there are rapids of various sizes throughout our lives.
As we approach those rapids, we think that maybe we won't make it through or maybe even when we're right in the middle of it, it seems as if we are going to be consumed by the waters.
But our God gives us direction. He is the guide that takes us through the rivers.
When we were whitewater rafting, each time we would approach a big rapid, our guides would tell us how we were going to make it through. He would warn us of rocks or other traps in that section and would tell us what to do in case we fell out.
Isn't that exactly what our God does? He gives us His Word and His law to follow in order to navigate the waters of life. He promises to get us through the hardest parts and helps us to avoid the traps.
But on the river, it wasn't just the rapids that proved to be an issue. As we were going through one of the rapids, one of the boats completely flipped every member out. Before we began the day, our guides told all of us that if we fell out we were to swim quickly back to the boat.
Navigating the rapids is nearly impossible on our own, but the simple direction to swim to the boat proved to work for each member who fell out.
And I think the same can apply to our lives. I couldn't even begin to count the number of times I've "fallen out of the boat" in my short twenty-two years of life. Navigating on my own never seems to work; however, when I swim fervently toward my Jesus, He grabs on to me and pulls me back in each and every time.
As we go through this life, we can expect trials and tribulations. In fact, we are promised that we will face these difficulties. However, our sweet Jesus also has promised that He will take care of us. We are reminded of this promise in John:
"I have said these things to you, that in me you may have peace. In the world you will have tribulation. But take heart; I have overcome the world." (John 16:33 ESV)
So, the next time it feels as if the rapids of life are swallowing you up, remember the directions from our Guide: swim as hard as you can toward Jesus. He has already overcome that rapid you are floundering through.
Pressing on toward Jesus,
Hannah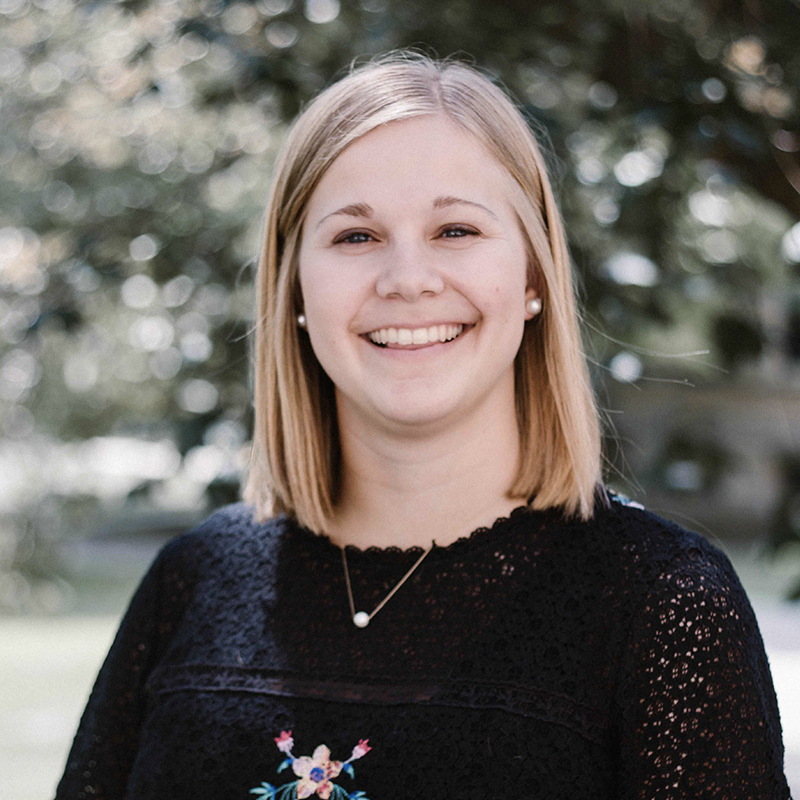 Hannah is currently a teacher at Zion Lutheran in Illinois. She is a recent graduate of Concordia University Chicago. When she's not in the classroom or writing, you can find her in her hammock, playing guitar, or reading a good book.