As a young child living in the Midwest, I have vivid memories of being woken up in the middle of the night by my parents during storms. My mom, the parent usually tasked with waking us kids up while my dad watched the weather, would gently shake us and tell us to grab our pillows and blankets and come lay in the hallway. My siblings and I would typically sprawl out in the hallway, arguing over who got what area of space. When we were young, we would instantly fall back asleep. On a few occasions, when the storm was severe enough, we would move into the bathroom, pile into the bathtub and wait out the storm.
As a young child, I didn't understand the magnitude of the tornadoes or the damage they could cause until one left a path of destruction just down the road from my house. It tore through the brick, leaving only remnants of what was once a beautiful house. Tree limbs were down all around the neighborhood. Trash cans and recycling bins were strewn all over the streets. It was a mess.
As I got older, I started to fear storms even more. Even the little ones, like a summer thunderstorm. Now, I'm not sure if that one tornado was what did it or not, but what I do know was that while most people loved listening to a storm every now and then, I hated it. Ironically enough, one of my close friends loved storms. Every time we were together while it was storming, he wanted to go outside and watch the storm roll in, or better yet, chase it around the county. I, however, wanted nothing to do with it.
My fear of storms was something quite similar to the disciples' fear while on the boat with Jesus. Mark gives us an account of this event. He starts out by setting the scene:
"On that day, when evening had come, he said to them, 'Let us go across to the other side.' And leaving the crowd, they took him with them in the boat, just as he was. And other boats were with him. And a great windstorm arose, and the waves were breaking into the boat, so that the boat was already filling." (Mark 4:35–37)
Jesus and His disciples are on this boat and get caught in a great windstorm. Last week in religion class, I was teaching this story to my students. We started talking about the size of the boat that these men were on. Because many of Jesus' disciples were fishermen, we decided they were probably on a small fishing boat, something that probably would not withstand a great windstorm.
Mark continues:
"But he was in the stern, asleep on the cushion. And they woke him and said to him, 'Teacher, do you not care that we are perishing?'" (Mark 4:38)
Jesus' disciples are freaking out and it doesn't seem as if they trust that Jesus will take care of them. To be honest, I relate to these guys way more than I would like to admit. I would probably have been asking the same question. However, even in the midst of their doubt, Jesus responds by taking care of them:
"And he awoke and rebuked the wind and said to the sea, "Peace! Be still!" And the wind ceased, and there was a great calm. He said to them, 'Why are you so afraid? Have you still no faith?' And they were filled with great fear and said to one another, 'Who then is this, that even the wind and the sea obey him?'" (Mark 4:39–41)
After reading this story and reflecting on it, I realized how much I am like those disciples. It's easy to think that we would have trusted our Jesus in that situation, but recently I've found myself in more storms than usual. I'm still (after five months of living here) adjusting to this new place. I'm still trying to make friends and navigate this thing called adulthood. I'm still trying to figure this all out on my own.
And I'm still doubting that Jesus is going to wake up and tell these waves to calm down.
I'm realizing that I can't do it without my sweet Jesus. I'm realizing that the only thing that is going to calm these gigantic waves of change in my life is the one who is never changing.
I'm realizing that I just need to listen to Jesus as He says, "Peace. Be still."
And unfortunately, that isn't as easy as it seems. It isn't easy to trust that Jesus has it under control. It isn't easy to be patient and wait as He works things out for my good. It isn't easy to be still.
But it's what Jesus is telling us to do.
You see, in this passage, Jesus is talking to the waves; however, I think there's something more here. I think ultimately, Jesus is telling us to be still. This phrase of "be still" is repeated multiple times throughout the Bible, and for good reason. Our sweet Jesus knows that left on our own, we will run around trying to make things work on our own. In reality, this won't get us anywhere.
The good news is that even when we are striving after whatever we think will calm our storms, our Jesus already has conquered the waves. Through His death and resurrection, every single one of the storms in our lives already has been won. Even when it feels like the end isn't in sight, we can rest assured that our sweet Jesus has calmed the waves.
Resting with my Jesus,
Hannah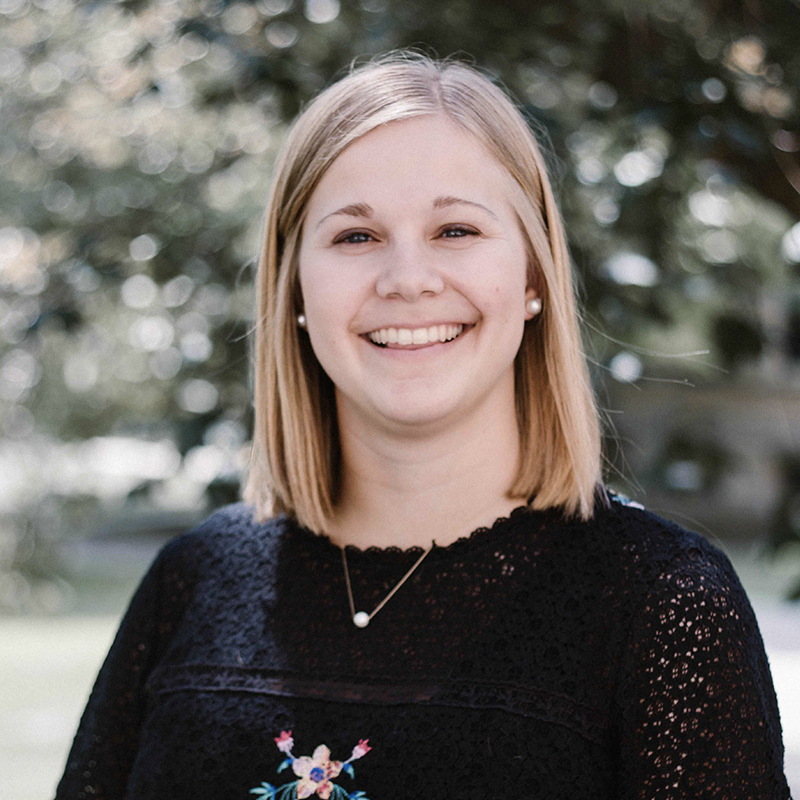 Hannah is currently a teacher at Zion Lutheran in Illinois. She is a recent graduate of Concordia University Chicago. When she's not in the classroom or writing, you can find her in her hammock, playing guitar, or reading a good book.