Today we remember Zacharias and Elizabeth, the parents of John the Baptist, with a devotion from God Loves Moms.
Devotional Reading
In Luke 1:8–10, we meet Zechariah on one of the most important days of his life. He was serving in the temple as the priest before God, an honor that was probably the highlight of his personal and professional life. He was chosen by lot for this rare privilege. Only fifty-six priests officiated in the temple each day, and twenty-eight more were needed on the Sabbath. To burn the incense, Zechariah would have been chosen from about twenty thousand priests. After this important day, he would be retired from the lot forever. This was his day, the pinnacle of his career as a priest, to enter the Holy Place and burn incense to God.
As we learn in verse 10, a huge group of people waited outside for Zechariah to finish. Can you picture the drama of this scene? It wasn't like churches today, where dozens (or hundreds) of us gather in the sanctuary and receive the body and blood of our Savior. In Zechariah's day, the priest was the representative for the people. He alone could enter the inner part of the temple while the throng of worshipers waited for him to offer the sacrifice and return with the blessing for them.
Here, in Zechariah's quiet, reverential moment filled with holiness and God's presence, an angel suddenly appeared and completely filled the Holy Place in the temple! If this didn't take old Zechariah's breath away, Gabriel's news did. What was this glorious angel promising? He would be a father? Elizabeth would have a baby? Impossible! She was too old!
It was easier for Zechariah to believe that God could do the impossible than that God would do the impossible. Does that seem strange to you? Maybe not. Although he was righteous and blameless, although he had enough hope to imagine that God could do something, he didn't have enough faith to see how. The good news, of course, is that God can and He did. About nine months later, Elizabeth gave birth to John.
What a crazy and wonderful time the next nine months must have been for Elizabeth. She was finally pregnant, but she kept it private for the first five months, knowing the news would shock her community. Imagine the strange scene in their house the first two trimesters of her pregnancy. Zechariah couldn't say anything, and Elizabeth wasn't saying anything about her miracle pregnancy to her family and friends. Did she quietly treasure all this? Was she bursting with the news?
In the next scene in Elizabeth's story, a visit from her much younger cousin Mary, we see that she was very ready to share her good news.
The news of Elizabeth's pregnancy must have provided peace of mind to Mary. If she was at all worried about how she was pregnant, Elizabeth's would have been proof that both were indeed from God.
In the brief glimpse we have of Elizabeth's pregnancy, we see that she certainly seems to be enjoying it. We can imagine that as the nine months drew to a close, her excitement would have been coupled with wonder. As a devout student of the Scriptures, Elizabeth would have known of other women with miraculous pregnancies, like Sarah with Isaac and Hannah with Samuel. And of course, her sweet little cousin Mary was miraculously pregnant with the Christ Child. She must have wondered what special plans God had for her own miracle baby.
Prayer
Father, I want to follow the example of Christ, but I need Your Holy Spirit to strengthen my faith and witness. Help me to share Your love with others through the enrichment of Your Spirit and the example of Your Son. In His name I pray. Amen.
Devotional reading and prayer are adapted from God Loves Moms, pages 149–55 © 2011 Concordia Publishing House. All rights reserved.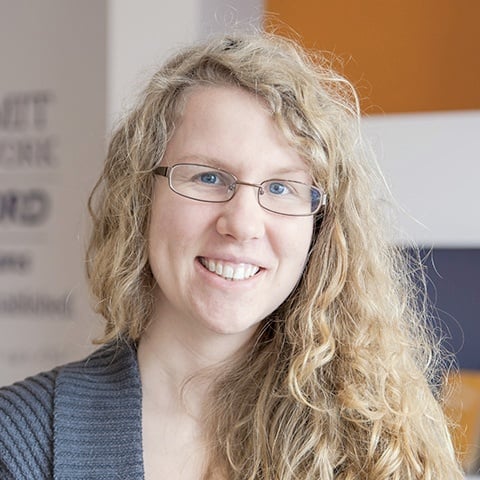 Deaconess Anna Johnson is a marketing manager at Concordia Publishing House. After graduating from the deaconess program at Concordia University Chicago, she continued her studies at the University of Colorado—Denver in education and human development. She has worked as a church youth director and served a variety of other nonprofit organizations, such as the Lutheran Mission Society of Maryland. Anna loves playing video games and drinking a hot cup of tea almost as much as she loves her cat and her husband.