Our devotion today is about the Old Testament Reading, which records God establishing the rainbow as a sign to never flood the entire earth again. The devotion is an excerpt from Luther's Works, Volume 2 (Lectures on Genesis Chapters 6–14).
Scripture Readings
Genesis 9:8–17
Psalm 136:1–9
Ephesians 3:14–21
Mark 6:45–56
Read the propers for today on lutherancalendar.org.
Devotional Reading
Just as God previously says to Himself that He repents of so horrible a punishment and promises that He will never again use such punishment, because the imagination of the human heart is evil from its youth (Gen. 8:21)—if, therefore, He wanted to punish evil, there would be need daily of a new flood—so in this passage, by a word spoken to mankind either by an angel or, as is possible, by the mouth of Noah, He promises that in the future no flood will come over the earth.
When the same matter is repeated so many times, this is an indication of God's extraordinary affection for mankind. He is trying to persuade them not to fear such a punishment in the future but to hope for blessing and for the utmost forbearance.
Noah and his people were in great need of such comfort. A man who has been humbled by God is unable to forget his hurt and pain, for affliction makes a far deeper impression than an act of kindness. . . . How much more difficult it is for a conscience that has experienced God's wrath and the terrors of death to let comfort come in! These experiences remain so firmly entrenched later on that a heart becomes fearful and terrified even in the face of kindnesses and comforting words.
It is for this reason that God shows Himself benevolent in such a variety of ways and takes such extraordinary delight in pouring forth compassion, like a mother who is caressing and petting her child in order that it may finally begin to forget its tears and smile at its mother.
This comfort is expressed in many eloquent words and emphasized in various ways, to meet the need of these wretched people who had been watching the immeasurable wrath of God rage for an entire year. Therefore they could not be talked out of their fear and terror by a word or two; a great abundance of words was needed to drive back their tears and to soften their grief. Even though they were saints, they were still flesh, just as we are.
We, too, need this comfort today, in order that despite a great variety of stormy weather we may have no doubt that the sluice gates of the heavens and the fountains of the deep have been closed by the Word of God. The rainbow makes its appearance even now, to be a sure sign that a universal flood will not occur in the future. Hence this promise demands also from us that we believe that God has compassion on the human race and will not rage against us in the future by means of a universal flood.
Devotional reading is from Luther's Works, Volume 2 (Lectures on Genesis Chapters 6–14), pages 145–46 © 1960 Concordia Publishing House. All rights reserved.
Hymn
Hymn is "Eternal Father, Strong to Save," hymn 717 from Lutheran Service Book. Video © 2017 Concordia Publishing House. All rights reserved.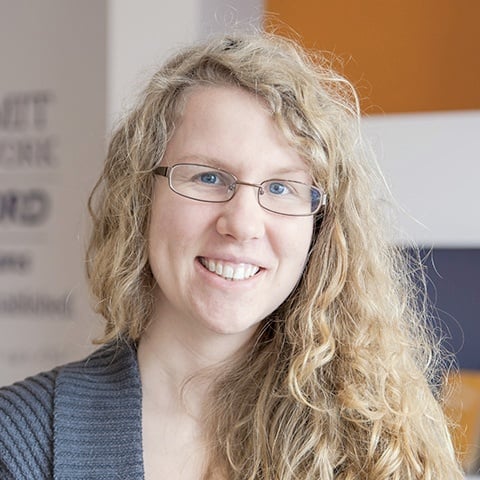 Deaconess Anna Johnson is a marketing manager at Concordia Publishing House. After graduating from the deaconess program at Concordia University Chicago, she continued her studies at the University of Colorado—Denver in education and human development. She has worked as a church youth director and served a variety of other nonprofit organizations, such as the Lutheran Mission Society of Maryland. Anna loves playing video games and drinking a hot cup of tea almost as much as she loves her cat and her husband.