The psalm of the day is our focus, and our devotion comes from The Twenty-third Psalm: Arch Books.
Scripture Readings
Acts 4:1–12
Psalm 23
1 John 3:16–24
John 10:11–18
Read the propers for today on lutherancalendar.org.
Devotional Reading
Outside of the Lord's Prayer, the Ten Commandments, and John 3:16, Psalm 23 is one of the best-known Bible passages. Most people can quote at least some of it. The poetry and imagery used in this song of praise make it a joyful, comforting passage. . . .
Today's families have little opportunity to spend much time around sheep, so we know little about them. That's okay, but there are two things to keep in mind as we read this psalm: First, sheep have an undeserved reputation for lack of intelligence. They are, in fact, nearly as smart as pigs. However, sheep are social creatures and are easily led. They would follow the pack over a cliff if the lead sheep were to go that way. Second, sheep have poor vision. They can't see very far ahead of themselves.
Why is this important to us? God uses sheep in Scripture because we are like them. We tend toward a pack mentality and are easily led astray. As this psalm teaches, we need our Good Shepherd to guide us away from harm and toward the safety of His grace and mercy.
We may have 20/20 vision, but we can't see much beyond our own wants and desires. We can't see the green pastures or still waters of our future. Only God knows what He has in store for us. Because we have faith in God the Son as our Good Shepherd, we can trust that He is our way to salvation and will protect us along the way.
Devotional reading is from The Twenty-third Psalm: Arch Books, page 16 © 2013 Concordia Publishing House. All rights reserved.
Hymn
Hymn is "O Little Flock, Fear Not the Foe," hymn 666 from Lutheran Service Book. Video © 2018 Concordia Publishing House. All rights reserved.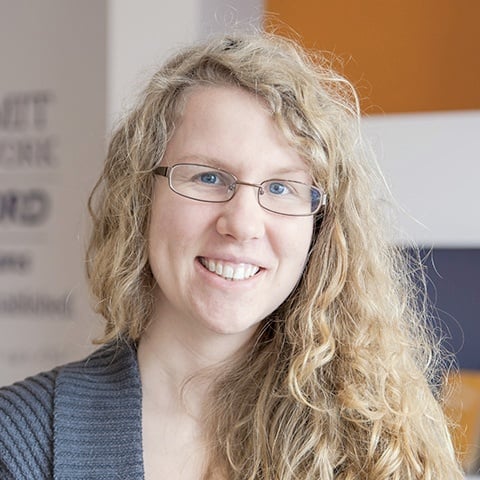 Deaconess Anna Johnson is a marketing manager at Concordia Publishing House. After graduating from the deaconess program at Concordia University Chicago, she continued her studies at the University of Colorado—Denver in education and human development. She has worked as a church youth director and served a variety of other nonprofit organizations, such as the Lutheran Mission Society of Maryland. Anna loves playing video games and drinking a hot cup of tea almost as much as she loves her cat and her husband.