To commemorate Jacob today, we read about his dream in Genesis 28 with an excerpt from Adult Bible Study (Old Testament 1): God Creates a World and a People.
Introduction
In his dream, Jacob saw angels ascending and descending on a ladder that connected earth and heaven. In John 1, Jesus references this moment, telling Nathanael that he would see angels ascending and descending on the Son of Man! In His life, death, and resurrection, Christ has bridged the divide between earth and heaven, between God and man. In Him, we have confidence that we will be carried out of the trials of this world and into our eternal home in heaven.
Devotional Reading
Esau hates Jacob because of the blessing Isaac gave to Jacob, a blessing Esau thinks should have gone to him. When Rebekah hears that Esau plans to kill Jacob, she urges Jacob to go to Laban, her brother, until Esau's anger cools. Rather than tell Isaac about Esau's plot, she instead relates how unhappy she will be if Jacob marries one of the pagan women of the land. Then Isaac directs Jacob to go to Laban and take as a wife one of Laban's daughters. Before sending him on his way, Isaac blesses Jacob with the blessing given to Abraham.
Jacob faces a long, dangerous journey and a painful separation from his parents. Jacob is forced to leave the land that God promised to his grandfather, his father, and now to him. He must take it on faith that God will one day bring him back. But as painful and uncertain as the situation is, God is working in it to provide Jacob with a wife through whom Jacob's greatest descendant, Jesus, would be born.
One night during Jacob's journey, God appears to him in a dream. In the dream, Jacob sees a ladder (or possibly a stairway) set up on earth, with its top in heaven. Angels ascend and descend on the ladder. This dream assures Jacob that God's angels travel from earth to heaven, relaying Jacob's needs to God, and from heaven back to earth to meet those needs.
At the top of the ladder, the Lord Himself appears and reaffirms to Jacob the promises first made to Abraham: that God will give the land of Canaan to Jacob and his offspring, who will be as numerous as dust on the earth, and that through Jacob's offspring all the families on the earth will be blessed. Furthermore, God promises to watch over Jacob and bring him back to this land.
When Jacob awakes, he is awestruck. He marks the place with a pillar, consecrates it, and calls it Bethel, which means "house of God." Then in thanksgiving, he makes a vow to God. Although the vow reveals Jacob's continuing uncertainty about the future, in it he entrusts himself to God's care.
Jesus alludes to Jacob's dream when He says, "Truly, truly, I say to you, you will see heaven opened, and the angels of God ascending and descending on the Son of Man" (John 1:51). As the ladder in Jacob's dream was a bridge between heaven and earth, so Jesus is the ultimate bridge between God and mankind. He is both true God and true man. By His suffering, death, and resurrection, Jesus reconciled sinful humanity to God, and He is the source of eternal blessings for all who trust in Him.
Prayer
Dear heavenly Father, . . . we thank You that You are always with us, and that we see You in Your Word and Sacraments. Send Your Holy Spirit to be with us this day and through all our endings and our beginnings. We pray this in Jesus' name. Amen.
Devotional reading and prayer are from Adult Bible Study (Old Testament 1): God Creates a World and a People, pages 81–82 © 2006, 2016 Concordia Publishing House. All rights reserved.
Scripture quotations from the ESV® Bible (The Holy Bible, English Standard Version®), copyright © 2001 by Crossway, a publishing ministry of Good News Publishers. Used by permission. All rights reserved.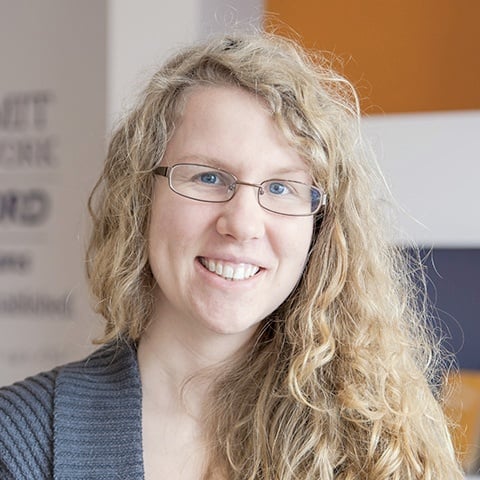 Deaconess Anna Johnson is a marketing manager at Concordia Publishing House. After graduating from the deaconess program at Concordia University Chicago, she continued her studies at the University of Colorado—Denver in education and human development. She has worked as a church youth director and served a variety of other nonprofit organizations, such as the Lutheran Mission Society of Maryland. Anna loves playing video games and drinking a hot cup of tea almost as much as she loves her cat and her husband.