Today is a Feast of Christ in which we celebrate the archangel Michael and all angels God has created. Our devotional reading comes from a sermon in Selected Sermons of Norman Nagel: From Valparaiso to St. Louis.
Scripture Readings
Daniel 10:10–14; 12:1–3
Psalm 91
Revelation 12:7–12
Luke 10:17–20 or Matthew 18:1–11
Read the propers for today on lutherancalendar.org.
Introduction
Our devotional reading educates us about one of God's types of creatures that we find most mysterious: angels. In today's reading, we focus particularly on their work as messengers of God's Word. As we celebrate the archangel Michael and all other angels, let us give thanks to God for all parts of His wondrous creation!
Devotional Reading
In the psalm following our text, we are told God made the angels spirits. To say that they are spirits doesn't tell us much. It does say that they belong to a world we don't see, a world outside the limitations of place and time in which we have been placed. All our thinking is in terms of place and time, so we cannot comprehend angels.
[Scripture] does divulge an important fact: The angels excel in strength. They have powers beyond our reach. They can do things we cannot even imagine. We are told what they do. They do God's bidding, which can mean an awful lot. Their name helps us. The word angel means "messenger," that is, one who is sent to bring a message or to do a job. A message was brought to Abraham. The heart of that message was the Gospel. The full, clear Gospel was proclaimed by an angel to Mary. That was the greatest message ever brought. It was entrusted to an archangel. There are angels and archangels, different ranks, different kinds, including cherubim and seraphim. We read of principalities and powers and dominions. We are told the names of only two, though they all surely have names, for God has names for all His creatures. In God's having names for all His creatures is the meaning that He cares for each individual one. The same is even said of us.
There is the great Gospel angel Gabriel and there is Michael, a prince among angels. Daniel tells of him as the angel who guards God's chosen people. He had a commission with regard to the body of Moses. He is mentioned three times in the New Testament. In today's Epistle, Michael plays the role of the commander in chief. He seems to be "Angel Number One," so the day the church has dedicated to the angels is called St. Michael and All Angels Day.
Devotional reading is from Selected Sermons of Norman Nagel: From Valparaiso to St. Louis, page 294 © 2004 Concordia Publishing House. All rights reserved.
Prayer: Revelation 5:13b
To him who sits on the throne and to the Lamb
be blessing and honor and glory and might forever and ever!
Scripture quotations are from the ESV® Bible (The Holy Bible, English Standard Version®), copyright © 2001 by Crossway, a publishing ministry of Good News Publishers. Used by permission. All rights reserved.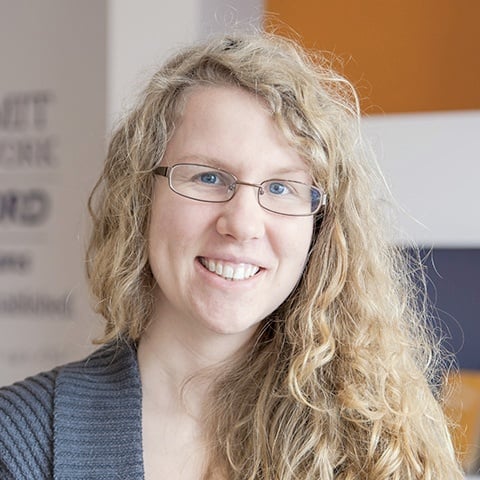 Deaconess Anna Johnson is a marketing manager at Concordia Publishing House. After graduating from the deaconess program at Concordia University Chicago, she continued her studies at the University of Colorado—Denver in education and human development. She has worked as a church youth director and served a variety of other nonprofit organizations, such as the Lutheran Mission Society of Maryland. Anna loves playing video games and drinking a hot cup of tea almost as much as she loves her cat and her husband.