Our devotion for this day when we commemorate Moses comes from Growing in Christ: High School Teacher Guide (OT2).
Introduction
When Moses was confronted by our Holy God, he was also confronted with his sin, as are we all. But because of Jesus' sacrifice for us on the cross, all our sins are forgiven. We can approach God's throne of grace with confidence that He will help us in every time of need.
Devotional Reading
We all want to be accepted and loved exactly "as we are." God says, "Cursed is the ground because of you; . . . thorns and thistles it shall bring forth for you" (Genesis 3:17–18). On account of our sin, God removes us from His holy presence in His first Eden and clothes our shameful bodies. Our sin, our being "as we are," places us in a more fitting land, where the very ground produces thorns and thistles.
In our accursed land, Moses shepherds his flock. Of all humanity, God might at least accept His chosen Moses just "as he is." Yet God says, "Take your sandals off your feet, for the place on which you are standing is holy ground" (Exodus 3:5). God alone is holy. God abhors anything less in His presence. Moses cannot come "as he is." He must leave behind the reminder of our first clothing and resulting expulsion from Eden, even his sandals.
Nevertheless, who can approach the Lord without downcast eyes? We cannot "as we are." We cannot without God's only Son. Thanks be to God that Jesus Christ has taken the very form of our curse, the thorns and thistles of our cursed ground.
Even more so, the same God who shows Himself to Moses in the burning bush appears again on a new and deadlier tree. Again, He adorns His head in a crown of thorns. On this tree, He removes the effects of the curse from us forever. The thorns and nails of that tree cannot extinguish the burning yet unconsumed light of the world! Indeed, He perseveres even unto death and rises again so that we might know that by His becoming our curse, we are now eternally blessed.
During the Divine Service, we see God loving us because of the thorn-encrusted head of His Son. He beckons us to approach Him and confess our sins, and the great I am forgives our sins in Absolution on account of Christ's thorn-pierced brow. The Lord removes these sins from us even as He removed Moses' sandals from his feet. In Absolution, God accepts us not "as we are," but for who Jesus is and what He did on Calvary for us. May the Lord continue to direct us to Confession and Absolution so that we may receive the curse-removing love of our Savior, Jesus Christ.
Prayer
Dear God, we alienate ourselves or avoid You sometimes. Yet, in Your great mercy, You forgive our sin and welcome us into Your eternal family. Enable us to rejoice in Your absolution and approach You with confidence, trusting that You hear and answer our prayers. In Jesus' name. Amen.
Devotional reading and prayer are from Growing in Christ: High School Teacher Guide (OT2), pages 45–46 © 2007, 2008, 2015 Concordia Publishing House. All rights reserved.
Scripture quotations are from the ESV® Bible (The Holy Bible, English Standard Version®), copyright © 2001 by Crossway, a publishing ministry of Good News Publishers. Used by permission. All rights reserved.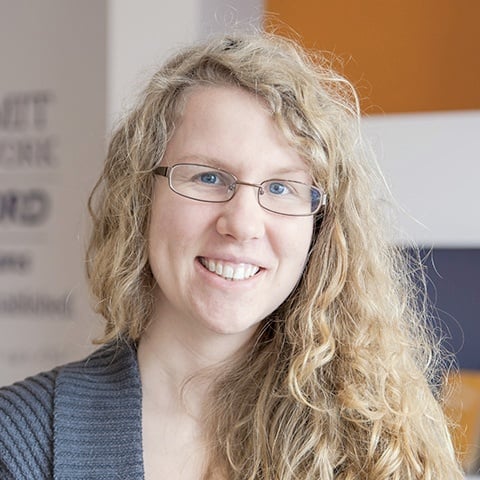 Deaconess Anna Johnson is a marketing manager at Concordia Publishing House. After graduating from the deaconess program at Concordia University Chicago, she continued her studies at the University of Colorado—Denver in education and human development. She has worked as a church youth director and served a variety of other nonprofit organizations, such as the Lutheran Mission Society of Maryland. Anna loves playing video games and drinking a hot cup of tea almost as much as she loves her cat and her husband.