On the feast day for St. Bartholomew, we take our devotion from Growing in Christ: High School Teacher Guide (NT1).
Scripture Readings
Proverbs 3:1–8
Psalm 121
2 Corinthians 4:7–10
John 1:43–51 or Luke 22:24–30
Read the propers for today on lutherancalendar.org.
Introduction
Bartholomew, also known as Nathanael, was one of the first apostles Jesus called. In John 1, we read that he was amazed at Jesus' omniscience. Yet Jesus promised that he would see even greater things than this. May we, along with Bartholomew, confess that Jesus is indeed the Son of God.
About Bartholomew
St. Bartholomew (or Nathanael, as he is called in St. John's Gospel) was one of the first of Jesus' twelve disciples. His home was in the town of Cana, in Galilee (John 21:2), where Jesus performed His first miracle. He was invited to become one of the Twelve by Philip, who had told him that they had found the Messiah in the person of Jesus of Nazareth (John 1:45). Bartholomew's initial hesitation to believe, because of Jesus' Nazareth background, was quickly replaced by a clear, unequivocal declaration of faith, "You are the Son of God! You are the King of Israel!" (John 1:49). He was present with the other disciples (John 21:1–13) when they were privileged to see and converse and eat with their risen Lord and Savior. According to some Early Church fathers, Bartholomew brought the Gospel to Armenia, where he was martyred by being flayed alive.
Biography is from Treasury of Daily Prayer, page 654 © 2008 Concordia Publishing House. All rights reserved.
Devotional Reading
Philip recognizes Jesus from His Old Testament prebiography. As Philip tells Nathanael, "We have found Him of whom Moses in the Law and also the prophets wrote, Jesus of Nazareth, the son of Joseph" (John 1:45). Moses wrote of Jesus? Yes, as did all the Old Testament prophets (e.g., Luke 24:25–27, 44; John 5:39, 46; Acts 3:18–24).
The Messiah is the be-all and end-all of the Bible, from Genesis through Revelation. Foretold in prophecy and foreshadowed in various Old Testament individuals, objects, and actions, He was as much the Savior for Old Testament sinners as He is for us.
Nathanael, while believing in the Messiah, did not expect Him to come from Nazareth. Perhaps from Bethlehem or Jerusalem, but not Nazareth! Ah, yes, but Jesus, while He may not fit Nathanael's preconceived ideas about where the Messiah should come from, shows that He is, indeed, the Messiah.
He knows all. Seeing Nathanael, Jesus pronounces him "an Israelite indeed, in whom there is no deceit!" (John 1:47), the one Jesus knew was "under the fig tree" (v. 48) without actually seeing him there. This judgment of Nathanael's character, as well as his exact location, astounds Nathanael into confessing the divinity and royalty of Jesus.
But once again, Jesus bursts out of the limiting bonds we set for Him. He tells Nathanael that he will see greater things than Jesus' omniscience. He will see "heaven opened, and the angels of God ascending and descending on the Son of Man" (v. 51). The allusion here is to Jacob's ladder (Genesis 28:10–22), on which the angels went up and down, as seen in Jacob's dream at Bethel.
What Nathanael will see is that in Jesus, access to heaven is given to all who believe. Those celestial messengers will escort us to heaven on the basis of Jesus' life, death, and resurrection. On the stairsteps of His flesh, we shall ascend to the true Bethel ("house of God") above.
Prayer
Dear Jesus, You made eternal life with You real for us. Even though You did this for us, we sometimes question and doubt. Help us to know You as our Savior, recognize Your work in our lives, trust Your Word, and increase our desire to do Your will. In Your name we pray. Amen.
Devotional reading and prayer are from Growing in Christ: High School Teacher Guide (NT1), pages 79–80 © 2010, 2013, 2014, 2015 Concordia Publishing House. All rights reserved.
Scripture quotations are from the ESV® Bible (The Holy Bible, English Standard Version®), copyright © 2001 by Crossway, a publishing ministry of Good News Publishers. Used by permission. All rights reserved.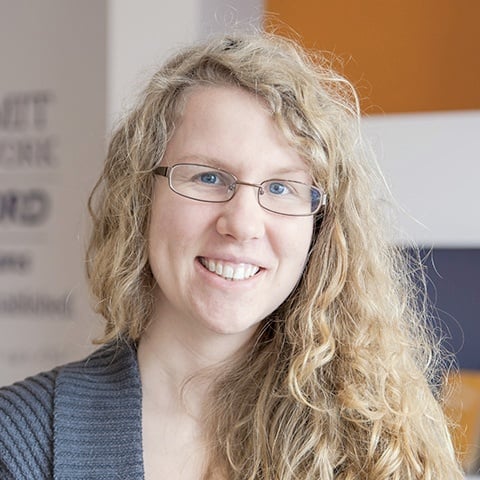 Deaconess Anna Johnson is a marketing manager at Concordia Publishing House. After graduating from the deaconess program at Concordia University Chicago, she continued her studies at the University of Colorado—Denver in education and human development. She has worked as a church youth director and served a variety of other nonprofit organizations, such as the Lutheran Mission Society of Maryland. Anna loves playing video games and drinking a hot cup of tea almost as much as she loves her cat and her husband.