Today's reading for The Annunciation of Our Lord focuses on the Gospel text and comes from Reformation Heritage Bible Commentary: Luke.
Scripture Readings
Isaiah 7:10–14
Psalm 45:7–17
Hebrews 10:4–10
Luke 1:26–38
Read the propers for today on lutherancalendar.org.
Introduction
Jesus' conception by the Holy Spirit in a virgin's womb was a miracle indeed. We marvel at the means by which God placed His Son into the world and give thanks for the faithfulness and trust shown by His humble servant Mary.
Devotional Reading
[Luke] 1:27 a virgin betrothed to a man. First–century Jewish custom made betrothal legally more binding than modern engagements. The man would give the bride's family a gift; then the fathers of both families would sign a marriage document (Hbr kethubah). Though the couple would not begin cohabiting for about a year, they were henceforth considered man and wife. In fact, "breaking it off" after betrothal required a divorce. Betrothals typically preceded marriage by at least nine months, in order to assure that the bride was not pregnant before the marriage was contracted. . . .
1:32–33 He will be great . . . Son of the Most High. Mary's virginity is emphasized at numerous places in this scene (vv. 27, 34). There is a good reason for this—her virginity is foundational to Christian doctrines. Jesus' divine nature was united with his sinless human nature in the incarnation. The Christian confession is that Jesus is God's eternal Son, since He was begotten of the Father before creation. Here and elsewhere, the NT makes clear Jesus was not conceived by a human father but, rather, is God's eternal Word. Only when the fullness of time came did God send forth His Son to be born of a woman (Gal 4:4). John presents the doctrine of the incarnation, saying that the Word, by whom all things were made "became flesh and dwelt among us" (Jn 1:1–3, 14; cf. Php 2:6–7; 2Co 8:9). . . .
1:35 The Holy Spirit will come upon you. Gabriel responds to Mary's question by explaining how Mary will conceive her son without a human father. It will be God's Spirit and power that come upon her and cause conception. This passage is the basis of the confession enshrined in the Apostles' Creed: Jesus Christ was "conceived by the Holy Spirit, born of the Virgin Mary" (LSB 159). therefore. This conjunction helps explain (i) the reason for one of Jesus' most important titles, namely, Son of God, as well as (ii) the relationship between the work of the Holy Spirit, Mary's virginity, and Jesus' human and divine natures. Bengel emphasized that Mary was not redeemed by her own virtue but by Christ, as are we. He wrote, "I may purchase a farm: and out of the produce of that farm, when subsequently well cultivated, I may pay the price for the farm itself, which has become much more valuable since its cultivation" (Bengel 2:18). Mary is the "farm" and Christ is the "produce" that pays for it.
1:26–38 in Devotion . . . When Gabriel announces Jesus' birth to Mary, she responds in humble faith. In this, she gives an example for us all. Whenever we hear the Gospel, the Lord seeks a similarly faithful response. Mary bore the Christ Child in her womb once and for all. We cannot do that, but we can, by God's grace, receive the Lord Jesus and His Spirit into our hearts and lives.
Devotional reading is adapted from Reformation Heritage Bible Commentary: Luke pages 28–30 © 2014 Concordia Publishing House. All rights reserved.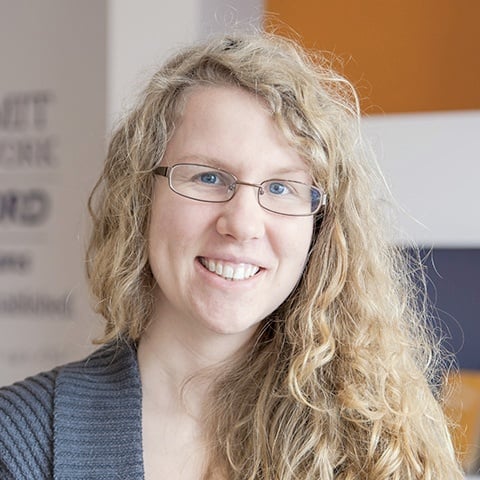 Deaconess Anna Johnson is a marketing manager at Concordia Publishing House. After graduating from the deaconess program at Concordia University Chicago, she continued her studies at the University of Colorado—Denver in education and human development. She has worked as a church youth director and served a variety of other nonprofit organizations, such as the Lutheran Mission Society of Maryland. Anna loves playing video games and drinking a hot cup of tea almost as much as she loves her cat and her husband.