For the feast of St. Andrew, Apostle, we reflect on the Gospel reading from John 1. Our devotional reading comes from Concordia Commentary: John
1:1–7:1.
Scripture Readings
Ezekiel 3:16–21
Psalm 139:1–12
Romans 10:8b–18
John 1:35–42a
Read the propers for today on lutherancalendar.org.
Introduction
Today's short reading from John contains two clear confessions of Christ and His work. In speaking to Andrew, John confesses Christ to be the Lamb of God, the one who takes away the sins of the world. Andrew, in turn, confesses to his brother Simon Peter that Jesus is the Messiah, the Anointed One of God. We pray that God would continue to work through His Church, emboldening us to clearly confess Christ and His salvific work.
Devotional Reading
Two disciples of John hear his witness and follow Jesus. Jesus turns and
seeing them following says, "What do you seek?" (John 1:38). These are the first
words of Jesus in the Gospel and so present a dominical question to all who read this Gospel. But it is hardly an open question. John 20:31 gives the evangelist's response to this question: "These things are written so that you may believe that Jesus is the Christ, the Son of God." And so the Gospel narrative presents what the true disciple seeks. It is as though Jesus said, "Do you seek what this story tells of Me?" "Is this the way that you desire to walk?" When then the disciples call Jesus "Rabbi," they are not merely addressing Him in a polite manner. They are indicating that, in fact, they wish to assume the life that Jesus lives. And therefore they ask, "Where are You remaining?" (John 1:38). This also is not a simple inquiry about the place of Jesus' residence. "Entry into the rabbinical circle, like initiation into a mystery cult, marked the end of an old existence, and the beginning of a new life, a new being. The disciple did not . . . merely learn things. He was converted from one way of living to another." Given the context into which the evangelist places the following of the first disciples, we can see that this imitation of the teacher is not apart from Jesus' death, which takes away sin (John 1:29), and the gift of the Spirit, which Jesus gives (John 1:33). The new life of the disciple of Jesus will be constituted in a cleansing from sin and lived in the power of Jesus' Spirit (cf. Romans 8:1–11). If the disciples seek where Jesus is "remaining," they seek the goal of Jesus' way, and they seek it as Jesus Himself comes to it.
The brief exchange between Jesus and the two disciples, "What do you seek?" and "Where are You remaining?" (John 1:38), introduces us to central themes in the Gospel of John. . . .
In the OT "to seek God" is virtually shorthand for being a faithful member of the elect people. When the Israelites chose to turn away from seeking God, they became disobedient and idolatrous and, therefore, came under the judgment of God and were scattered among the nations. "To seek God" assumes the meaning of repentance for sin with the accompanying forgiveness, obedience, right worship, and salvation through the gathering of Israel, and later the regathering from exile. Jeremiah 29:10–14 offers a good summary: "you will seek Me and you will find; when you seek Me with all your heart, I will let Myself be found by you, says the Lord, and I will restore your restoration and I will gather you from all the nations and from all the places where I have banished you" (Jeremiah 29:13–14). Upon hearing the witness of John, "Behold, the Lamb of God" (John 1:29, 36), the disciples begin to be gathered (cf. John 6:13, 67; 12:32), and they follow Him in whom true and right worship will be established (cf. John 2:19–21; 4:20–24). John 1:35–42 depicts the establishment of the new, eschatological Israel.
From Concordia Commentary: John 1:1–7:1, pages 276–78 © 2015 Concordia Publishing House. All rights reserved.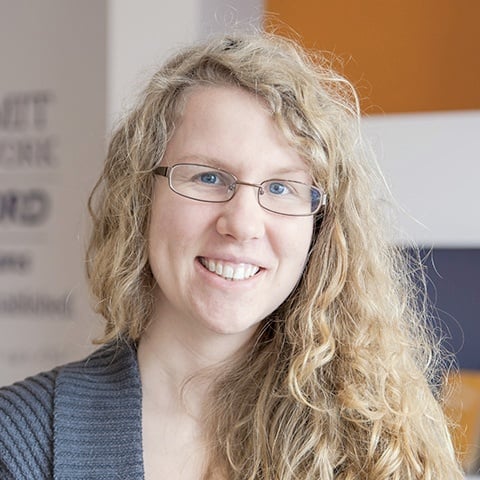 Deaconess Anna Johnson is a marketing manager at Concordia Publishing House. After graduating from the deaconess program at Concordia University Chicago, she continued her studies at the University of Colorado—Denver in education and human development. She has worked as a church youth director and served a variety of other nonprofit organizations, such as the Lutheran Mission Society of Maryland. Anna loves playing video games and drinking a hot cup of tea almost as much as she loves her cat and her husband.