The Christian faith presents certain truths about Jesus Christ—His birth, death, and resurrection, to name a few—and teaches that these events were real. Many people consider our faith as simply believing in Jesus; however, Scripture tells us that even the demons believe in Jesus (James 2:19). Our faith rests on something deeper: Jesus became man, died, and rose for us. Perhaps no hymn speaks to this simple yet glorious truth better than "O Love, How Deep."
"O Love, How Deep" (LSB 544) poetically presents this aspect of our faith. In fact, the text uses the phrase for us thirteen times! This hymn tells us the story of Christ but does more than just list the events of Christ's life. In fact, telling the story of Christ like we find it told in "O Love, How Deep" means that we put the events of Christ's life into context—in this case, the context that He has done all these things for us, His children.
The Music
The tune of "O Love, How Deep", DEO GRACIAS, gives the hymn a sense of triumph. In fact, it was originally a fifteenth-century song of conquest. Simply by singing the first stanza, then, we have a sense of where the hymn is going; we already know the ending of the story. The music tells us that the subject of the hymn, Christ, is a conquering hero. He is triumphant.
We see here the importance of appropriately pairing the text and music, for the music itself gives us a sense of the story. This Renaissance-period melody puts us in mind of a conquering king. Its strong beat and syncopated rhythm, qualities of music from that era, give the text force and confidence. This melody points us to the end, to Christ's triumph over the enemy.
The Story
Stanza 1 of "O Love, How Deep" gives us a sense of the wonder of God's love. Its incipit, or opening line, is taken from Ephesians 3:17–19:
"So that Christ may dwell in your hearts through faith—that you, being rooted and grounded in love, may have strength to comprehend with all the saints what is the breadth and length and height and depth, and to know the love of Christ that surpasses knowledge, that you may be filled with all the fullness of God."
Right away, the first stanza introduces us to Jesus and the wonder of His willingness to become man:
O love, how deep, how broad, how high,
Beyond all thought and fantasy,
That God, the Son of God, should take
Our mortal form for mortals' sake!
The rest of the stanzas proceed to tell us the story of Christ's life in order. It is a miniature Church Year, a celebration of Christ's saving work. In these stanzas, we find Christ's incarnation, His baptism, His fasting and temptation in the wilderness, His ministry, His betrayal, His death, His resurrection, His ascension, and, finally, His sending of the Holy Spirit to us at Pentecost. It is a familiar story set poetically and triumphantly.
The Theme
Finally, this hymn tells us the story for a reason. The repetition of for us throughout the stanzas tells us why this knowledge of Christ is so important. He is not simply a savior—He is our Savior. He, as our opening stanza tells us, became mortal "for mortals' sake."
At the school where I teach, the entire student body will memorize this hymn throughout the year and sing it at our final chapel. What do we want these students to know? That not only does God love, but God loves you. Our verse of the year is Romans 5:8: "But God shows His love for us in that while we were still sinners, Christ died for us." (Did you notice how for us occurs twice in that short verse?)
This aspect of our faith, Christ's love for us, puts me in mind of Luther's 1530 Christmas sermon on Luke 2:1–14. In this sermon, he speaks about the angel's greeting to the shepherds. The angels do not simply tell those men in the field that "this day is born in the city of David a Savior, who is Christ the Lord." No, the angels tell the shepherds a Savior is born "unto you". Luther says:
Therefore this [the proclamation of the angel: to you this day is born a Savior] is the chief article, which separates us from all the heathen, that you, O man, may not only learn that Christ, born of the virgin, is the Lord and Savior, but also accept the fact that he is your Lord and Savior, that you may be able to boast in your heart: I hear the Word that sounds from heaven and says: This child who is born of the virgin is not only his mother's son. I have more than the mother's estate; he is more mine than Mary's, for he was born for me, for the angel said, "To you" is born the Savior. Then ought you to say, Amen, I thank thee, dear Lord. (Luther's Works 51:215)
And to this love of God for us, this sacrifice of His only son on the cross for us, may we also reply "Amen, I thank thee, dear Lord."
The quotation from Luther's Works is from the American Edition: vol. 51 © 1959 by Fortress Press. Used by permission.
---
Craving more hymn reflections?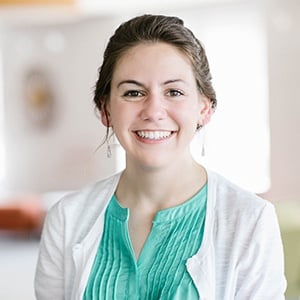 Marie Greenway is a music teacher at Immanuel Lutheran School in Alexandria, Virginia. She graduated from Hillsdale College with a degree in music and has worked and volunteered as a church musician for several years. When Marie is not studying, listening to, or performing music, she likes to read, run, and eat chocolate ice cream.