Did you know that one of the most famous Christmas hymns came about because a church's organ broke just in time for Christmas Eve? Read on to learn about some of the season's most well-known hymns, and while you read, get into the holiday mood by listening to our Advent and Christmas playlist.
"O Holy Night"
In the 1800s, a local French priest asked one of his laymen to write a hymn, and the text for "O Holy Night" was born. Some years later, it was translated into English by John Sullivan Dwight. Dwight was an abolitionist in the United States, so the hymn's references to ending slavery and oppression appealed to him. These themes appear especially in the third stanza, which speaks of God breaking our chains and tells us to call the slave our brother.
During the first ever voice radio broadcast, "O Holy Night" was played along with a reading from the Gospel of Luke about Christ's birth. The hymn sprang into public attention, and in the years that have followed, it has been sung in countless churches.
"Of the Father's Love Begotten"
This hymn comes from a Spanish poet of the early Christian church named Aurelius Prudentius Clemens. His book Cathemerinon contains twelve extended poems, and the text for "Of the Father's Love Begotten" was taken from the ninth poem in the book. Parts of the poem were used at Compline in the York and Hereford rites, at the lesser hours during Christmastide, and on Marian festivals. The first translation in the meter of the original, and the translation that appears in LSB, was done by John Mason Neale and was revised by Henry W. Baker.
The hymn uses the tune DIVINUM MYSTERIUM. This beautiful plainsong melody appears in Italian and German manuscripts from the twelfth to the fifteenth centuries. In 1582, a young Finnish student included the tune in a collection of Protestant hymns and carols that he published. In 1853, almost three hundred years later, a rare copy of this book came into the hands of Thomas Helmore, a priest-teacher in England. He set the tune to Neale's translation to create the version of the hymn we know today.
"O Come, All Ye Faithful"
The text and tune for "O Come, All Ye Faithful" were written in the 1700s by John Francis Wade. A French abbe, Jean Francois Borderies, first heard the tune sung in England while exiled there during the French Revolution. He introduced it to his catechism classes in Paris after the fall and execution of Robespierre. He used the first stanza as written, adding three new stanzas of his own. An unknown writer later added another stanza. Together these eight stanzas—four attributed to Wade, three by Borderies, and one anonymous stanza—appeared in 1850.
From this "full text," various centos have been used, and more than forty English translations are listed in Julian's A Dictionary of Hymnology. In America, the most popular of these is by Canon Frederick Oakeley, prepared in 1841 for his Margaret Street Chapel in London. A version of Oakeley's translation is used in LSB.
Another fun fact: the hymn tune originally used triple rhythm. It wasn't until 1782 that a version in duple time appeared.
"What Child Is This"
One of William C. Dix's many Christmas poems, this three-stanza carol was originally believed to have been drawn from The Manger Throne (c. 1865). Dix was said to have written the text on Epiphany, taking his cue from that day's Gospel, Matthew 2:1–12. However, more recent evidence shows that "What Child Is This" is actually not based on The Manger Throne; they are two distinct hymns.
The tune for "What Child Is This," GREENSLEEVES, was a popular ballad in 1580, as it was licensed to several individuals for printing in that year. Shakespeare even referenced the ballad in The Merry Wives of Windsor. Twelve days after the first printing license was granted, the melody was adapted for religious use, and in 1642 it appeared in New Christmas Carols to the text of "The Old Year Now Away Is Fled." This English ballad tune has been sung to a great variety of texts.
"Silent Night, Holy Night"
Breakdown of the organ in St. Nikolaus Church in Oberndorf, Austria, created the need for music other than originally planned for the Christmas Eve midnight mass. Thus on December 24, 1818, Joseph Mohr, the church's young assistant priest, brought the six-stanza carol text he had written to Franz Gruber, parish organist and teacher in the village school, with the request that he set it to music. That night the two sang the hymn with Gruber accompanying on guitar. The tune and text were published in Leipzig twenty years later.
In the meantime, however, the carol was disseminated to other towns by the man who repaired the organ in St. Nikolaus. From there it gradually traveled around the world. Its simple language and design readily lent itself to being translated into almost any language. It was introduced to the United States by the Renner family, a folk-singing group that toured America in 1827, and was further popularized by renowned Austrian operatic contralto Ernestine Schumann-Heink (1861–1936).
---
Lutheran Service Book: Hymns & Carols for Christmas
Lightweight and easy to carry, this is the go-to book for any Christmas gathering that includes singing. Use this edition for Christmas caroling, small groups, and home visits.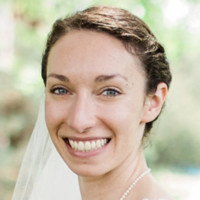 Erica is a writer and editor in St. Louis with grand plans to write award-winning literary novels and to visit all seven continents. She was previously a copywriter at CPH and now works in the advancement office at Concordia Seminary. She is also currently pursuing an MFA in creative writing at Lindenwood University.