There's no question that Lutheran churches often love tradition, and yet many churchgoers benefit from the options technology brings. Along that vein, CPH Music is excited to release two new editions of Lutheran Service Book. One is a pocket-size hymnal, which is reminiscent of generations past. The other is a text-only ebook, for those who are more future-minded.
The Tradition of Text-Only Pocket Hymnals
Pocket-size hymnals have been beloved keepsakes and resources for generations of Christians. Perhaps your family has your grandparents' or great-grandparents' old hymnals—their own cherished copies of hymn texts they could take with them to church and back home to pray and meditate on the texts.
Indeed, CPH's first published hymnals were small, text-only books that served both as keepsakes and as functional books. Our first hymnal was called Kirchengesangbuch and was published in 1847. In 1912, the Evangelical Lutheran Hymn-Book came about with both a pocket version and a version with music.
Building on the Tradition: New Pocket Edition
With the new Lutheran Service Book: Psalms and Hymns Pocket Edition, the tradition of personal pocket-size hymnals is brought back for Christians today. Compact but comprehensive, this edition has the following features:
Complete texts of all hymns in Lutheran Service Book
Luther's Small Catechism
All 150 psalms
Services of daily prayer for individuals and families
In the images below, you can preview the layout of the text for hymns and psalms.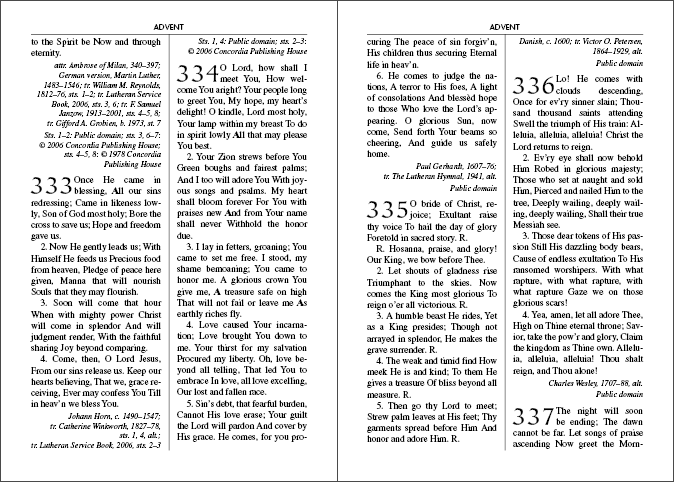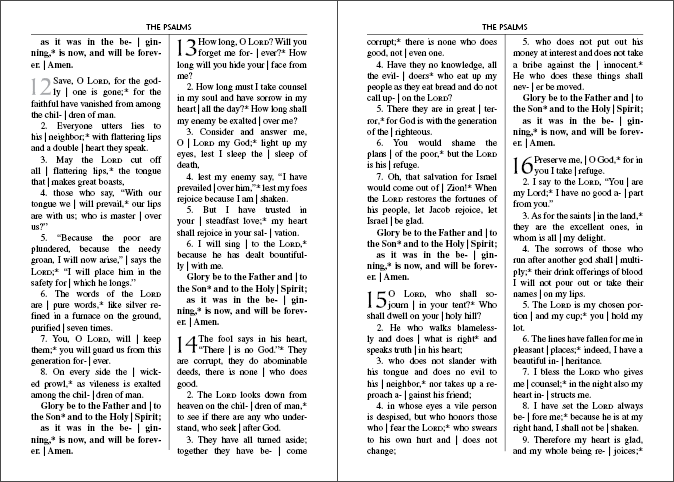 Additionally, the dimensions of the book are just 3½" x 5". It's even smaller than Pastoral Care Companion! You can easily slip it into a pocket or purse, so it's perfect for personal devotions or pastoral care.
Looking toward the Future: New Ebook Edition
The other new LSB edition is the text-only ebook. It contains all the text from the hymnal but no music notation. This allows the size of all the text to be adjusted as needed, and it makes the entire contents completely searchable. Those who desire an easy-to-manage larger print version will enjoy the flexibility this edition offers. Here's an example of what you can do with the text size: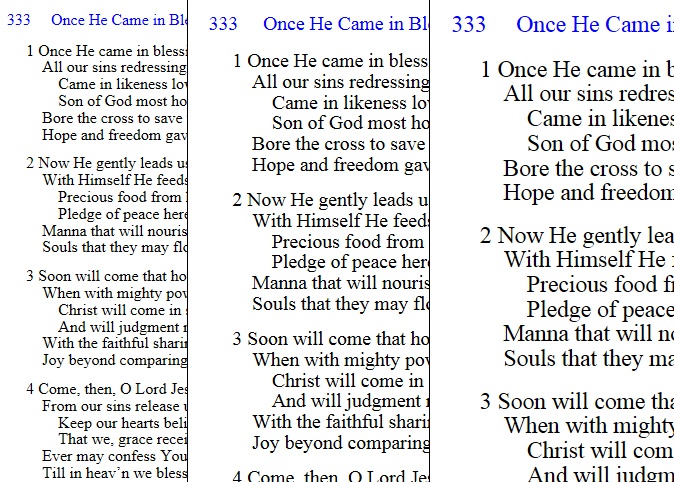 To get more details on these two new editions, check out a recording of editor Peter Reske's walk-through of them . In the video, Peter gives a brief history of Lutheran hymnals and shows how to adjust the text size in the ebook.
---
Get your personal pocket hymnal and ebook.
Look inside the pocket edition, and get the ebook on Kindle or iBooks.