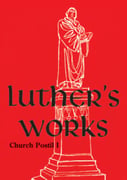 From the beginning of his work on the postils, Martin Luther intended them for common pastors and people, and thus they were to be the great devotional book of the Reformation. Luther's collected sermons for the church year were originally published in two series: the Church Postil and the House Postil. These were among his most popular works. Aside from his catechisms, they did more to teach people the Reformation than any other book. Volume 75 provides the sermons on the Epistle and Gospel readings from Advent through Christmastide in fresh, clear English.
The following excerpt is taken from the Gospel Sermon for the Second Sunday in Advent, on Luke 21:25–33 (paragraphs 57–58).
Some have also been troubled about how heaven and earth will pass away, and they take the blind heathen Aristotle as their aid. He must interpret the words of Christ for them, and he says that heaven and earth will not pass away as to their essence but only as to their form. They think much of what they say! If they so understood it that heaven and earth will continue to be something, they would indeed be right. But let the blind go, and know that just as our remains will be changed according to essence, and yet be made the same again also according to essence, so heaven and earth on the Last Day, with all the elements and everything else, will be melted with fire and become dust, together with all human bodies, so that there will be nothing but fire everywhere. When everything is again most beautifully created anew, our bodies will shine brightly like the sun [cf. Matt. 13:43], and the sun will be seven times brighter than it now is [cf. Isa. 30:26]. Peter speaks of this day: "The day of the Lord will come in which the heavens will pass away with a roar, and the elements will dissolve because of heat, and everything built on the earth will be turned to dust. But we are waiting for new heavens and a new earth, and what He has promised us, in which righteousness shall dwell" (cf. 2 Peter 3 [:10, 13]).

St. Paul also testifies that the Last Day "will be revealed by fire" (1 Corinthians 3 [:13]). And Isaiah writes: "And the light of the moon will be as the light of the sun, and the light of the sun will be sevenfold brighter than now, at that time when the Lord binds up the brokenness of His people and heals their wounds" (Isaiah 30 [:26]). Likewise: "For behold, I create new heavens and a new earth, and the former ones shall not be remembered or come into mind. But they shall be glad and rejoice forever in that which I create" (Isaiah 65 [:17–18]). Therefore, this passing away is not only according to form but also according to essence—unless you do not want to call it "being destroyed" when things turn to dust which cannot be found or seen, such as when burned bodies become ashes and nothing.

But where do our souls remain when all of creation is on fire and there is nothing to stand on? Answer: Tell me, where are they now? Or where are they when we sleep and are not aware of what happens outside our bodies and to all bodily creatures? Do you think that God cannot preserve souls in His hand so that they will never perceive how heaven and earth become dust? Or do you think that He must have a physical stall, as a shepherd does for his sheep? It is enough to know that they are in God's hands and not in the body or home of any creature. Although you do not know how it happens, do not be led astray. Since you have not yet learned what happens to you when you fall asleep or awaken, and can never know how near you are to waking or sleeping, though you daily do both, how do you expect to understand this? What counts is: "Father, into Your hands I commit My spirit" [Luke 23:46]; stay with that. Nonetheless, heaven and earth become new, and our bodies also, and become alive again to eternal salvation. Amen. If we knew how souls were maintained, faith would be at an end. But now we journey and know not where; we trust in God and put it in His hands, and faith retains its value.

From Luther's Works volume 75 © 2013 Concordia Publishing House, www.cph.org. Contact CPH for permission to reproduce this material.
The complete text of this postil, including the detailed annotations not included here, are available in LW 75: Church Postil I. This volume is part of the expansion of the American Edition of Luther's Works. Learn more at cph.org/luthersworks.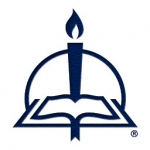 Dawn Mirly Weinstock has been with Concordia Publishing House for 25 years and has served as a production editor for professional and academic books for more than 10 years. Her projects have included Luther's Works, Johann Gerhard's Theological Commonplaces, and the writings of Hermann Sasse, C. F. W. Walther, and many others.