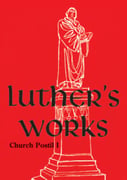 From the beginning of his work on the postils, Martin Luther intended them for common pastors and people, and thus they were to be the great devotional book of the Reformation. Luther's collected sermons for the church year were originally published in two series: the Church Postil and the House Postil. These were among his most popular works. Aside from his catechisms, they did more to teach people the Reformation than any other book. Volume 75 provides the sermons on the Epistle and Gospel readings from Advent through Christmastide in fresh, clear English.
The following excerpt is taken from the Epistle Sermon for Christmas Day, on Titus 2:11–15 (paragraphs 48–49).
Sin harms in two ways. First, it takes us captive, so that we are incapable of doing, recognizing, or wanting anything good; thus it robs us of freedom, light, and power. Second, after we thus abandon the good, we must do nothing but sin and impurity, and build the land of Egypt for the hellish pharaoh with bitterly hard work [Exod. 1:11–14]. But when Christ comes through faith, He redeems us from the prison of Egypt, makes us free, and gives us the power to do good. That is the first gain.

Afterward, the whole effort of our lives should be to clean out of our bodies and souls the unrighteousness of the graceless, worldly conduct, so that our whole lives until death should be nothing other than a purification. Even though faith redeems us from all legal guilt and makes us free all at once, yet evil inclinations remain in body and soul, just like stench and disease from a prison. Faith works to purify everything completely. In the same way Lazarus was raised from the dead by a voice, but afterward they had to remove the death cloth and the linen strips (John 11 [:43–44]). The half-dead man whose [wounds] the Samaritan bound up and whom he brought to shelter had to remain inside a while and become completely healthy [Luke 10:34–35].

From Luther's Works volume 75 © 2013 Concordia Publishing House, www.cph.org. Contact CPH for permission to reproduce this material.
The complete text of this postil, including the detailed annotations not included here, are available in LW 75: Church Postil I. This volume is part of the expansion of the American Edition of Luther's Works. Learn more at cph.org/luthersworks.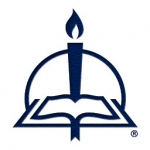 Dawn Mirly Weinstock has been with Concordia Publishing House for 25 years and has served as a production editor for professional and academic books for more than 10 years. Her projects have included Luther's Works, Johann Gerhard's Theological Commonplaces, and the writings of Hermann Sasse, C. F. W. Walther, and many others.