This post is an excerpt from Kim Marxhausen's newest book, Weary Joy.
It seemed as if everything changed at that one particular moment. Dorris was hungry. She got in her little Smart car, the talk of her small Nebraska town, and headed for the local sandwich shop. Perhaps, as she insisted, she got her foot on the wrong pedal, or, as observers noted, she didn't slow down. Either way, she ran her car right through the front door of the restaurant. Then she got out of the car, walked into the store, and calmly ordered a sandwich.
About fourteen years earlier, my husband and I experienced a similar life-changing moment with his dad. Our families were touring Alaska after Marx spoke at a pastors conference. He kept asking where we were, and I kept updating him—Wasilla . . . Seward . . . Anchorage. It was only after about the tenth time he asked that I began to suspect he did not know we were in Alaska.
A doctor appointment following each of these incidents diagnosed them with probable Alzheimer's disease. Dorris lovingly and protectively cared for her husband for fifteen years of his eighteen-year journey with memory loss. It was less than a year after finding a memory care community for Marx that Dorris herself began to show signs of cognitive struggles.
During this time, my husband and I, living thirty miles away, raised our children, worked at our jobs, worshiped at our church, and built a life around the care that his parents needed for each stage of their illness. He started by digging his folks out of a financial mess after discovering that his mother had stopped paying bills at least seven years earlier. Together we negotiated care, ran errands, made sure that electricians and plumbers were called to do needed work, kept family updated, shopped for clothes, found in-home care, made doctor trips, kept communication lines open between doctors, refilled prescriptions, kept track of possible drug interactions, set up weekly meds, and advocated for better care. Our daughter assisted her grandparents for a time and helped to move her grandfather into a care facility, lovingly creating a space she hoped would be familiar for him. She and her brother did repair work on the property, while my husband installed a shower downstairs so Dorris could stay in the home she remembered. And for both Marx and Dorris, we remembered the sacred time of sitting, singing, and praying during hospice care.
This is a small piece of our story, of our life of caregiving. I am guessing that your story overlaps quite a bit with ours. If it does, then perhaps you agree with me that caring for loved ones is an honor that is full of what I call weary joy. It is a joy that survives weariness—a joy that doesn't come in spite of circumstances, but a joy given by our heavenly Father, which settles in and around the weariness of the task set before us. . . .
My prayers are with you as you walk this journey. Know that your heavenly Father deeply loves you.

---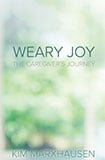 Could you use a little care, or do you know someone who could use some? Order your copy of Kim's book today!
Excerpt is adapted from Weary Joy by Kim Marxhausen, pages 13–14, 15, © 2019 Kim Marxhausen; published by Concordia Publishing House. All rights reserved.