Our devotion is about the Gospel of the day and comes from Come, Immanuel.
Scripture Readings
Numbers 6:22–27
Psalm 8
Galatians 3:23–29
Luke 2:21
Read the propers for today in Lutheran Service Builder.
Devotional Reading
The giving of this precious name at His circumcision pointed to the work for which Jesus was sent into the world and which He accomplished. In sending Jesus as Savior, God was helping us in our most urgent need: deliverance from sin. Sin is our ruination. It defiles our lives, breaks our homes, pollutes our nation, and separates us from God. Jesus was to help us in this our greatest need. His whole life was to be in payment for our sins. His entire life would be burdened by suffering and would end in death by crucifixion. There on the cross the name Jesus would become most meaningful, for there, as nowhere else, men would see Him as Savior. To that cross He would carry our sins with Him, blot them forever from the memory of God, reconcile us to the Father, and win for us an open heaven. No matter how grievous our transgressions or how big the burden, He would make full atonement for our sins. That is why "God has highly exalted him and bestowed on him the name that is above every name, so that at the name of Jesus every knee should bow, in heaven and on earth and under the earth, and every tongue confess that Jesus Christ is Lord, to the glory of God the Father" (Phil. 2:9–11). His name, given at the circumcision, would still be Jesus in His exaltation, that in His name repentance and forgiveness of sins might be preached to all nations (Luke 24:47). This name was given to Him because there is salvation in no one else, for there is no other name under heaven given among men by which we must be saved (Acts 4:12). The giving of this name on the eighth day of His earthly life assures us that Jesus is our Savior from sin.
At His circumcision Jesus began His active obedience to the Law on our behalf. Even as a child, while He was still under the care and nurture of Joseph and Mary, He rendered obedience to God for us. As He began His life here on earth in obedience to God's law, so He lived and died in obedience. As a twelve-year-old lad He was about His Father's business (Luke 2:49). When tempted by the devil, He replied: "It is written" (Matt. 4:4, 7, 10). To His followers He said: "I have come down from heaven, not to do My own will but the will of Him who sent Me" (John 6:38). He became obedient unto death, even death on a cross (Phil. 2:8). Why? It was for us, who are so disobedient, who exalt ourselves against God's law and insist on having our own way. It was for us, who want to set aside God's law and make our own laws and set up our own standards of behavior, that He humbled Himself, put Himself under God's law, also the law of circumcision. He fulfilled the Law perfectly for us (2 Cor. 5:21). Already in His circumcision at the tender age of eight days, we are assured, Jesus is our Savior.
Devotional reading is adapted from Come, Immanuel, pages 120–22 © 1968 Concordia Publishing House. All rights reserved.
Scripture quotations are from the ESV® Bible (The Holy Bible, English Standard Version®), copyright © 2001 by Crossway, a publishing ministry of Good News Publishers. Used by permission. All rights reserved.
Hymn
Video is of "Jesus! Name of Wondrous Love" © 2016 Concordia Publishing House.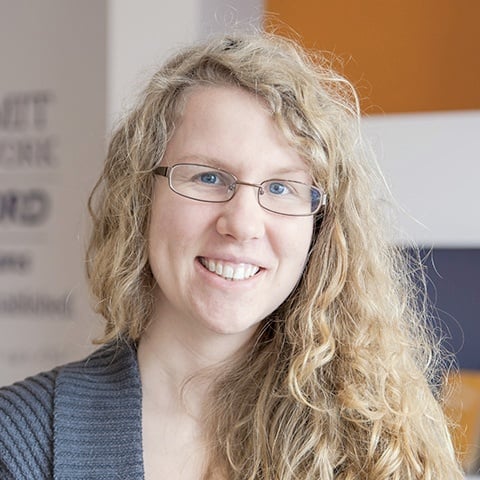 Deaconess Anna Johnson is a marketing manager at Concordia Publishing House. After graduating from the deaconess program at Concordia University Chicago, she continued her studies at the University of Colorado—Denver in education and human development. She has worked as a church youth director and served a variety of other nonprofit organizations, such as the Lutheran Mission Society of Maryland. Anna loves playing video games and drinking a hot cup of tea almost as much as she loves her cat and her husband.