Today, as we anticipate the celebration of our Lord Jesus' birth, we focus on the Gospel of the day with a devotion from Concordia Pulpit Resources.
Scripture Readings
Isaiah 7:10–14
Psalm 110:1–4
1 John 4:7–16
Matthew 1:18–25
Read the propers for today in Lutheran Service Builder.
Devotional Reading
It is no ordinary birth. Jesus was not conceived as other children. "She [Mary] was found to be with child from the Holy Spirit," Matthew explains (v. 18). Later he assures us that Joseph took Mary as his wife, "but he knew her not until she had given birth to a son" (v. 25). It was a miraculous event unlike any other. This marvelous incarnation was God's use of nature as well as a glorious demonstration of his supreme authority over nature. It was no magical act, astonishing, but deceptive. It was God entering into the human world to experience it in human form.
So the King came as a baby. His Kingdom was not of this world, but his infancy most certainly was! He was nursed and nurtured, caressed and cradled. He hungered and cried as an infant; he needed changing. He grew weary; he slept. We can imagine that he smiled at the worn faces of shepherds and laughed at the dark beards of the Magi. He gave up his equality with God. Paul writes that Jesus "emptied himself, by taking the form of a servant, being born in the likeness of men. And being found in human form, he humbled himself by becoming obedient to the point of death, even death on a cross" (Phil 2:7–8).
Jesus, the wondrous Babe of Bethlehem, came to die the death of a sacrificial lamb. He came to make a conquest of life and death with new life. He came to offer our world hope and peace.
Jesus grew from infancy to manhood, and from manhood to Saviorhood. From cradle to cross, from Bethlehem's cave to Calvary's crucifixion, Jesus painted an image of God's immense love for us. As Easter dawned and the conquest of death became complete, we thrilled to the golden sunrise that changed the color of life forever. Instead of dull and depressing, his victory gave life the brilliance of joy. He has shared with us the palace of eternity and made us through Baptism his brothers and sisters forever.
Devotional reading is adapted from Concordia Pulpit Resources, Vol. 9, Part 1, Series A, Christmas Eve sermon © 1998 Concordia Publishing House. All rights reserved.
Scripture quotations are from the ESV® Bible (The Holy Bible, English Standard Version®), copyright © 2001 by Crossway, a publishing ministry of Good News Publishers. Used by permission. All rights reserved.
Hymn
Video is from "Away in a Manger" © 2018 Concordia Publishing House.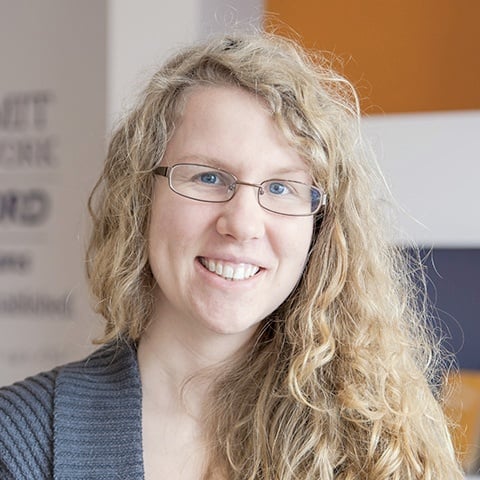 Deaconess Anna Johnson is a marketing manager at Concordia Publishing House. After graduating from the deaconess program at Concordia University Chicago, she continued her studies at the University of Colorado—Denver in education and human development. She has worked as a church youth director and served a variety of other nonprofit organizations, such as the Lutheran Mission Society of Maryland. Anna loves playing video games and drinking a hot cup of tea almost as much as she loves her cat and her husband.