Today, our devotion focuses on the Epistle and comes from Romans: A Commentary.
Scripture Readings
Exodus 19:2–8
Psalm 100
Romans 5:6–15
Matthew 9:35–10:20
Read the propers for today on lutherancalendar.org.
Introduction
How blessed we are that God sent His Son to take the punishment on the cross for our sins and to rise again. May we rejoice in this tremendous sacrifice of the Lamb of God, who has taken away the sins of the whole world!
Devotional Reading
"At the right time," at the time of our utmost desperation and at the extreme of our revolt, Christ died for us. . . . This is a love that is beyond our conceiving, alien to our experience. The greatest love that our experience knows, the best that grows in man's gardens, is a love that is willing to sacrifice itself for a good and gracious man, for a worthy cause. . . . Even this much goes against the grain of our humanity. But God has documented His love in an act that lies on another plane altogether. Christ died for us while we were yet sinners, still men in revolt against God, still holding in wild contempt the high majesty of the God who all the while invited our worship and thanksgiving (Rom. 1:19–21). Since God has come all the way to us in our rebellious impotence, since the incredible has happened, since we stand acquitted by the atoning blood of Christ, the peace we have with God is peace without end. The wrath of God that looms up at the end of all men's ways, to judge them and destroy them, does not loom up at the end of our new way; the Christ looms up, and He will save us from the wrath to come.
Paul adds yet one more description of our past estate. To "helpless," "ungodly," and "sinners" he adds "enemies," to mark once more the singularity of the love of God. "While we were enemies," the death of God's Son restored us to God's favor, we were reconciled to God. "Reconciliation" describes God's act in the Cross in personal terms, just as "justification" describes it in terms of law and justice. One act of God is thus described from two points of view, both valid, both necessary. . . .
If [Christ's] death means our reconciliation, His life shall be our ultimate deliverance. The past is the history of God's unparalleled love; the future is the full assurance of that love's last reach, the great deliverance from the judgment. No suffering can make of the present a gray and deadly stretch with no meaning and no joy of its own. The present is filled with rejoicing; we exult in the God who in our Lord Jesus Christ has lifted up His countenance upon us and gives us peace.
Devotional reading is from Romans: A Commentary, pages 90–92 © 1968 Concordia Publishing House. All rights reserved.
Hymn
Hymn is "God's Own Child, I Gladly Say It," hymn 594 from Lutheran Service Book. Video © 2017 Concordia Publishing House. All rights reserved.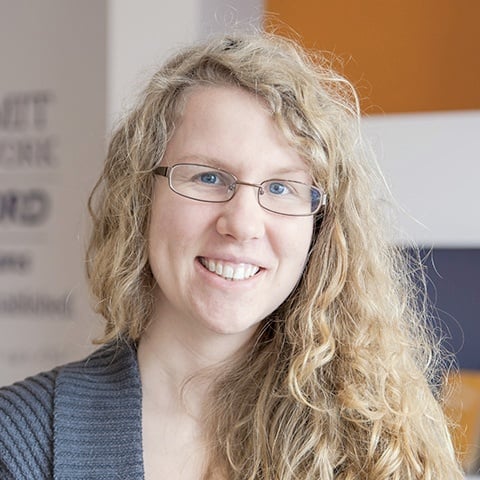 Deaconess Anna Johnson is a marketing manager at Concordia Publishing House. After graduating from the deaconess program at Concordia University Chicago, she continued her studies at the University of Colorado—Denver in education and human development. She has worked as a church youth director and served a variety of other nonprofit organizations, such as the Lutheran Mission Society of Maryland. Anna loves playing video games and drinking a hot cup of tea almost as much as she loves her cat and her husband.