Today, we read a portion of a men's Bible study on Psalm 40, taken from Blessed Is the Man: Psalms of Praise.
Scripture Readings
Isaiah 49:1–7
Psalm 40:1–11
1 Corinthians 1:1–9
John 1:29–42a
Read the propers for today on lutherancalendar.org.
Introduction
We are too familiar with the slimy, slippery pit we can't get ourselves out of—the pit of sin and death. Like the psalmist, we look to the Lord to lift us out of our despair and set our feet on firm ground. In His incarnation, Jesus descended into the dark pit of this world's sin. He suffered with us, even unto death, so we could be freed from this pit of sin and be lifted out of it to live with Him in newness of life.
Devotional Reading
If I were in a slimy pit, you can be sure I'd have dirt under my fingernails before I gave up trying. I'd figure out something. I'd be resourceful. I'd check my pockets for makeshift escape tools. I'd make a plan. And I'd holler my head off. Unless, of course, I were dead, because I'm nothing if not resourceful.
So what does this have to do with the "I waited patiently" guy in the psalm? It means he was a goner and he knew it. It means that waiting was the only thing he was capable of doing. His patience is not remarkable, it's inevitable. There's no way he can get out of the pit on his own. He can't even assist with a rescue. God does it all. The guy in the pit isn't thrown a rope or given a hand. No one pokes a branch at him to grab or offers a piece of encouraging advice. He is simply lifted out. . . .
That's God's specialty—getting right down into the pit. . . . I know that, as usual, the psalm is pointing toward Jesus. He takes my pit and gives me His rock to stand on. The slimy pit is more than just a bad day at the office. It's hell down there. But that's God for you. He lifts me out, sets me straight, and takes my place. My contribution is nothing, zip. . . .
Even back on terra firma, however, everybody has a bad day at the office—and much worse. These days, when someone says "I'm in the hole," we know they're talking about pay dirt, finances, being underground financially. "I'm in over my head" means "I feel overwhelmed." Some folks say "I'm down in the dumps." Maybe that's not a slimy pit, but a situation that challenges or threatens or wears us down. . . . Psalm 40 is for these pits as well as the big one. It doesn't promise to fill up my bank account or cure Ted's illness or make Ed's job less stressful. But it assures me that I don't need to go through any of those things alone. If Jesus is willing to take our spot in the pit—if God "did not spare His own Son . . . will He not also with Him graciously give us all things?" (Romans 8:32). . . .
Someone suffered hell on the cross in my place. But Jesus wasn't left in His pit, the cold and darkened tomb. "God raised Him up, loosing the pangs of death" (Acts 2:24), and the stone was rolled away from the pit on Easter. That's the rock He sets our feet on.
Prayer
Heavenly Father, sometimes I find myself stuck in a slimy pit, a pit of my own choosing. Thank You for sending Jesus, who rescued me from the ultimate pit of sin, Satan, and death. Grant that through my humble praise, others might put their trust in You. I ask this through Christ, my Lord. Amen.
Devotional reading and prayer are from Blessed Is the Man: Psalms of Praise, pages 18–20 © 2010 Concordia Publishing House. All rights reserved.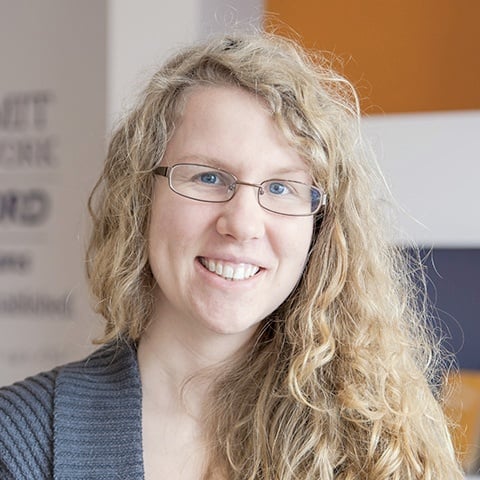 Deaconess Anna Johnson is a marketing manager at Concordia Publishing House. After graduating from the deaconess program at Concordia University Chicago, she continued her studies at the University of Colorado—Denver in education and human development. She has worked as a church youth director and served a variety of other nonprofit organizations, such as the Lutheran Mission Society of Maryland. Anna loves playing video games and drinking a hot cup of tea almost as much as she loves her cat and her husband.