On the Eve of the Circumcision and Name of Jesus, we read an excerpt from Concordia Commentary: Romans 1–8, Volume 1.
Scripture Readings
Isaiah 30:8–17
Psalm 90:1–12
Romans 8:31b–39
Luke 12:35–40
Read the propers for today on lutherancalendar.org.
Introduction

You may feel crushed by the sin and troubles of this world, but God has not abandoned you in your distress. He is not working against you but has worked for you—so much so that He sacrificed His only begotten Son so that you may have eternal comfort, peace, and life with Him.
Devotional Reading
How can we be certain that "God [is] for us" ([Rom] 8:31)? It is because he has already acted decisively in our behalf. "Indeed, he who did not spare his own Son, but handed him over in behalf of us all, how will he not also graciously give all things to us together with him?" (8:32). . . .
God's single salvific action is expressed emphatically in two ways, first negatively by what God refrained from doing, and then positively as an action he did perform. Stated with a negative, "he did not spare" (οὐκ ἐφείσατο). . . . As with "the passing over of the sins" in 3:25, the meting out of the deserved punishment (3:9, 19–20) was not in any way avoided or skipped over; there, as here, the main point is in regard to whom God did not spare (and whom he "handed over") when he executed justice. In 3:25, Jesus Christ was "set forth publicly [as] an atoning sacrifice." In 8:3, God sent "his own Son [τὸν ἑαυτοῦ υἱόν] . . . as a sin offering." Here, God did not spare "his own Son [τοῦ ἰδίου υἱοῦ]" (8:32). . . .
The language of 8:32 is close to the account of Abraham not sparing Isaac in Genesis 22. The same verb for "spare" (φείδοµαι) is in LXX Gen 22:12. The verse concludes with Yahweh saying, "You did not spare your son, your only one, from me." . . . The LXX renders that as "you did not spare your son, your beloved one, for the sake of me" (οὐκ ἐφείσω τοῦ υἱοῦ σου τοῦ ἀγαπητοῦ δι᾿ ἐµέ). The description of Isaac in Gen 22:16 also points forward to how the Father's voice from heaven refers to Jesus at his Baptism and transfiguration as "my Son, the beloved one" (ὁ υἱός µου ὁ ἀγαπητός, Mt 3:17; 17:5; see also Gen 22:2).
In light of the convergence of these texts, it is remarkable how an episode which could be viewed primarily as a test of Abraham's willingness to sacrifice his only son, Isaac, instead profoundly foreshadows the Gospel promise fulfilled by God not sparing his own beloved Son. . . .
Second, in addition to not sparing his own Son, God's single salvific action is also stated as an affirmation of what God actively did: he "handed him over in behalf of us all" (8:32). Paul uses the identical verb form, "gave/handed over" (παρέδωκεν), in 1:24, 26, and 28, in an exchange formula. In response to humanity's turning away from the Creator, his gifts, and his will, Paul describes how God responds by "giving them over" to their own, increasingly corrupt, ways. The same verb form here may recall those earlier uses, but now it expresses how God overcame the consequences of humanity's downward descent into death (1:32).
The contextual meaning of "gave/handed over" (παρέδωκεν) in 8:32 is closest to the corresponding passive "was handed over" of the aorist passive form παρεδόθη in 4:25. The active verb here in 8:32 with "God" (ὁ θεός, 8:31) as the explicit subject reinforces interpreting the passive verb in 4:25 as a divine passive, "was handed over" by God (see the commentary on 4:25). God the Father "did not spare his own Son, but handed him over" (8:32). Thus, in 4:25, the passive expresses how Jesus was handed over by God. Although forms of this same verb, παραδίδωµι, are commonly translated as "betray" when they refer to Judas' betrayal of Jesus (e.g., Mt 26:24, 25, 45, 46, 48), Jesus also uses this verb in a divine passive sense when predicting his passion (e.g., "be handed over," Mt 17:22; 26:2).
Devotional reading is from Concordia Commentary: Romans 1–8, Volume 1, pages 709–11 © 2013 Concordia Publishing House. All rights reserved.
© 2016 Concordia Publishing House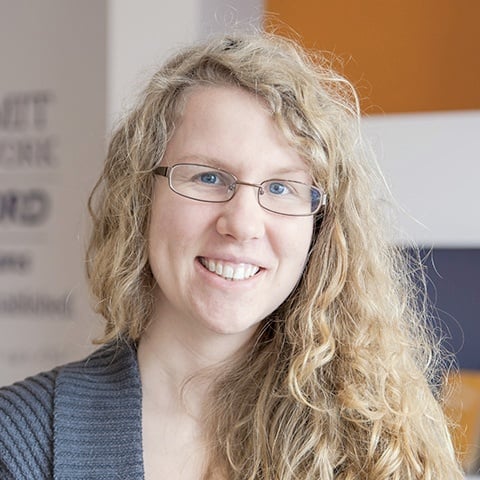 Deaconess Anna Johnson is a marketing manager at Concordia Publishing House. After graduating from the deaconess program at Concordia University Chicago, she continued her studies at the University of Colorado—Denver in education and human development. She has worked as a church youth director and served a variety of other nonprofit organizations, such as the Lutheran Mission Society of Maryland. Anna loves playing video games and drinking a hot cup of tea almost as much as she loves her cat and her husband.