When Jaroslav Vajda wrote a quick hymn text to fill a space in the magazine he edited, he didn't know he was opening the floodgates for decades of hymn writing. This is the story of how this parish-pastor-turned-editor became one of the most beloved hymnwriters of contemporary Lutheranism.
Vajda's First Hymn
Vajda was born in Lorain, Ohio, in 1919 to a family of Slovakian descent. He began writing poetry when he was 18, and soon after started translating Slovakian hymns into English. He attended Concordia Seminary and was called to be pastor of his first congregation. Then in 1963, he started editing a magazine through CPH.
"The catalyst that produced the first published original hymn came in 1968 when I was editing This Day magazine and had to fill a blank page in an issue that was to go to the printer in three days," Vajda wrote in his hymnary Sing Peace, Sing Gift of Peace. The hymn text came to him one of those mornings while he was shaving. He wrote the entire hymn in a half hour and titled it "Now the Silence."
The text broke the mold of hymns in those days. It reversed the order of the Doxology and the Benediction. It also listed the members of the Trinity in a different order—the Holy Spirit, then the Son, then the Father—because, Vajda said, it "expressed the order in which I pictured the Trinity coming to us in worship, but also the order in which the Incarnation took place."
Vajda's Most Famous Hymn
Vajda credited Carl Schalk for recognizing his first hymn's potential and publishing it. "Until the age of forty-eight I never dreamed of writing original hymns, and was never driven to seek a reputation as a hymn writer," Vajda wrote in Sing Peace.
That reputation was only strengthened when he published "Go, My Children, with My Blessing," which became his most famous hymn.
In the 1980s, when Vajda was working full-time as an editor at CPH, he was asked to write a text to go with the tune AR HYD Y NOS. Once again, he broke the mold. "To set it apart from other versifications of the Benediction, I placed the words of the hymn into the mouth of the blessing triune God dismissing the congregation after worship while drawing together a review of the events that transpired during the service," he wrote.
Without being planned, "Go, My Children" and "Now the Silence" ended up working together as bookends of a worship service. "Now the Silence" previews what will happen in the service, and "Go, My Children" summarizes it and sends worshipers out into the world.
New Setting of "Go, My Children"
During his career, Vajda published more than 200 hymn texts, many of which have been translated and sung around the globe. He retired from CPH in 1986. CPH published the complete collection of his hymns in 2003, and he was laid to rest in the Lord five years later.
Though Vajda is no longer with us on earth, the effects of his hymn texts continue to resonate with musicians and churchgoers. So in celebration of Vadja's one-hundredth birthday this year, CPH is releasing a new setting of "Go, My Children."
The setting was composed by Kevin Hildebrand. The piece is flexible for SATB or two-part choir or soloists, organ, optional congregation, flute, and strings. The introduction can be played as an independent piece of service music or adapted if a shorter introduction is desired. Listen to the piece below, then head over to CPH.org to preview the choral and instrumental parts.
Vajda's heart for the Gospel lives on in the many hymn texts he wrote and in the memories of those who knew him. Join us in honoring him on April 28, 2019, the day he would have turned 100 years old. We thank God for using Vajda's faith and creativity even today to point so many hearts to Jesus.
---
Preview the new setting of "Go, My Children, with My Blessing."
The choral score and instrumental parts will be available on May 1, 2019.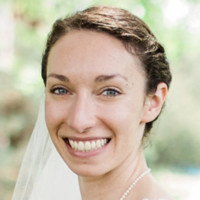 Erica is a writer and editor in St. Louis with grand plans to write award-winning literary novels and to visit all seven continents. She was previously a copywriter at CPH and now works in the advancement office at Concordia Seminary. She is also currently pursuing an MFA in creative writing at Lindenwood University.