Imagine with me for a moment: you are in a fishing competition. You must win by catching the biggest fish! You are sitting in your boat on a quiet lake brimming with fish (the other competitors are somewhere else—don't worry about them). You know this moment is big. You look over everything in your tackle box. You decide to throw an empty line of string into the water with nothing on it. What?! No! You won't catch anything with an empty line! A fisherman knows what lures and bait to secure to a hook to make sure to catch that award-winning fish.
Now to the real you. You're in a room full of children at church. Some are new and have never attended. Then there are children who think they know it all and aren't the best listeners. Some are nervous in this setting and just get goofy. You have the most important information with you in that Bible lesson—the Word of God. How are you going to engage all of these children?
I suggest utilizing "the hook." The hook is an engaging start to your lesson. It's a quick way to lock in their attention so that you can deliver the Word of God to them. It also helps them remember your lesson better. Hooks do not need to be a circus production or even very elaborate. Find what works for you and your style. Find what your children are excited by. It may take some practice to get good at a hook, but try to incorporate one in every lesson. Otherwise, you could just be dropping an empty line into the water. I don't know if the fish will show much interest.
Here are three ways to incorporate "the hook" into your next lesson at Sunday School or VBS:
1. Utilize a Story or Anecdote

For older children or adults, this can be an odd, funny, or powerful story that leads into your lesson (for example, see my odd fish story). These stories are improved by having a connection to the audience. Try to pick a story subject that is familiar or attainable to your students. I don't know if any of my readers here have fished before, so I am going out on a limb by using it. I trust you know the basic mechanics of fishing. If I really wanted to use this story with a non-fishing audience, I may need to explain how it works or I may lose them.
2. Engage the Five Senses

Another great hook is piquing interest using one or two of the five senses. Pick a touch, song, noise, or movement activity that will make your children excited or curious. (This works well with little ones in primary or early childhood age groups!)
Make them guess a smell. For example, bring in a covered loaf of freshly baked bread for the story of Jesus feeding the five thousand.
Turn the lights out and start the story of creation with a sudden burst of light from a big flashlight.
Allow students to reach in the mystery bag and feel an object that goes with your lesson to guess what it is. Reveal it and start your story.
Share a weird, cool, or inspiring picture with a middle school aged audience to stir curiosity.
Use lyrics of a popular song or a clip of it (if appropriate) to initiate conversation on the topic for middle school or high school age youth.
3. Do a Science Demonstration
Do a quick science experiment or demonstration to excite their curiosity and make it stick in their memory in an interesting way. These take a bit longer, but you can often start teaching the lesson during it. There are many ideas you can find online or in CPH lesson materials.
Some science demonstrations that have impacted me are the following:
These demonstrations will create wonder in your children. And that is the moment you have their attention! That is the lure. Now give them the good stuff!
Whatever you do, make sure that your hook ties into or leads into your lesson. Otherwise, your audience will be confused. Also remember: it may take some practice to figure out what works for you and your audience. Once you feel confident in a couple different hooks, try another! (My list here is not exhaustive.) If a hook is too commonly used, it will cease to engage. Keep trying to hook your listeners with fresh ideas. It will be worth it when they have rapt attention for the teaching of God's Word. May God bless your work with His children!
---
Looking for more ideas? View the look inside for Make It, Shake It, Mix It Up: 44 Bible Stories Brought to Life with Science.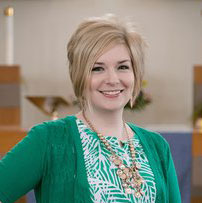 Beth Schultz is the first grade teacher at Bethany Lutheran Church and School in Naperville, Illinois and a mother of one. Since beginning teaching in 2012, she has loved working with all age groups: in middle school and youth group theater, primary grades teaching or VBS sessions, and preschool activities. She is blessed to share the message of Christ with her students and their families every single day through school and her opportunities to write through CPH.