My husband, our daughter, and I serve as missionaries in the Dominican Republic. When holidays come around, naturally we compare what we do here with what we do back in the States. That comparison game can often leave me feeling angry and discouraged.
Whenever we experience change, especially around the holidays, it's only natural to feel the ache for home a little more. And it's natural for other emotions to follow, like grief, frustration, or anger. We want to be on vacation instead of planning services. We want to be in familiar places with familiar people rather than in new contexts where we must adapt our traditions.
Acknowledging Our Grief
It's hard to give up our earthly traditions when God has called us to serve far from home. It's okay to grieve those traditions. Doing so doesn't make us any less Christian. Grief comes part and parcel with living in a fallen, sinful world.
Maybe some of these thoughts resonate with you:
"I don't enjoy Christmas because I have to work on that day."
"I don't like being here. I'd rather be back home with my family."
"I should feel joyful because it's Christmas. I'm such a bad Christian for caring more about my traditions than Jesus' birth."
"I feel pulled in opposite directions by family and work. My family doesn't get to do anything special for Christmas because of my call, and I feel so guilty about that."
Many of these thoughts go through my head around Christmas when we're in the Dominican Republic. Since we're here for my husband's job and I'm an accompanying missionary spouse, it can even raise hurtful feelings of anger and blame.
Really, it's not a good time.
However, rather than burying these feelings or feeling shame for having them, we can learn to cope with them when they spike around Christmas.
Finding a Way Forward
Whether you are a church worker or the family member of a church worker, whether you serve close to home or far from home, you have made huge sacrifices. Of course Christmas can be hard for you and your family!
However, reframing our thoughts can help us see our Christmas experiences differently. When we have different perspectives, we also can experience different emotions. We can learn to see the work of God, even in difficult circumstances.
Here are some ways I have been able to look differently at my situation:
"What's something special I get out of Christmas because of my vocation that other people don't?"
"I wish I could be with my family back home. I've made sacrifices for this job, and it's okay I feel sad and angry."
"I don't feel joyful. But even when I feel so terrible, I know that Jesus was born in the flesh."
"Since my family and I can't do something special on Christmas Day, can we do something special a few days before or after instead?"
We can each acknowledge the unique situations God has placed us in by calling us to serve where we are. We accept that our feelings exist and they are okay. And then rather than looking back at what could have been, we look forward to what we can do to make our current situations work better for us.
We Don't Serve Alone
God called us to serve right where we are. He knows that our vocations bring both unique blessings and challenges. It's no mystery that He gives out tough calls: He called Jesus to die on the cross bearing the sins of the whole world!
At the same time Jesus gave us the Great Commission, He promised to always be with us:
Go therefore and make disciples of all nations, baptizing them in the name of the Father and of the Son and of the Holy Spirit, teaching them to observe all that I have commanded you. And behold, I am with you always, to the end of the age.
Matthew 28:19–20
God calls us to serve others—but He also promises not to abandon us in the challenges we face as we serve in those calls.
God knows your suffering. He cares about you. Other people care about you.
You are not alone this Christmas.
Scripture: ESV®.
---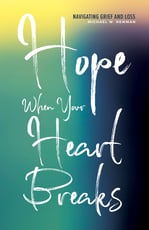 In a fallen world, heartbreak will always be part of our lives. Watch and wrestle through grief with the Word of the Lord in Hope When Your Heart Breaks.