Leadership development works differently for every person and every group. Individually, we all have our preferences and shortcomings. Each group has a different feel, a different ease with one another. So with all these differences, how do we build up leaders?
Whether there have been changes to your volunteer roster or you've kept the same small group of people, it is important to make sure volunteers have the tools and the confidence to lead in whatever capacity they serve. Below are some ways to help leadership development among your ministry's volunteers.
Do Team-Building Exercises
Groups that lead together must know one another. Though I always receive eye rolls when I suggest doing team-building exercises, I know from experience that these exercises help people feel comfortable with one another. After a team-building exercise, it is important that these people who have just worked cooperatively learn about one another on a personal level. Have them debrief from the exercise by sharing about themselves. After doing an activity involving having someone lead other people, it will be easy for participants to start talking about their own experiences leading or being led.
Use Personality Assessments
Using different personality assessments can be helpful for understanding people's strengths and weaknesses. By being able to understand the makeup of your volunteer group, you can start to know what the needs of individuals and the group are. These assessments can also help you place people where their strengths are. If you have someone who is analytical and organized, a role that may work well for them could be on the planning side. If someone's personality is slightly extroverted, you can learn how to push them out of their comfort zone.
Study God
'

s Word about Leadership

In order to really be a leader in your ministry, study God's Word! With your group, read about Old Testament leaders and God's provision for them: how Moses led the people of Israel by faith in God's promises; how God used shy Gideon despite his hesitancies to be a leader; how Solomon led with godly wisdom; and how David ruled, repented, and rejoiced in his God. Learn about Jesus' servant heart in His washing of His disciples' feet; about how Peter fed His sheep after the ascension; and about how Jesus transformed Paul's whole life into one of Gospel proclamation by His grace. Take these moments in Scripture and have your volunteers study them privately and within a group.

It takes effort and time to understand godly leadership and develop as leaders ourselves. From team-building exercises to personality tests to Bible studies, these activities help strengthen volunteers. And when volunteers develop into leaders, they gain confidence as they serve in the roles they've been given.
---
For more tips on developing volunteers, take a look at Energizing Your Children's Ministry.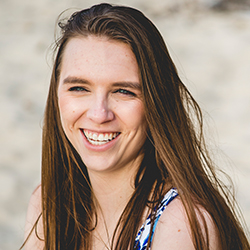 Hailing from the Upper Peninsula of Michigan, Adele Werner is a copywriter at Concordia Publishing House. Devoted to Jesus, she has a passion for serving others and sharing the Gospel. She is an alumna of the University of Michigan, where she served in multiple ministries. In her spare time, you can find her spending time with her husband and friends, reading, or watching movies.